February 10, 2017
CMU Sorority Celebrates Oldest Sister's 103rd Birthday
By
Julianne Mattera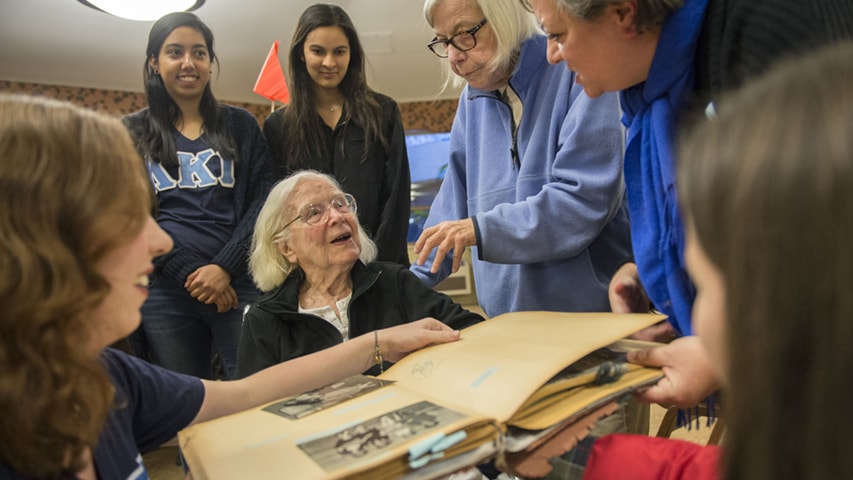 Carnegie Mellon University sorority members on Wednesday evening gave a surprise birthday party to their oldest living sister.
In true CMU fashion, Mary Yorke Gibson's 103rd birthday celebration started with the skirl of bagpipes as students in CMU's chapter of Kappa Kappa Gamma surprised her in the Cranberry Place nursing home in Cranberry Township, north of Pittsburgh, with balloons, cake and handwritten birthday wishes from dozens of members.
"I thought it was wonderful," Gibson said.
Chris Nolin, the chapter's adviser and a Kappa member since attending CMU in the 1980s, said Gibson is the chapter's oldest living member. Gibson graduated from Margaret Morrison Carnegie College — then the women's college of the Carnegie Institute of Technology, which later became Carnegie Mellon University — in 1938 and became one of the sorority's first alumnae members.
"It goes from you to me to all of these women," Nolin told Gibson as Kappa members thumbed through the chapter's 1944 yearbook. "We're all sisters."
Membership in the sorority lasts a lifetime, Nolin said, and the meaning behind that bond becomes even deeper when students transition to alumnae.
"You have an immediate connection with anyone else who is a Kappa," Nolin said. "You share that bond of sisterhood throughout your life."
Morgan Wagner, president of the Kappa chapter at CMU, said meeting Gibson on her 103rd birthday helped her reflect on the connections she shares with the thousands of Kappa members around the world.
Wagner said prior to attending Mary's birthday celebration, she and her sisters spent time searching through sorority scrapbooks from the 1930s and '40s for a photo of Gibson in her college days. While they didn't find one, the scrapbooks opened a window into the sorority's past, such as members' achievements, wedding announcements and even pictures from an all chapter beach vacation.
"The stories of these women are our stories, too," Wagner said.
Gibson studied home economics at Margaret Morrison. While registering as a freshman, she met her future husband, Paul "Gibby" Gibson, who was on Tech's basketball team.
The two married in the early 1940s and raised their daughters, Pam and Patti, in Fox Chapel, Pa. Mary worked at various flower shops and eventually opened her own, Pam said.
During World War II, Paul Gibson served as a lieutenant (junior grade) on a Navy destroyer in the Pacific. Pam said her mother led classes with Navy wives at the bases where Paul was stationed to help them with creative ideas on how to stretch their rations.
Pam said her mother's active lifestyle is the secret to her long life. She said the fact that CMU's Kappas honored her mother after so many years made her 103rd birthday more special.
"To have mother recognized as a Kappa this long afterward," Pam said, "I can't tell you how much it means to her and me."