February 20, 2017
Feminist Voices Heard at the Miller Gallery
By Ann Lyon Ritchie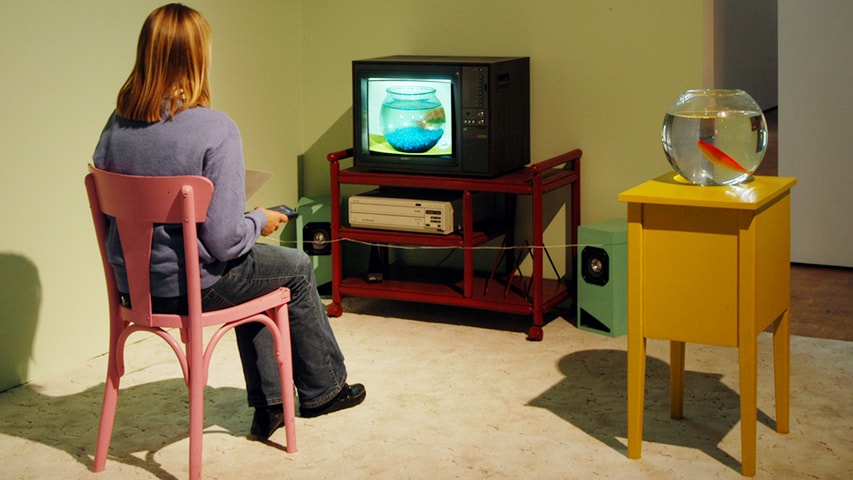 "Lorna, The First Interactive Video Art Disk" by Lynn Hershman Leeson is a part of the Miller Gallery's current exhibition. Image is courtesy of the artist and Bridget Donahue Gallery.
Twenty-two female artists, designers and developers are speaking out at Carnegie Mellon University's Miller Gallery through an exhibition that showcases their technology-driven and sometimes humorous work.
"Hacking / Modding / Remixing," curated by Angela Washko, a visiting assistant professor in CMU's School of Art, runs through Feb. 26.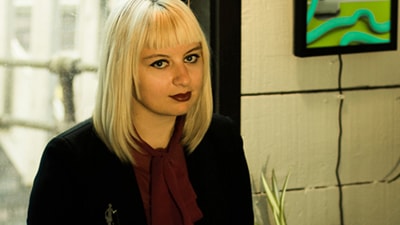 Visiting Professor Angela Washko created "Hacking / Modding / Remixing," which runs at CMU's Miller Gallery until Feb. 26.
"Angela is one of the most noted young artists working at the intersection of online culture, feminism and technology," said Margaret Cox, assistant director of the Miller Gallery.
The exhibition highlights renowned CMU alumni, faculty and national and international artists. In the wake of the global Women's March demonstrations, Washko channels feminist voices from 1970s to the present.
"By considering television, film, computer software, the internet, pop music, the medical industry, robotics, video games, corporate branding, LaserDiscs and advertising as sites of intervention — all of the women in the show create new ways of looking at systems of oppression embedded in everyday technological objects, entertainment experiences, contexts and platforms while altering them to create narratives of resistance," Washko said.
The video art, "Kiss The Girls: Make Them Cry," by New York City artist Dara Birnbaum, a 1969 graduate of CMU's School of Architecture, manipulates off-air imagery from the television game show "Hollywood Squares" (1966-1981). 
"'Kiss the Girls: Make Them Cry' both appropriates and deconstructs this once dominant TV-imagery," said Birnbaum, who since the early 1970s has blazed a trail in the media arts. "Most of the images used within this artwork concentrate on those actors and actresses who were then seen as minor celebrities. By isolating and repeating the images of their exaggerated opening gestures — as they greet their audience of millions of viewers across the United States — is clearly shown.
"The music is meant to directly link the hit TV show with top-of-the-chart disco music from that same time, while the game board decor of the stage set performs a light show that dances to the comparative rhythms of both. 'Kiss the Girls: Make Them Cry' is amongst the very first media artworks to address the language of popular television and Top 10 songs. Its unusual and bizarre repetition of that television banality still rings as true today," Birnbaum said.
Birnbaum said while a new generation of artists is now providing commentary on contemporary mass media, a more critical social commentary — especially in regard to women — has yet to be confronted. 
"Voices from a younger generation of women artists will, hopefully, again select and dissect those images that now dominate mass media. The challenge remains to gain control of this imagery, revealing its hidden agendas and to formulate alternative voices and visions," she said.
Additional CMU-affiliated artists in the exhibition include alumna Cat Mazza, a 1999 graduate of the School of Art, and Professor of Art Suzie Silver.
Mazza's massive fiber piece, "Nike Blanket Petition," is a rendition of the Nike swoosh and questions sweatshop practices while using digital media to crowdsource crocheted and knit squares from crafters in more than 30 countries.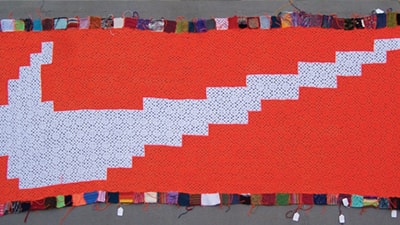 Catt Mazza's "Nike Blanket Petition" crowdsourced crocheted and knit squares from crafters in more than 30 countries.
"The goal of stitching the swoosh was to connect the handmade to the mass-produced, but also for participants to consider the ways we have voice in the global economy. This can be through voting with our dollar, activism or other forms of creative resistance," Mazza said.
"The 'Nike Blanket Petition' builds on feminist strategies of resistance. The labor force of apparel production is still largely women. The piece draws on the spirit of women in the labor movements of early industrial capitalism - workers protesting unfair wages, unsanitary conditions, inhumane hours, et cetera — and applies it to our present day conditions. The work is also influenced by craft traditions of collaborative quilting as well as feminist and social practice art," Mazza said.
Silver said she was thrilled to have "Freebird" included in Washko's exhibit.
"At 23 years old, 'Freebird' is now considered an important historical work that uses appropriation and performance to disrupt dominant power dynamics of gender and popular culture," Silver said.
"'Freebird' is a humorous send-up of heteronormative, patriarchical popular culture. In 'Freebird,' I played with star-directed desires by inserting myself first into the Academy Awards, where, through the power of editing, my character receives appreciative glances and throwing kisses from major movie stars such as Jodie Foster, Barbra Streisand, Geena Davis and Susan Sarandon. In the second section, I impersonated the lead singer of Lynyrd Skynyrd, Ronnie Van Zant, and lip-synced the song 'Freebird.' In the third section of the video, I embody an out-and-proud lounge singer celebrating lesbian lust and desire.
"The first two roles, appearing on the Academy Awards and laid-back rock star dude, are ones that were not possible, as a gender non-conforming lesbian, for me to actually inhabit. However, things are changing. Recently the young superstar, Kristen Stewart, stated on a recent Saturday Night Live episode that she is, 'so gay, dude.'"
Cox said that part of the gallery's mission is to expand notions of art and culture, as well as explore regional and international investigations across media.
"We are proud to host 'Hacking / Modding / Remixing as Feminist Protest' at a time when dialogue surrounding gender, technology and feminism is much-needed," Cox said.
Media contact: Pam Wigley