February 24, 2017
CMU Makes Two Executive Leadership Appointments
Angela Blanton and Cathy Light have been named to executive leadership roles at Carnegie Mellon University.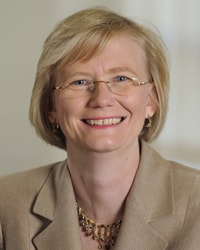 Cathy Light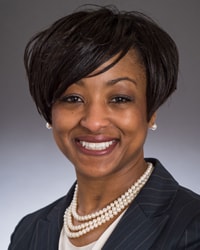 Angela Blanton
Blanton was named vice president for Finance and chief financial officer for the university.
Light was named secretary of the corporation and chief of staff, coordinating internal and external stakeholder interactions with the Office of the President.
In an email to the university community, President Subra Suresh thanked both officers for their service to the university and congratulated them on their promotions.
"Both Angela and Cathy have distinguished themselves since last summer, while serving the university in these
roles on an interim basis. They have both brought energy, skill and leadership to these critical roles, making strong additions to the university's executive team," Suresh wrote.
Suresh made the appointments following extensive consultation with university stakeholders and trustees.
Blanton joined Carnegie Mellon in 2015 as director of operations in the university's Finance Division. Following her interim appointment last year, she has been directly responsible for providing strategic leadership for the university's business and finance functions, as well as for the management of its financial and capital resources. She also oversees Audit Services, the Treasurer's Office, the Controller's Office, Budget and Financial Planning, Procurement, and Business Systems and Services.
Blanton started her career as an electrical engineer with Delphi Automotive and Chrysler. She then worked at PPG Industries in various financial analyst roles in the Chemicals, Glass and Coatings business units and controllership areas. Blanton moved to PNC Financial Services and served as a finance manager in the Retail Banking controllership function before transferring to the PNC Finance Project Management Office. Prior to joining Carnegie Mellon, she was the CFO for PNC Financial Services brokerage investment business.
Blanton received her bachelor's degree in electrical engineering from the University of Michigan, and an MBA from Carnegie Mellon's Tepper School of Business.
Light has served the Office of the President since 2007, most recently as director of the Office of the President and interim secretary of the corporation. In her new positions, she will oversee the Office of the President, and additionally coordinate and support the activities of the board of trustees. She also will serve as the point of contact for various constituent groups, planning and guiding the initiatives and activities of the president and other senior leaders as they relate to internal operations and global external relationships.
Prior to joining Carnegie Mellon in 2007, Light served from 1985 to 2007 in a variety of management positions with the Institute for Shipboard Education, which operates the Semester at Sea study-abroad program, previously sponsored by the University of Pittsburgh. Her responsibilities spanned the management of global operations, academic field programs, communications, human resources, budgeting, risk management and coordination between the land-based office and shipboard campus.
Light earned her bachelor's degree in business management from Carlow University and will graduate with her master's degree in organizational leadership from Robert Morris University this summer. Light also completed CMU's inaugural Leadership Academy in 2009.