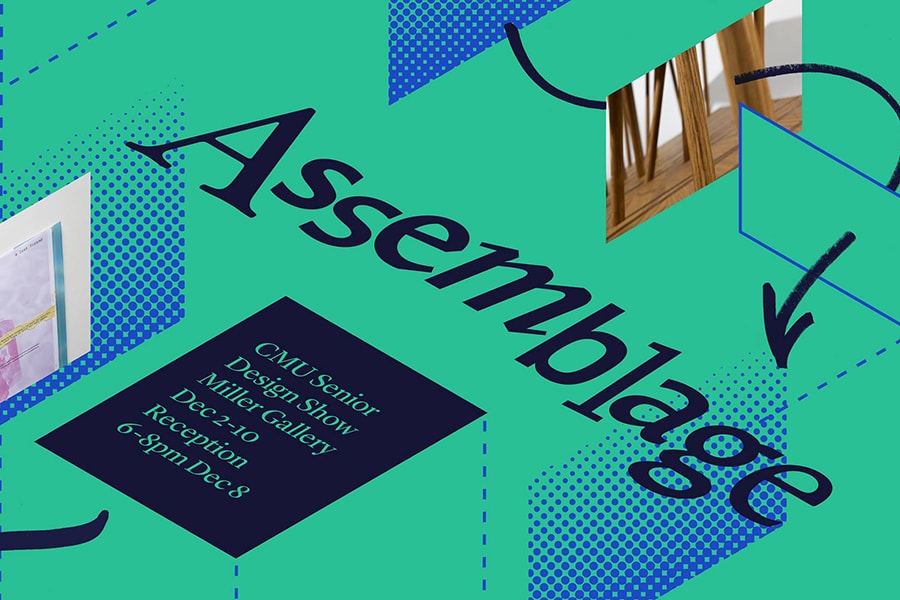 December 05, 2017
Miller Gallery Hosts School of Design Senior Thesis Exhibition Dec. 2-10
By Margaret Cox mc94(through)andrew.cmu.edu
Media Inquiries
"Assemblage," the Carnegie Mellon University School of Design Senior Thesis Exhibition will be held Dec. 2-10 in the Miller Gallery on CMU's Pittsburgh campus.
The exhibition features final works from 48 seniors — the first class to complete CMU's new Bachelor of Design program — in three design concentrations: Products, Communications and Environments. A reception will be held from 6-8 p.m. on Friday, Dec. 8. The exhibit and reception are free and open to the public.
Throughout the new curriculum, the students have been encouraged to think about the long-term effects of decisions and how those decisions affect the larger environment. At the beginning of the process students asked questions that lead to more questions, talked to people and reflected on lessons learned from the past.
"This approach often leads us to help others speak in order to build empathy around the user's experiences," the students said in their exhibit statement. "To convey our intentions, we craft outputs, whether a carefully communicated message or thoughtfully crafted artifact, that respond to our research and reflection. However, as creatives, we often look to express and strengthen our own voice in our personal work. So, as design professionals, when do we speak and when do we listen?"
In the show, visitors will experience a wide variety of works from deeply personal narratives to community building projects and future-oriented artifacts. In each piece, the designer's presence is balanced with the message of the project, whether prompted in studio or self defined.
The exhibitors are: Adella Guo, Albert Yang, Alex Palatucci, Angee Attar, Anqi Wan, Benal Johnson, Bettina Chou, Carolyn Zhou, Chris Perry, Christie Chong, Deborah Lee, Deniz Sokullu, Emily Mongilio, Faith Kaufman, Gillan Johnson, Hae Wan Park, Hee Jung Koh, Jake Scherlis, Jasper Tom, Jeong Min Seo, Jesse Klein, Jessica Headrick, Ji Tae Kim, Julia Ainbinder, Kate Martin, Kevin Gao, Lily Fulop, Lily Kim, Lois Kim, Lucy Yifan Yu, Maggie Banks, Max Plummer, Maximilien Stein, Meredith Newman, Natalie Harmon, Natapitt (Popo) Sethpornpong, Nina Flores, Noah Johnson, Raphael Weikart, Rufeng (Steven) Ji, Sara Remi Fields, Selena Norman, Sharon Yu, Tiffany Jiang, Tina Park, Treat Swarstad, Ty Van de Zande and Youjin (Juliana) Nam.