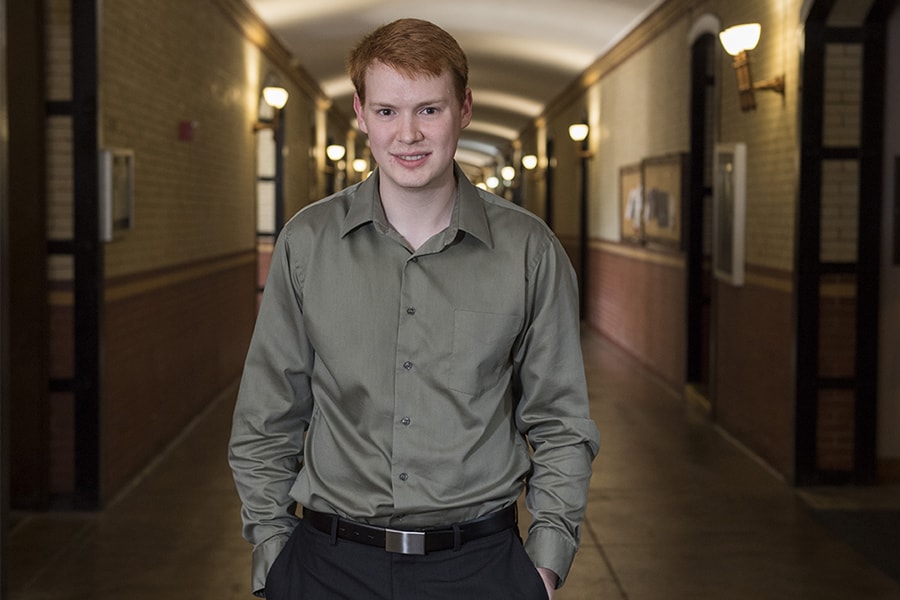 August 24, 2017
Graduate Student Wins Department of Energy Award
By Vidya Palepu
Media Inquiries
Christopher Lee Hanselman, a Ph.D. student in Carnegie Mellon University's Department of Chemical Engineering, has received an Office of Science Graduate Student Research Award from the Department of Energy.
This summer, he has been working at the National Energy Technology Laboratory (NETL) in Pittsburgh to pursue his doctoral thesis research in process systems engineering.
"I've advised Chris for five semesters now," said Chrysanthos Gounaris, assistant professor of chemical engineering. "He's very strong academically, very scholarly."
Gounaris said Hanselman is the first SCSGR awardee that the NETL has had, which makes it possible for him to collaborate with NETL scientists to apply his research.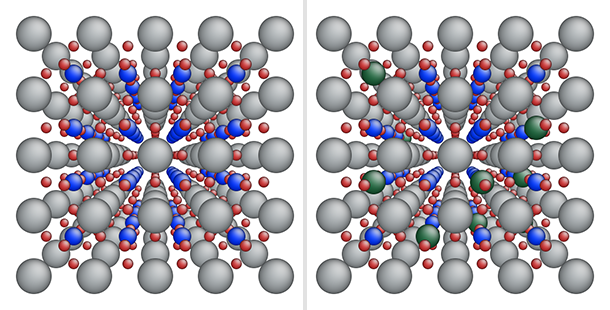 An image of a perovskite lattice, or a regular repeated 3-D arrangement of atoms, ions, or molecules in perovskite. The left image shows iron (blue), oxygen (red) and barium (grey). The right image contains some random dopings of indium (green) as well, added for color.
Hanselman's research focuses on the application of mathematical optimization in designing nanostructured materials. He aims to provide material experts with a way to speed up new material discovery. He does this by translating questions that arise during the material design process into problems that can be solved using well-established optimization algorithms. Through mathematical optimization, material data can be rigorously and systematically searched to identify the optimal solution to a given problem. This process, in turn, allows experts to synthesize the best possible overall material structures.
"We're working with a group of material experts who are developing high-performance perovskite materials with potential applications in future energy technologies," Hanselman said.
Perovskites are materials whose crystal structure gives them several practical properties, such as conductivity and magnetoresistance.
"The NETL group is working to synthesize, characterize and model at the molecular level the perovskite material - work that we can further support by applying mathematical optimization."

Experimenting with a tangible material will allow Hanselman to answer design questions that would have been difficult to explore solely in a theoretical space. Moreover, his work relies on results from a computational chemistry method called density functional theory, which is a way to approximate the electronic structure of materials. The NETL project also relies on the same method, and Hanselman said he hopes to gain a better appreciation and understanding of the calculations by observing how they are carried out in the perovskite project.