April 18, 2017
Self-Driving Buggies Reach Historic Milestone
By Emily Durham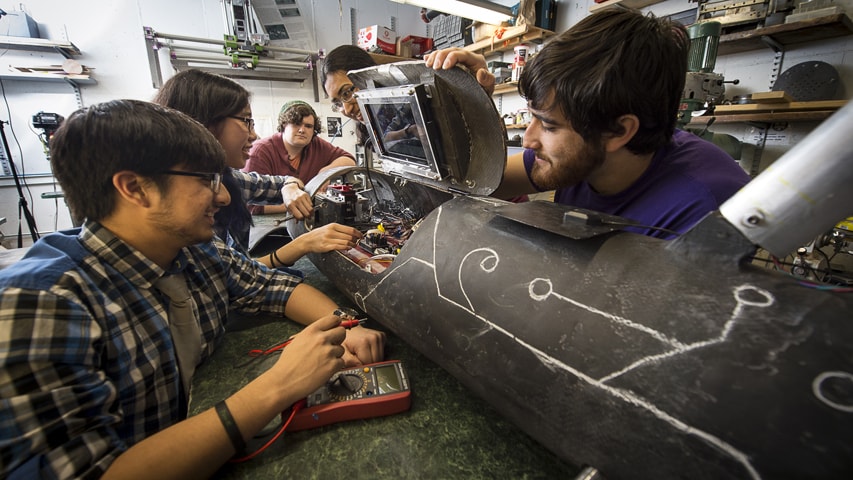 From left to right, Antonio Garcia-Smith, Danielle Quan, Sean Reidy, Abha Agrawal and Adam Zeloof are members of the RoboBuggy team.
For the first time in history, two self-driving buggies will be part of Carnegie Mellon University's Spring Carnival Sweepstakes.
Carnegie Mellon has been at the forefront of autonomous driving technology for three decades, and students have been working to bring that technology to the buggy races. This year they succeeded.
During early morning practice sessions this month, two buggies driven by computers, rather than by students tucked inside the three-wheeled, torpedo-like shell, successfully steered and braked their way around the 4,412-foot-long course.
On April 8, team RoboBuggy fielded the first autonomous buggy to steer itself through the course. And on April 9, the Atlas Project, part of the Carnegie Involvement Association, also known as CIA, completed its first successful autonomous run.
Like traditional buggies, the machines are pushed uphill by humans on Tech Street, then freeroll down Schenley Drive before being pushed up Frew Street. The difference is the buggy is doing the steering and navigation throughout.
Both self-driving buggies will be on display during the Sweepstakes Design Showcase and Buggy Races as part of Spring Carnival 2017, April 20-22.
"I joined RoboClub, which is the organization that sponsors RoboBuggy, in my freshman year," said Danielle Quan, chairman of RoboBuggy and a junior majoring in mechanical engineering and robotics. "This is very quintessentially CMU — it's buggies and robots, so I immediately wanted to get involved."
Matt White, who graduated from Carnegie Mellon's School of Computer Science in 1996, first began the RoboBuggy project with a conversation between himself and Mark Stehlik, now associate dean for outreach in the School of Computer Science. He said they had the idea of adapting the technology coming out of CMU's Field Robotics Center's NavLab project for Buggy. He worked on a hardware platform as an independent study.
Since then, RoboBuggy has been revived by several interdisciplinary student teams. The most recent iteration of RoboBuggy has existed since 2013 as a project within the CMU Robotics Club. The Atlas Project started two years ago.
"It was surreal, honestly, watching it steer itself after having failed every other time," said Benjamin Warwick, founder of the Atlas Project and a junior in mechanical engineering. "What I'm hoping this will do is encourage other people to start robotic buggies of their own."
The first buggy races were held as part of the first alumni celebration, called Campus Week, in 1920. In 1928, Campus Week was replaced by Spring Carnival and a booth competition was introduced. Frew Street was completed and the course took on its present-day format.
Listen to a podcast, produced by the
College of Engineering
to learn more about the autonomous buggy teams.