April 05, 2017
Lecture Series Focuses on Cultural Climate, Women in Architecture
By Danielle Lehmann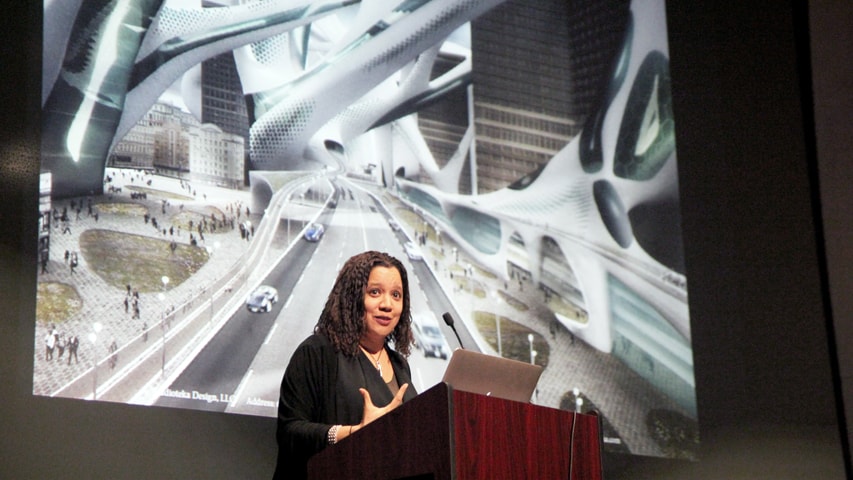 Vanessa Keith, principal of StudioTEKA who discussed her book "2100: A Dystopian Utopia — The City After Climate Change" as part of this year's School of Architecture lecture series.
According to the Bureau of Labor Statistics, just 14 percent of architects are female. And Architecture Review's recent Women in Architecture survey indicates gender discrimination continues to be a problem.
That may be changing.
At Carnegie Mellon University, female students made up more than half of the first-year class in the School of Architecture the past two years. That trend is ahead of undergraduate programs nationwide, according to the Association of Collegiate Schools of Architecture.
"When my wife started at Carnegie Tech in 1968, she was one of three women out of a class of 65," said School of Architecture Head Stephen Lee. "During the 2000s we built up to 40 percent female entering and during the 2010s, we enroll two women for every man."
Spike Wolff, a special faculty member in the School of Architecture, is aware of the challenges. Since 2009, she has been curating the school's lecture series, which includes diverse visiting architects to reflect a wide range of work, research, and projects.
This year, the series was divided into two themes. The fall was inspired by the cultural climate and featured architects who focused on social activism and the politics of architecture. This semester the series focused on dynamic, accomplished female architects.
"In a way, this series advocates for inclusion, without compromising standards," said Wolff, who is also artistic director for the interdisciplinary arts festival wats:ON? Festival Across the Arts as part of CMU's School of Art. "These are all people I would have invited to speak anyways, they just happened to concentrate in a single series."
Lee said architecture touches all aspects of society and culture.
"It is important that the diversity of the profession represents the diversity in society, not just gender, but race and ethnicity as well," Lee said. "In light of the current political climate it is imperative to grow the architecture profession to be inclusive of professionals with a breadth of backgrounds and perspectives."
Students interested in music or drama can start practicing in elementary school, but architecture isn't commonly offered, even at the high school level.
"Seventeen- and 18-year-olds are having to make a career decision without any firsthand experience with the profession," Lee said. "Given the continuing practice of boys playing with Legos and girls being encouraged to study humanities and the arts, there is a bias pushing women to pursue careers outside of architecture or STEM fields."
The lecture series has fostered student discussions about women in architecture, including gender politics in the profession, the notion of feminism, subconscious bias, the inclusion of alternate voices within the profession and challenging the typical power structures.
"The students seem pretty receptive and enthusiastic to these two themed series, both politics in the fall and all women in the spring," Wolff said. "I think both our female and male students have been inspired by these women who are running their own firms. It's good for students to have strong role models, to see women at the top of their field."
The series has included talks from Odile Decq, an internationally renowned French architect; Sandi Hilal, a Palestinian architect and founding member of The Decolonizing Architecture Institute; Yvonne Farrell, an Irish architect and co-founder of Grafton Architects; Vanessa Keith, a New York-based architect and principal of StudioTEKA who discussed her book "2100: A Dystopian Utopia — The City After Climate Change"; and Annabelle Selldorf, a German-born architect and founding principal of New York City-based Selldorf Architects.
A film screening of "Making Space: Five Women Changing the Face of Architecture," was presented this past month in collaboration with the University of Pittsburgh as part of the lecture series.
The final speaker this semester will be Nida Rehman, the Ann Kalla Visiting Professor of Architecture at Carnegie Mellon. Her talk, "Getting Spatial with Non-Human Others," will be at 6:30 p.m. April 10 in Kresge Theatre.
"I think the students feel that we've made a statement, and were excited about the challenge to current culture and the fact that we are addressing these issues," Wolff said.