April 12, 2017
Klatzky, Morgan Elected to American Academy of Arts and Sciences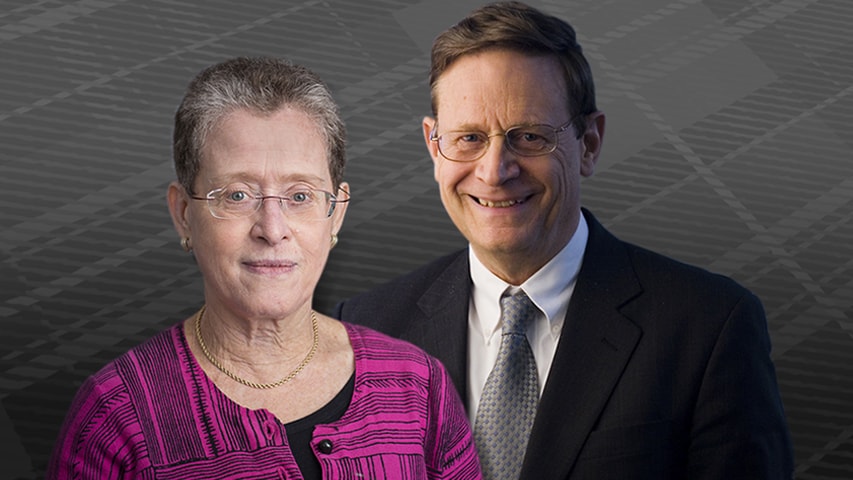 Carnegie Mellon University faculty members Roberta Klatzky and M. Granger Morgan have been elected to the American Academy of Arts and Sciences, joining the world's most accomplished scholars, scientists, writers, artists and civic leaders.
Klatzky, the Charles J. Queenan Professor of Psychology, is a world-renowned expert in cognition who examines the relationships between human perception and action, with a focus on touch. She investigates this from the perspective of multiple modalities, sensory and symbolic, in real and virtual environments. Her research has been instrumental to the development of telemanipulation, image-guided surgery, navigation aids for the blind and neural rehabilitation.
Klatzky, who holds appointments in the Department of Psychology, Human-Computer Interaction Institute and the Center for the Neural Basis of Cognition (CNBC), considers her research as a cognitive scientist who focuses on perception to be far from what most people think of as psychology. She became interested in perception while studying math at the University of Michigan and believes that her math background has been invaluable, given the quantitative nature of her work and her close collaboration with researchers in engineering and the life sciences.
Morgan, University and Hamerschlag Professor of Engineering, holds appointments in the Engineering and Public Policy (EPP) Department, Electrical and Computer Engineering Department, and Heinz College of Information Systems and Public Policy. He also serves as co-director of the Center for Climate and Energy Decision Making and the Electricity Industry Center. Morgan served as founding head of the EPP Department for 38 years and was the founding director of the Wilton E. Scott Institute for Energy Innovation.
Morgan's research addresses problems in science, technology and public policy with a particular focus on energy, environmental systems, climate change and risk analysis. Much of his work has involved the development and demonstration of methods to characterize and treat uncertainty in quantitative policy analysis.
The full list of 228 new members is available online. They will be inducted Oct. 7 in Cambridge, Mass.
"In a tradition reaching back to the earliest days of our nation, the honor of election to the American Academy is also a call to service," said Academy President Jonathan F. Fanton. "Through our projects, publications, and events, the Academy provides members with opportunities to make common cause and produce the useful knowledge for which the Academy's 1780 charter calls."
CMU has been home to 22 American Academy members.
The American Academy is one of the country's oldest learned societies and independent policy research centers, convening leaders from the academic, business, and government sectors to respond to the challenges facing the nation and the world.