September 20, 2016
It's a Whole New Ballgame for Statistics Students
By Emily Stimmel / estimmel@andrew.cmu.edu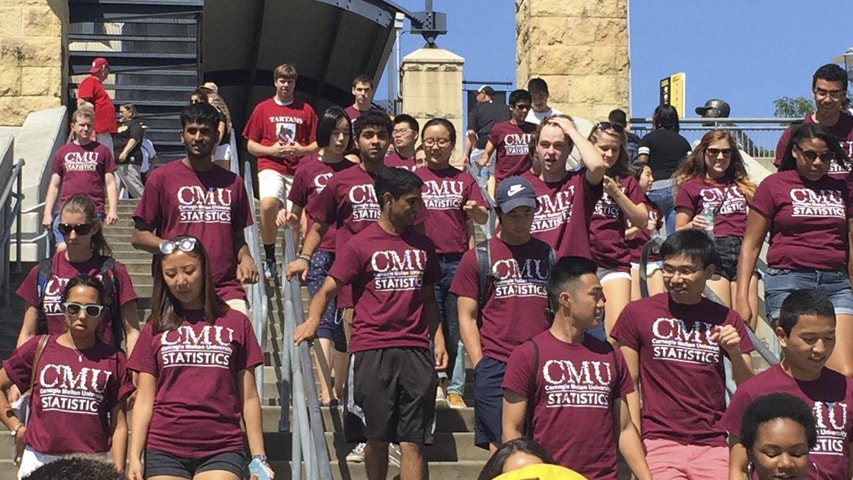 If you've ever traded baseball cards or planned a fantasy football draft, you understand the relationship between sports and statistics firsthand. Today, tracking the stats of your favorite players is more than just a hobby. Sports analytics is a viable career — and major league teams are taking notice.
"Historically, sports provided understandable examples of basic statistical concepts," said Rebecca Nugent, teaching professor and director of Undergraduate Studies in Carnegie Mellon University's Department of Statistics. "In recent years, however, the demand for complex statistical analyses in sports has exploded, with teams and leagues collecting massive amounts of data on every player in every game. It's a whole new ballgame - pun intended!"
Professional sports teams are collecting data about player performance in nearly every possible situation, looking to both gain an edge on their opponents and learn when their own players have the highest chance for success.  
Earlier this month, undergraduate statistics majors  in the Dietrich College of Humanities and Social Sciences' and members of the Tartan Sports Analytics Club (TSAC) explored how statistics and sports go hand-in-hand at a Pittsburgh Pirates game.
"The challenges facing analysts in today's professional sports world are extremely similar to the types of problems that our statistics undergraduates work on every day: analyzing large, complex datasets with modern statistical methodology," said Sam Ventura, a visiting assistant professor in the Statistics Department and faculty adviser of TSAC. Ventura works as an analytics consultant for the Pittsburgh Penguins.
Before the game, students were treated to a private meeting with the Pirates' analytics team.
The students met with Josh Smith, data architect; Mike Fitzgerald, quantitative analyst; and Dan Fox, director of baseball informatics. They fielded questions on everything from how trends in analytics have affected their roles to how they evaluate the stress on a pitcher.
"We've done similar events with other groups in the past, but I was impressed by the quality of questions," Fox said. "It's not surprising that we've hired interns from this group before."
Senior Steven Silverman worked with the Pirates as a data and analytics intern during the 2015 season.
"I've always loved numbers as they pertained to sports, and statistics gives us a language to talk about numbers that actually have an impact on the real world," said Silverman, a math and computer science double major. "You can't beat getting to come to a ballpark every day to work."
Like Silverman, many TSAC members have scored internships and jobs with sports teams. The club's co-founder, Max Horowitz, received his bachelor's degree in economics and statistics last spring and now works with the NBA.
Arvind Pendurthi, a senior majoring in decision science, is the president and co-founder of the TSAC. This past summer, he was a research intern with the NFL Network, where he had the opportunity to work alongside former players whom he idolized as a kid.
"I can honestly say that 'work' didn't really feel too much like work," Pendurthi said.
At the game, Pirates staff joked with the group about the probability that they would find their seats, and they appeared on the Jumbotron decked out in matching CMU Statistics shirts.
For Leshaun Jones, the event was memorable for a different reason: It was the first baseball game she ever attended.
"I don't usually think about how much effort goes into being an analyst behind a sports team, or how awesome it must be to see your work literally play out in front of you when you watch a game, but I think it's really fascinating that analytics plays such a large role in these games," said Jones, a senior majoring in statistics and psychology.

Related: