September 01, 2016
At 50, "Star Trek" Inspires CMU Teachers, Writers and Actors
Heidi Opdyke / 412-268-7521 / opdyke@andrew.cmu.edu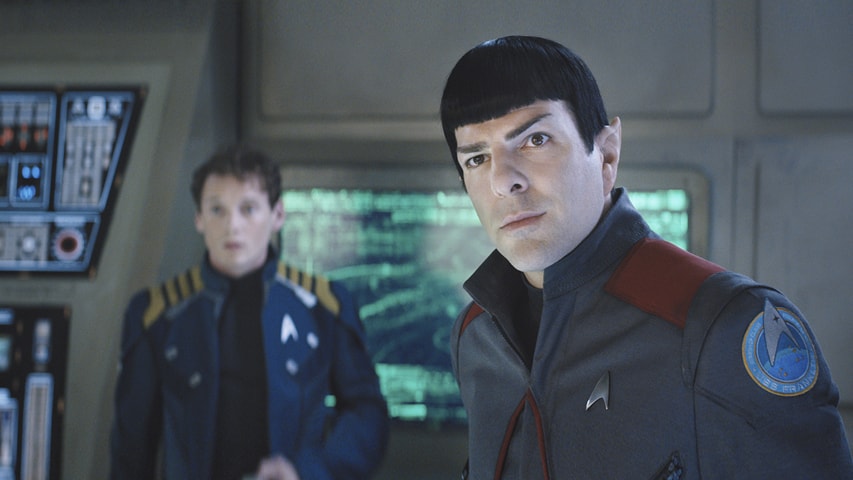 The late Anton Yelchin plays Chekov and CMU alumnus Zachary Quinto plays Commander Spock in "Star Trek Beyond." Credit: Stephen Windon/2015 Paramount Pictures
Humans have been beaming up to boldly explore space in the "Star Trek" universe since Sept. 8, 1966.
And as science has leaped forward for the past 50 years, so have the writers' imaginations.
Carnegie Mellon University Physics Teaching Professor Barry Luokkala has been teaching complex scientific concepts through examples from movies and television shows, like "Back to the Future," "Jurassic Park" and "Doctor Who," for more than a decade. He authored a book on the topic that also uses examples from "Star Trek." The material is offered as a mini-course for science majors in the fall and a full-semester course open to all students in the spring.
"Science and technology are progressing at such a phenomenal rate," Luokkala said. "What will the future of the course be if everything in the future already exists?"
Some of the technology imagined in the "Star Trek" realm is available today. The original crewmembers' communicators from the 1960s were simplified versions of today's smartphones, and tablet-sized computers on "Star Trek: The Next Generation," are similar to today's iPads. Ship computers also responded to queries, just like today's Siri from Apple and Echo from Amazon.
Luokkala said the class also discusses what isn't possible. For example, transporter devices, which move people and items thousands of miles in the Star Trek universe, is far beyond the realm of possibility.
But other technology might be a lot closer.
Recent advances in augmented and virtual reality could be the baby steps toward a Star Trek holodeck, which creates the illusion of touching something. Or GE's portable ultrasound devices could be compared to hand-held Star Trek scanners.
"What I really want students to take away from the course is the ability to think critically about things they see and read," he said. "So when they see a science-fiction movie, they understand what's based on good, solid science and what's theoretically possible."
Writers at Work
Science Fiction writer and triple CMU alumnus Daniel Wilson spent countless hours studying while Captain Jean Luc Picard saved the day on "The Next Generation."

Wilson, who earned his bachelor's degree in 2003, master's degree in 2004 and Ph.D. in robotics in 2005 from CMU's School of Computer Science, stays abreast of advances in science through publications, conferences and connecting with researchers.

Wilson is a New York Times bestselling author of "Robopocalyspe" and eight other books. His graphic novel "Quarantine Zone" was released in March.

"Inspiration can come from anywhere, a pretty sounding word, an intriguing new technology or an image that comes to mind during a certain song," he said. "Like a lot of writers, I find that inspiration often appears when I'm walking and letting my mind roam. My theory is that the brain is a pattern-finding machine, and it will always find a new story if you step back and let it go."

Just like the Star Trek universe, Wilson said technology is a way to tell stories with messages that resonate.

"I use science and technology to convey the underlying theme," he said. "I was recently writing about family ties, and the science revolved around neural implants that connect minds."
Acting on Technology
Rene Auberjonois, a 1962 School of Drama graduate and a 2001 honorary degree recipient, first joined the "Star Trek" universe in 1991 after appearing as Col. West in "Star Trek VI: The Undiscovered Country." He went on to spend seven seasons playing Constable Odo 3 on the TV spinoff "Deep Space Nine."
"It's an honor to be even a small part of a work of art that has touched the lives of so many in a positive and hopeful way," Auberjonois said. "As a young actor in training at CMU, dreaming of doing that sort of work was almost more than one could hope for."
When asked what fantastical technology he was most impressed with from the Star Trek realm, he said that greatest sense of hope for the future was in the area of medicine and advanced surgical techniques and procedures.
Fifty years in, the journey isn't over. The recent release of "Star Trek Beyond" was CMU alumnus Zachary Quinto's third time as Spock, originally played by Leonard Nimoy starting in the 1960s. Another Star Trek movie has been announced and CBS is working on a new offering, "Star Trek: Discovery," which will be available online in 2017. CMU alumnus Mark Worthington is the production designer for the project.