September 09, 2016
Hybrid Program Made the Perfect Match
By Katelyn Howard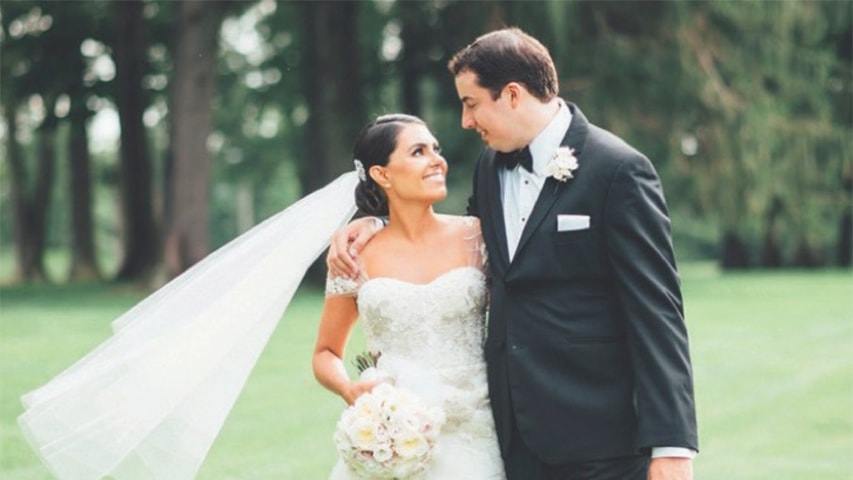 When Julie Sfanos and John Surma enrolled in the Tepper School's Part-Time Online Hybrid MBA Program three years ago, they hoped they'd be able to form bonds with their classmates despite the primarily online delivery mode.
And they did. Sfanos and Surma, who met during their class' first in-person Access Weekend on campus, were married on July 16 — two months after John graduated, and one month before Julie would.
"My expectation was that I wouldn't achieve that level of closeness with classmates simply because we were all located in different cities and doing much of class remotely, but I was wrong," Julie Surma explained. "There is so much interaction … Everyone was eager to share knowledge and work together."
"Tepper also made an effort to make sure we didn't miss out on experiences that might typically be considered 'on-campus' activities," John Surma added.
The Part-Time Online Hybrid MBA through the Tepper School of Business provides working professionals with the advantage of an education from a top-ranked program delivered through a flexible format that emphasizes rigorous curriculum, team-based projects, and exceptional leadership and career preparation. Students in the program have the same opportunities as full-time students and part-time on-campus students: the same coursework, the same professors, the same degree.
One of the prime benefits of the program is that it allows students to get to know their classmates through immersive, in-person Access Weekends, which occur in different cities every other month. This blend of online and on-site learning makes the program unique and sets it apart from standard online-only programs.
"When we started the program, John was living in Akron, Ohio, and I was living in Pittsburgh. We met at the very first Access Weekend in August 2013," she said. "He asked me out to lunch on the Sunday of that first Access Weekend when class had concluded."
The two studied together over the next few months, and went on their first date later that fall.
"As far as I know, there is only one legitimate, top-tier hybrid MBA that will challenge, engage and teach students the same way as if they were full time, and that's Tepper." John Surma
"It was the best decision I ever made!" she added.
One thing the pair had in common right off the bat was a motivation to expand upon their education, combined with dedication to their full-time jobs: Julie at Johnson & Johnson, John at Lockheed Martin. The hybrid program was the perfect fit that allowed them to combine work and school.
"The benefit to me is all in the flexibility. I really wanted a top-tier MBA, but other part-time programs were nowhere near as flexible," John said. "I could do all my schoolwork at once if I knew I had a busy week coming, or space it out if my job was light."
"I travel quite a bit for my job at Johnson & Johnson, and my hours can be unpredictable. But I didn't want that to restrict me from pursuing an MBA," Julie added. "I was drawn to Tepper's online program because I found it was the exact same curriculum as the part-time on-campus and full- time programs, but offered the flexibility that I could be anywhere in the country, and essentially the world, and complete my coursework and attend classes."
The newlyweds were married this summer before jetting off to Italy for their honeymoon. From here, the pair is eager to see how their recent MBA degrees will help to advance their careers.
"At Johnson & Johnson, I've been able to apply much of my MBA learning to internal projects and different aspects of the business that I hadn't been exposed to prior," she said. "I pursued my MBA for career advancement …
I hope to advance within the organization and take on a challenging new role."
And the new groom, who is continuing to work with Lockheed Martin as a manufacturing program manager, hopes that his education will aid him in starting his own venture.
"In all of my spare time I am exploring my entrepreneurial side, with my eyes on owning my own business in the near future," he said.
Their advice for those mulling over the prospect of an MBA degree: consider things such as your "fit" within a program, your financial situation and your future goals. The new bride advises potential students to think carefully when choosing between various delivery modes and select one that makes them feel challenged by the work, yet comfortable with the program and people.
"Nowadays, there are a million and one places to get an MBA. As far as I know, there is only one legitimate, top-tier hybrid MBA that will challenge, engage and teach students the same way as if they were full time," John said. "And that's Tepper."