September 23, 2016
New Drama Season Proves Laughter Is Best Medicine
By Erin Keane Scott
The School of Drama kicks off its 2016-2017 season with a mixture of old and new plays that reflect on gender politics and social systems through several distinct lenses.
"This year's productions will use humor as a primary device to shed light on the human condition," said Peter Cooke, head of the School of Drama. "From Irish politics to a feminist 17th century classic, these plays prove the adage that 'laughter is the best medicine.'"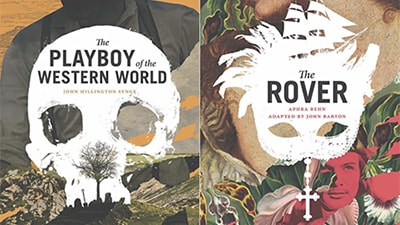 "The Playboy of the Western World" by Irish playwright laureate John Millington Synge will be the first production of the season, running from Oct. 6-15 in the Philip Chosky Theater. The play is notorious for causing riots after it opened in 1907 because it revealed a much less idyllic Ireland than Dubliners wanted to see.
"We can always use a beautiful romance," said director Don Wadsworth, "but at its heart this play explores the idea that we may not really know the true nature of those we love. There is a universal mystery to the show."
Theatergoers will delve into the complicated territory of gender and sexuality with an adaptation of the 2015 book, "I'm Very Into You: Correspondence 1995-1996" by Kathy Acker and Mackenzie Wark. Director and adaptor Sara Lyons seeks to explore how intimacy and relationships are redefined online — underscored by these writers' radicalism, lust and desire to be together. "I'm Very Into You" will run from Nov. 9-11 in the Helen Wayne Rauh Studio Theater.
The exploration of gender politics continues with "The Rover" by Aphra Behn, adapted by John Barton. The first known female playwright penned this 17th century restoration comedy and guest director David Bond of the Royal Welsh College of Music and Drama has chosen to put her point of view center stage.
"'The Rover' is not typical of plays of this period," Bond said. "The characters are not recognizable from other plays of the time — they are not the familiar parade of fops, cuckolds, naive country maidens and predatory men. The politics are complex."
This spirit of bringing a period piece into the contemporary zeitgeist has been pervasive in the creative team's discussions.
"It's been liberating. The designers are very much aware of the gender politics and how bold we might be with set and costume, sound and light," Bond said. "We all think we can go for the big picture — and there IS a big picture — and still preserve the complex psychology and social relationships."
"The Rover" will run from Nov. 17-19 and Nov. 29–Dec. 3 in the Philip Chosky Theater.
The fall season wraps up with magical realist playwright Noah Haidle's "Mr. Marmalade," which runs Nov. 30–Dec. 3 in the Rauh Studio Theater. The play is about a 4-year-old girl named Lucy and her imaginary friend, Mr. Marmalade. Mr. Marmalade represents Lucy's very dismal ideas about adulthood in a darkly comic fashion.
"This play comes at a time when we are questioning the social systems at the bedrock of our country's founding and prosperity," said director Terrence I. Mosley.
"There are a lot of people seeking change but there are more people who don't understand the systems they are a part of because they are too young. Mr. Marmalade is fecund ground for the exploration of these social systems."
In addition to these plays, the School of Drama will host the New Works Series from Oct. 26-29, and the Playground Festival from Dec. 8-10. The New Works Series is a presentation of three new plays, each by a graduate student playwright in their final year at CMU.
The Playground Festival is an independent, student-run event featuring work from traditional plays to installation pieces to performance art. Playground is a time when students test the limits of their creativity, often to fantastic result.
Tickets can be purchased
online
or by calling the box office at 412-268-2407. Discounted tickets are available for faculty and staff.