September 15, 2016
"Last Lecture" Keeps Delivering Lessons for Life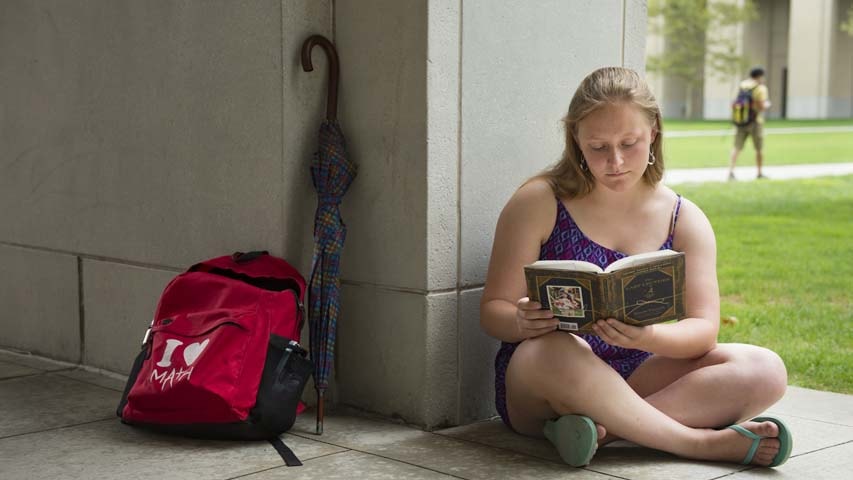 First-year Mellon College of Science student Nina Edwards is part of the incoming class who read Randy Pausch's "Last Lecture."

On Sept. 18, 2007, the late Randy Pausch delivered his "Last Lecture."
A video of the speech has been viewed more than 18 million times, and the book version was on The New York Times best-seller list for more than 112 weeks.
Nine years later, Pausch's messages continue to resonate and inspire.
"Experience is what you get when you didn't get what you wanted."
Eric Brown, a CMU Entertainment Technology Center (ETC) alumnus, recalled Pausch's support as a professor and in a startup he co-created with fellow ETC alumnus Asi Burak.
"It has been amazing to see how Randy's legacies have fueled each other," said Brown, the new director of the Alice Project, an animated and fun way to teach computer programming that Pausch created. "I have in my short time on the project already encountered so many people that have found and started using Alice from having learned of it from "The Last Lecture."
Brown has never been far from CMU. He grew up cleaning beakers in the lab of his father, the late Bill Brown, a beloved professor of biological sciences.
His greatest take away from  "The Last Lecture" was Pausch's Penguin Award, which was given to students who took the greatest risks and suffered the most spectacular failures.
"The idea behind it was that failure, if done in the spirit of trying something new and bold, should be celebrated," Brown said.
The Alice Project continues to inspire students. Alice 3.3 was just released, and Brown said the team is working on a new website to support and engage the Alice user community. A new textbook will be released soon, and Oracle is supporting the translation of Alice into languages such as Arabic, Portuguese, Spanish, Russian, Greek, Bulgarian and Chinese.
"Be good at something, it makes you valuable. Have something to bring to the table, because that will make you more welcome."
Don Slater has been working with Alice since he was a computer science high school teacher. A longtime systems scientist with the Alice Project, he first came to CMU in 2000 as a member of the Computer Science Department's teaching faculty.
"When I got here, I looked for ways in which I might work with Randy," he said.
Slater used Alice in his CMU introductory programming courses and he served as a consultant for the high school AP Computer Science Exam, which covers Java.
"Randy recognized, even before I did, how the experience and background would be valuable to the Alice group's work, and invited me to join the project," he said.
Slater said his biggest lesson from working with Randy was almost perfectly captured on his memorial at Walt Disney World.
"A corollary to this is to recognize your value, recognize what you are good at, and do not minimize it," Slater said. "And do not let anyone else minimize it, either. We all have value, but all do not recognize and own that value."
"Never lose the child-like wonder. It's just too important. It's what drives us to help others."
Danny Seim first watched the lecture in 2007.
"It put CMU on my radar," said Seim, who is originally from Griffith, Ind., and a second-year MBA student at the Tepper School of Business.
"The most influential message for me was probably how he talked about achieving your childhood dreams," he said. "I took from it to continue to dream like a child and then achieve those dreams as an adult."
Seim's dream is to build things that improve the human condition. And he and colleagues are building automated solutions for vertical farming through their startup RoBotany.
"The brick walls are there for a reason. The brick walls are not there to keep us out. ...They're there to stop the people who don't want it badly enough."
It has become a tradition for incoming first-year students to read the book and then meet in small groups during Orientation to discuss the book with CMU faculty and staff. Rick Siger, director of strategic initiatives for Carnegie Mellon, was one of this year's discussion leaders.
"What people took out of the discussion was how special the CMU community is and how Randy Pausch in many ways embodies what is so special about this place," Siger said.
"One of the lessons that resonated with me was about finding your brick wall and then climbing over it. We talked a lot about Randy Pausch having the courage to take risks, and the drive to succeed," he said.
"When we're connected to others, we become better people."
Maryia Rakach, graduate program administrator for the Department of Biomedical Engineering, also was a discussion leader for the first time.
As someone who works with students, Rakach said the opportunity to talk about "The Last Lecture," helps her understand students' hopes for the future, which she could then help facilitate through programming.
"I hope students took away the main idea — they are not alone," Rakach said. "The most important thing is to remember their values, ask for help and be open to receive help. I also encouraged them to understand that it is not possible to be successful and be alone."
"Thin Mints are a great communication tool. They're also a sweet reward for a job well done."
Nina Edwards, a first-year student in the Mellon College of Science, said the ways in which Pausch described how he and others handled difficult situations stuck with her.
"For example, when needing academic peer review on papers, Pausch would often send boxes of cookies and a note saying 'no fair eating them until you review the paper,'" Edwards said. It was a gentle way to remind people without having to nag them.
"Going about things in a good and subtle way can make all the difference," she said.