September 30, 2016
School of Drama Raises the Curtain with "The Playboy of the Western World"
By Erin Keane Scott / 412-268-2068 /
ekscott@andrew.cmu.edu
and Pam Wigley / 412-268-1047 /
pwigley@andrew.cmu.edu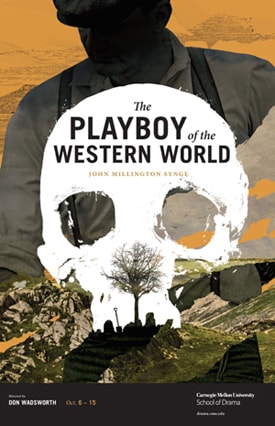 "The Playboy of the Western World," by Irish playwright laureate John Millington Synge, will be the first production of the 2016-2017 season for Carnegie Mellon University's School of Drama. The play was notorious for causing riots after it opened in 1907, because it revealed a much less idyllic Ireland than Dubliners wanted to see. It will run from Oct. 6-15 in CMU's Philip Chosky Theater.
"Playboy is a miracle of the Irish Canon," said Peter Cooke, head of the School of Drama. "Bold, provocative, caring and human, it holds a mirror up to the magic Ireland of the 1900s."
Based on an eyewitness account by Synge himself, "The Playboy of the Western World" uses humor to explore life's darker mysteries. Don Wadsworth, a renowned director, vocal coach and dialect expert, will bring this lyrical romantic comedy to life complete with lilting Irish accents.
"We can always use a beautiful romance," Wadsworth said, "but at its heart this play explores the idea that we may not really know the true nature of those we love. There is a universal mystery to the show."
Tickets can be purchased by calling the Box Office at 412-268-2407 between noon and 5 p.m., Monday through Friday, or through the Box Office website.