September 29, 2016
Andy Award Winners Reach for the Stars
Their Extra Effort Makes Big Impact
By Kelly Saavedra
Each year, Carnegie Mellon's staff recognition program honors individuals and teams who go the extra mile to make a real and lasting impact at the university. This year's Andy Award winners have made a significant difference not just in their departments, but also on Broadway and beyond.
From helping to establish CMU's partnership with the Tony Awards, to migrating the School of Computer Science's data network, to relentlessly supporting students, to ensuring everyone finds CMU to be a warm, welcoming and inclusive place, the following individuals are working to take the university to a higher level.
And this year's Andys go to …
Christina Cowan
Commitment to Excellence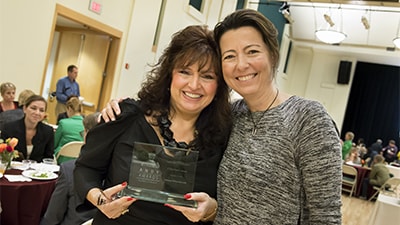 Christina Cowan (l.) poses for a photo with Jelena Kovačević, head of ECE.
From creative and innovative service to outstanding leadership, Christina Cowan's impact throughout the Department of Electrical and Computer Engineering (ECE) runs the gamut. Her novel approach to ensuring everyone around her feels valued has won over students, faculty, and staff.
"It is amazing how the efforts of one person, one particular person, can truly make a difference in departmental morale," said Jelena Kovačević, the David Edward Schramm University Professor and head of the Electrical and Computer Engineering Department.
Kovačević said Cowan is constantly evaluating things and adjusting course to make the department as vital, successful and exciting as possible. From students to the dean, she treats everyone with the same level of courtesy and professionalism.
Meighan Harding, director of operations, said Cowan created a handbook for all visitors to the department and bios for the entire ECE faculty — all 75 of them — so that administrative coordinators can easily access them on Box and visitors know exactly where to go and with whom they are meeting.
"Moreover, she created a handbook for the coordinators from scratch so there are never any questions about who does what and how to do it," Harding said. "Her motto is, 'we should all know.'"
Cowan, nominated by the ECE Administrative Services Team, has instituted a number of initiatives for the department, from streamlining processes to providing training classes to saving $17,000 in 2015 alone by negotiating better prices for the faculty annual retreat.
Harding said she also knows how to make the department fun.
"Christina not only puts a smile on everyone's face, but she makes them want to visit more often," Harding said. "Staff and faculty who are extremely busy always make it a point to stop by to say hello if they are in the neighborhood. She makes people forget their worries, even if only briefly, and she finds something in common with everyone."
Kevin Collins
Commitment to Students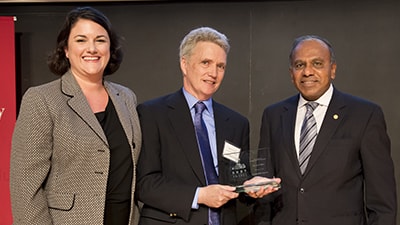 Gina Casalegno (l.) and President Suresh (rt.) congratulate Kevin Collins on his Andy Award.
Kevin Collins has gone above and beyond the call to create programming and events that meet his students' unique needs.
As a career consultant in the School of Computer Science, he is a strong advocate for its student population and consistently goes out of his way to meet with them and provide assistance.
"I frequently see him squeeze in student meetings during the day, giving up his own time to meet their needs," said his nominator and colleague Jennifer Frick, a career consultant for Tepper School students. "He is a wonderful resource to both students and employers and a beloved part of the Carnegie Mellon community."
During each of the last three years, Collins completed more than 600 student appointments including special drop-in hours in the Gates Center where he could be closer to the students who were pressed for time. Last year, he facilitated 25 workshops for both undergraduate and graduate students — including eight orientation workshops in a 10-day time period — to help students acclimate to the university and the job search process.
Many of his advisees are international students, Frick noted, so Collins recently created a video — recorded entirely in Mandarin — that features Chinese alumni sharing tips on securing U.S. jobs and internships.  He also worked with a former senior software engineer in Silicon Valley to produce a video on technical interviewing tips.
He has been integral in the planning and running of the annual Spark job fair for startup companies to recruit CMU students. He also helps the department create online student resume books, which he then distributes to his many corporate contacts.
"Kevin realizes that our students have broad interests for their careers, and he meets with many companies both large and small to help develop successful partnerships that ultimately result in student jobs," Frick said.
Pam Wigley
Innovative and Creative Contributions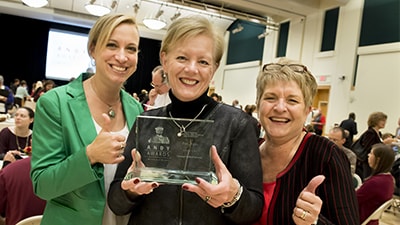 Pam Wigley (center) celebrates her win with colleagues Kara Kessler (l.) and Sue Tolmer.
Party tents and birthday cake were not what Pam Wigley had in mind to celebrate the School of Drama's centennial in 2013. She had her eyes on the Tony Awards. With a desire to do something decidedly different, she set out to turn the red carpet "CMU red" and succeeded.
Leveraging internal and external resources, Wigley helped to secure CMU's inaugural meeting with the producers of the Tony Awards, The Broadway League. They proposed a three-tiered partnership that was accepted: CMU would be the first, exclusive higher education partner of the Tony Awards, the presenter of the Excellence in Theatre Education Award and the exclusive sponsor of the Tony Awards press room. 
From CMU's first prime-time 30-second television commercial, to branded press kits for 250 global entertainment media, to alumni presenters, Wigley's efforts elevated the visibility of the School of Drama to a new level, promoting arts education in general and distinguishing the CMU brand from competitors.
"The robust public relations and marketing program that established the partnership earned CMU its first-ever Silver Anvil, which is the Public Relations Society of America's highest honor," said nominator Sue Tolmer, advancement director for the schools of Architecture, Art and the Office of the Dean. "Pam's dedication to finding creative solutions has created a tangible benefit in the School of Drama, increasing application volume by 43 percent."
Erin Keane Scott, director of marketing and communications for the School of Drama, added that Wigley elicits goodwill among everyone she meets.
"I've watched her interview countless Broadway professionals, and the interest she takes in their lives is genuine," Scott said. "With both CMU alumni and others, she creates a positive connection that reflects back on our institution favorably."
Patti Steranchak
Spirit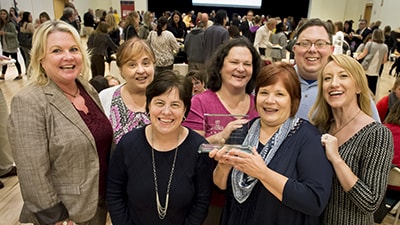 Patti Steranchak (front row, rt.) shares her excitement with colleagues from the Department of Engineering and Public Policy.
Patti Steranchak has made improving and promoting the Department of Engineering and Public Policy her life's ambition, and colleagues say her spirit shines brightly in the hearts of former affiliates, alumni, faculty, staff and students.
She has helped to develop rising professors, encouraged many College of Engineering graduates through their academic careers, and has mentored staff members through the ranks and across the university.
"Patti has created an environment within EPP where all students and staff feel respected and included," said professors Granger Morgan and Doug Sicker in their nomination letter. "With no doubt, this has helped EPP become one of the most diverse and inclusive departments within the College of Engineering."
In addition to being competent, careful and meticulous in her work, Morgan and Sicker said she anticipates what could go wrong or require follow-up thereby heading off potential problems.
She's also played a critical role in creating and sustaining the tone of the work environment across the department into a "friendly, collaborative environment in which most everyone is prepared to pitch in when there is something urgent that needs to be done, and in which everyone respects each other as a friends," Morgan and Sicker said.
Adam Loucks, an administrative coordinator, said, "Her legacy at Carnegie Mellon has been well established for years, but Patti is ever looking forward, ever looking to put a little more shine on her work, and ever looking to guide a fresh-faced student to greatness."
The Network Convergence Team
Josh Emerson, Steve Snodgrass, Matt Nickerson & Ronald Zack
Teamwork and Collaboration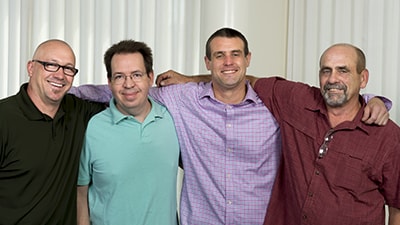 The teamwork of Josh Emerson, Steve Snodgrass, Matt Nickerson and Ronald Zack (l. to rt.) was a smashing success.

Migrating the School of Computer Science from its own independent data network to the network-based telephony system required not just a thoughtful plan but the right team to pull it off.
The right team turned out to be Computing Services' Josh Emerson and Steve Snodgrass and SCS' Matt Nickerson and Ronald Zack. Setting aside organizational boundaries they attacked the situation from all angles as a single cohesive unit, consumed with "the spirit of partnership," according to Scott Ambrose, director of Network and Communication Services, who nominated them for the award.
"They have been open-minded and inquisitive while seeking solutions, and thoughtful and assertive about pursuing their plan, resulting in a smart and elegant transition," Ambrose said.
Ambrose called the end result "a smashing success" for the university in that the project was completed well before it needed to be and saved the university hundreds of thousands of dollars.
David Baisley, interim chief information officer, noted that bringing together teams charged with similar responsibilities to work on issues such as these could be fraught with peril.
"There can be a sense of territoriality, defensiveness and outright conflict. But not with these guys," Baisley said. "They were solely focused on solving this complex problem and their love for the work rose above all other potential concerns."
The team not only succeeded at their primary goals but also reduced network complexity, improved the delivery of network services and reduced university costs. The reduction in duplicate network hardware resulted in approximately $700,000 in savings. By eliminating leases for duplicate fiber runs to off-campus buildings, their intelligent network design contributed to another $100,000 in savings.