October 28, 2016
Carnegie Mellon To Host Rising Stars Workshop
By Krista Burns / 412-268-5316 /
kristab@cmu.edu
Carnegie Mellon has long been a leader in encouraging women to pursue key science and technology careers, as female students now comprise nearly half of this year's incoming classes in engineering and computer science. So it's no surprise that the university is now hosting some of the world's brightest female students in these fields at this weekend's 2016 Rising Stars Workshop.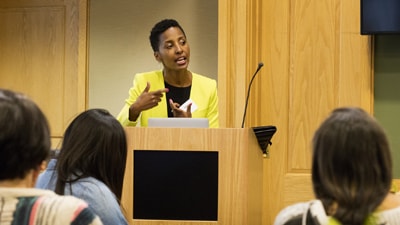 Ayana Ledford will present a session on "Preparing for the Job Process: Negotiation."
Designed for female Ph.D. students and postdocs in electrical engineering and computer science, the workshop is a two-day conference of scientific and career-oriented discussions that focuses on navigating the early stages of a career in academia.
Originally founded by MIT in 2012, this year's workshop is hosted and sponsored by Carnegie Mellon's Department of Electrical and Computer Engineering, College of Engineering, Center for Faculty Success and School of Computer Science, in collaboration with MIT's Department of Electrical Engineering and Computer Science.
"We are excited to welcome the participants to Carnegie Mellon University," said Jim Garrett, dean of the College of Engineering. "The workshop is an important leadership and development program to help to change the equation and bring more women into positions of influence and leadership."
The workshop will include three poster sessions as well as presentations and panels on aspects of life in academia — from finding a faculty position to how to succeed as a junior faculty member. Participants will have the opportunity to present their ongoing research, interact with faculty members from top institutions and receive advice for advancing their careers.
"The Rising Stars workshop is a great opportunity to become acquainted with the latest research, to meet future leaders in the field and to network with Carnegie Mellon faculty," said Jelena Kovačević, head of the Department of Electrical and Computer Engineering. "The participants will showcase their passion for research and education, while creating societal impact."
This year's participants also will have the opportunity to learn by doing, with sessions focused on landing a faculty job, navigating the promotion process and building a professional support network, as well as many other topics of interest to women in academia. The workshop will feature presentations and discussions spanning the spectrum of electrical engineering and computer science, from devices, circuits and nanosystems to cyber-physical systems, data science, and security and privacy. The discussions will focus on making an impact in society through work on energy, mobility, smart infrastructure, health and quality of life.
"I've got good news and bad news for the participants," said Andrew Moore, dean of Carnegie Mellon's School of Computer Science. "The bad news first: being in their position is a big responsibility. Technology is one of the best bets for getting the planet through the 21st century and, as future thought and organizational leaders, it's all on their shoulders. The good news is that I can't imagine a more rewarding and interesting career!"