October 22, 2016
CMU's Rich Lackner Reaches Coaching Milestone
By Mark Fisher / 412-268-3087/
mwfisher@andrew.cmu.edu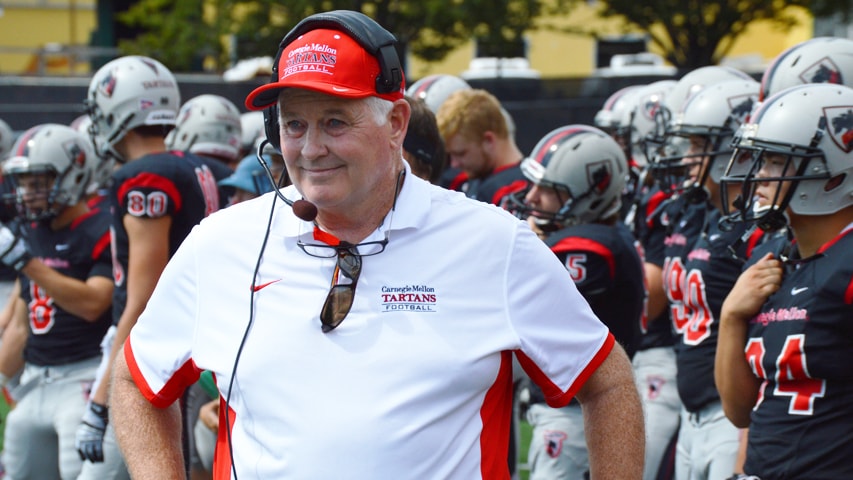 With Carnegie Mellon University's 49-33 victory over Thiel College Saturday (Oct. 22), Head Coach Rich Lackner became the 79th football coach in NCAA history to amass 200 wins (200-109-2). Lackner is one of 13 active head coaches among all NCAA divisions with 200 career victories, and fourth among active Division III head coaches in career wins.
Lackner, a CMU alumnus, is the 34th coach to win all 200 games at the same institution, and just the 11th to do so at the Division III level. This season marks his 31st year at the Carnegie Mellon helm.
"Winning 200 college football games is a truly significant achievement. More important than the wins, however, is the impact Rich has had on the lives of young men during his time at Carnegie Mellon," said CMU Director of Athletics Joshua Centor. "He cares deeply about the education and well-being of his players, and instills lifelong values that guide them long beyond their time as Tartans. Carnegie Mellon has been, and continues to be, fortunate that Rich Lackner is our head football coach."
Former players and assistant coaches agree.
"Compiling 200 wins at any level is amazing, but what is more impressive, in my opinion, is the number of lives that Coach has positively impacted over the years," said former running back Scott Barnyak. "Every school and football player across the country would be blessed to have Rich Lackner as their coach."
Assistant Coach Andy Helms, who played safety for the Tartans, said Lackner's focus is always on helping his players and what's best for the program.
"He has created a winning culture here at CMU through his positive and encouraging mentorship and leadership — all efforts to facilitate the success of his players both on and off the field," Helms said. "Like so many other former players, I am certainly grateful for all he has done and continues to do for me."
After the game, Lackner was presented with the game ball. He accepted the ball on the condition that a game ball would also be given to assistant coach Terry Bodnar, who has been an assistant to Lackner for all of his 31 years as CMU head coach.
"A couple things make this special," Lackner said to the team. "Number one, the fact that I was able to do this at my alma mater makes it very, very special. Being able to accomplish this at one school, makes it incredibly special to me personally. Number two, to do this when so many great alumni are here today for an alumni dinner. And number three, to be able to do this with all you guys that I love. You have no idea. You're very, very special. Thanks to all of you guys."
A Pittsburgh native, Lackner began his CMU career as a standout linebacker for the Tartans from 1975-78. A four-year starter, he was a three-time All-Presidents' Athletic Conference (PAC) selection and the PAC Defensive Player-of-the-Year in 1976. Following his senior year, Lackner was named to the Pittsburgh Press All-District Team and received a Pittsburgh Post-Gazette Dapper Dan Award. A model student, the history major was twice named Academic All-American.
 
During his playing career, he helped lead Carnegie Mellon to a four-year mark of 28-7-1 and PAC titles in 1977 and 1978. The Tartans advanced to the NCAA Playoffs in 1978, marking their first postseason appearance since the 1939 Sugar Bowl.
 
Following his graduation in 1979, Lackner remained with the program as an assistant coach. He was promoted to head coach in 1986, succeeding Chuck Klausing.
As head coach, Lackner has directed the Tartans to nine conference championships and two NCAA playoff berths. He has been named University Athletic Association (UAA) Coach of the Year six times, most recently in 2015 after leading the Tartans to an 8-3 record and a victory in the Eastern College Athletic Conference (ECAC) Legacy Bowl.
Lackner's most successful season was 2006, when he led the Tartans to an 11-1 season, the most wins in school history, and their sixth appearance in the NCAA playoffs. That year he also was named All-South Region Coach of the Year by D3football.com.
Lackner is an inductee of the Western Pennsylvania Sports Hall of Fame, and a recipient of the Catholic Youth Organization's Bob Prince Award. He also received the Mt. Lebanon High School Great Alumni Award.
Milestones in Lackner's March to 200 Victories
Sept. 13, 1986: 36-7 at Allegheny - first career coaching win
Sept. 15, 1990: 41-0 versus Chicago - first game at Gesling Stadium
Nov. 7, 1992: 28-12 versus Catholic - 50th career win for Lackner
Sept. 19, 1998: 38-7 versus Bethany - 89th career win for Lackner, becomes winningest coach in Carnegie Mellon history
Oct. 16, 1999: 13-10 versus Chicago - 100th career win for Lackner
Nov. 18, 2006: 21-0 versus Millsaps- first NCAA playoff game at Gesling Stadium
Sept. 1, 2007: 33-10 at Rochester- 150th career win for Lackner
Nov. 5, 2011: 28-13 at Chicago - 500th program win for Carnegie Mellon
Oct. 22, 2016, 49-33 versus Thiel- 200th career win for Lackner