October 19, 2016
Digital Archive Shares In-Depth Stories of Black America
Heidi Opdyke / opdyke@andrew.cmu.edu / 412-268-7521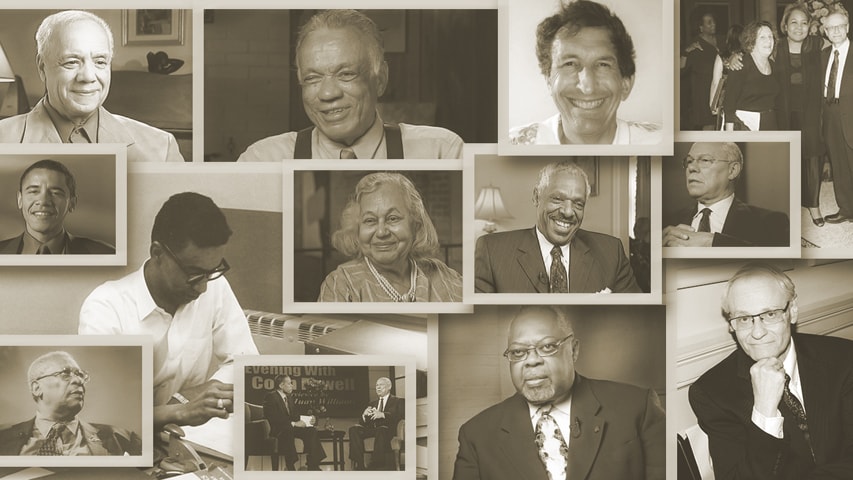 With stories from President Barack Obama, Gen. Colin Powell, B.B. King Langston Hughes' assistant and more than 2,700 others, The HistoryMakers is the largest African-American oral video archive in the world.
"Carnegie Mellon University can single handedly take credit for opening this collection for research and study," said Julieanna Richardson, executive director of The HistoryMakers who started collecting interviews in 1999. "I can't say enough about Carnegie Mellon."
Thanks to a longtime partnership with CMU, the online database of more than 9,000 hours of interviews with more than 2,700 individuals is searchable and available for students and scholars at subscribing institutions including Carnegie Mellon, Harvard, Yale and Princeton, among many others.
"Everybody who has seen the work has been blown away," she said. Interviews are publicly available at the Library of Congress, The HistoryMakers' official repository.
Each video is presented as brief segments with transcripts. Work by CMU allows users to jump directly to video references mentioned in the transcription. The content is rich and relates to science, education, entertainment, art, history and other disciplines.
As recognition for its contributions, Carnegie Mellon was granted access to the archive in perpetuity. The gift was announced at the fall reception for CAUSE, the Center for Africanamerican Urban Studies and the Economy.
 
Joe William Trotter, Jr., the Giant Eagle Professor of History and Social Justice and director of CAUSE, became acquainted with the HistoryMakers in 2008, when the Oral History Association met in Pittsburgh. 
In keeping with the conference theme, "Oral History in the Digital Age," the Heinz History Center, the HistoryMakers project, and CAUSE organized a panel featuring an interview by Sala Udin, then a Pittsburgh city councilman representing the Hill District," he said. "This was an exceedingly successful event, moderated by the highly regarded veteran journalist Lynn Hayes Freeland."
Trotter said that the broad range of topics within the HistoryMakers materials is a rich resource.
"In the past, historians would need to listen to hours of tapes to identify particular topics or themes" Trotter said. "Now, with this electronically searchable resource, students of the African American experience can readily search these interviews through a variety of individualized research questions and strategies, both quantitative and qualitative."
Dionti Davis, a 2014 CMU alumnus who works for The HistoryMakers, was at the CAUSE event. He said the stories in the video collection are so much more powerful than reading a book.
"Right now, the country lacks a sense of mutual understanding between people of different racial and ethnic backgrounds. Too often, people are simply categorized as the 'other,' making it much easier to write off their issues as unimportant or irrelevant to our own lives," Davis said. "Work like The HistoryMakers allows people to connect and empathize across the social divisions we place on ourselves, by letting them not only hear, but also see, the emotions and expressions of each interviewee."
Richardson first started working with CMU when she reached out to Howard Wactlar in 2001. Wactlar was director of the Informedia Digital Library, a research project that used machine learning for understanding video housed within the School of Computer Science.
"She had heard about our work and wanted to determine if it could help to enrich her growing collection of information packed video interviews," said Wactlar, a research professor and former vice provost for research computing. "If it was all she optimistically thought it was, she wanted us to adopt her."
Wactlar said he found the oral histories Richardson had collected fascinating.
"It was the first time the Informedia team had an opportunity to apply our technology on an evolving video archive that would be available to the public," he said.
For her part, Richardson calls Wactlar one of her "godfathers."
"It was what I dreamed. I had no idea that it could be possible," Richardson said. "This is a gift back to the African-American community and the world."
The project to bring the archives online was the work of Michael Christel and Bryan Maher, who were part of the Informedia team and now at CMU's Entertainment Technology Center.
In April, the Andrew W. Mellon Foundation awarded $725,000 to Brandeis University to work with The HistoryMakers and Carnegie Mellon to modernize the digital archive. Previous funding has come from the Institute of Museum and Library Services and the National Science Foundation.
Christel, a teaching professor who works on digital humanities projects and games related to education and health care, said the goal is to have the site responsive for mobile devices in February 2017.
"The next step is we'd like to do more now to engage students with The HistoryMakers corpus and make it more visible through the experiences the ETC can offer," Christel said. "There's a depth to the material that is beyond every other African-American archive."
Among those interviewed are CMU alumni, including Vivian D. Hewitt, the first black librarian in Pittsburgh; the late Lucius Walker, a former dean of Howard University's engineering school; and Leonard Haynes III, former president of Grambling State University and an administrator in the U.S. Department of Education.
Richardson is a Pittsburgh native who wanted to attend Carnegie Mellon's School of Drama. She instead went to Brandeis University and received her law degree at Harvard.
"It's amazing this has come full circle," Richardson said of CMU's work. "We are here now, and the collection can be used in the classroom how Mike and Bryan envisioned it."