October 17, 2016
Martin Gaynor Elected to National Academy of Medicine
By Kelly Saavedra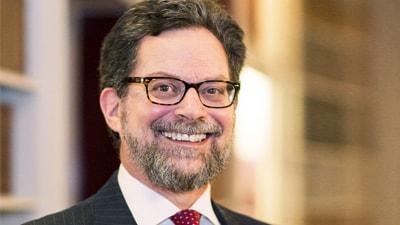 Martin Gaynor, the E.J. Barone Professor of Economics and Public Policy at Carnegie Mellon University and former director of the Bureau of Economics at the Federal Trade Commission, has been elected to the National Academy of Medicine.
National Academy membership is among the highest professional distinctions awarded to scientists, social scientists, engineers, and medical and health professionals, and honors those who have made outstanding contributions to their fields.
"It would be impossible to overstate the impact Dr. Gaynor has on his field and on our community," said Ramayya Krishnan, dean of Carnegie Mellon's H. John Heinz III College. "It is a great privilege for our faculty and students to collaborate with and learn from a scholar of his caliber. I am proud to count him as a colleague and friend, and I speak for all of us at Heinz College when I congratulate Dr. Gaynor on this tremendous and well-deserved honor."
Krishnan added that Gaynor has long earned the esteem of his peers worldwide, but his recognition by the National Academy of Medicine is an especially meaningful testament to his scholarship and thought leadership.
"To be included in such elect company, with such accomplished scholars — and to be considered worthy of that by very distinguished peers — is really a tremendous honor," Gaynor said.
Gaynor's research focuses on competition, antitrust policy and health care markets. He has written extensively on this topic, testified before Congress, worked with the state of Pennsylvania on its health innovation initiative, and advised the governments of the Netherlands, the United Kingdom and South Africa on competition issues in health care.
"There is a pure intellectual satisfaction and joy that comes from discovering something, figuring something out, that is simply enjoyable about research. It's fun and exciting. There is also the aspect of working out something that actually can make a difference," Gaynor said. "I work on applied problems, and when there's a result that can make a difference to a real world problem, that's very satisfying."
Gaynor said he finds enjoyment in the public service aspect of his work. He served as director of the Bureau of Economics at the U.S. Federal Trade Commission (FTC) in Washington in 2013-2014. In this position he was responsible for all economic analysis at the FTC and had a key role in antitrust and consumer protection.
"It was deeply meaningful to me to have the opportunity to serve the country and to be able to make a difference in a direct way in real time. That is not something that happens very often in academia," he said.
Gaynor is one of the founders of the Health Care Cost Institute, an independent non-partisan nonprofit dedicated to advancing knowledge about U.S. health care spending, and served as the first chair of its governing board. He also is a board member of the Jewish Healthcare Foundation, an elected member of the National Academy of Social Insurance, a research associate at the National Bureau of Economic Research, and an international research fellow at the University of Bristol.
He has won a number of awards for his research, including the American Economic Journal: Economic Policy Best Paper Award; the Victor R. Fuchs Research Award; the National Institute for Health Care Management Foundation Health Care Research Award; the Kenneth J. Arrow Award; the Jerry S. Cohen Award for Antitrust Scholarship (finalist); and a Robert Wood Johnson Foundation Investigator Award in Health Policy Research.
He received his bachelor's degree from the University of California, San Diego, in 1977 and his Ph.D. from Northwestern University in 1983.
Gaynor is the fifth member to be elected to the National Academy of Medicine from Carnegie Mellon. Honored in previous years were President Subra Suresh; Dietrich College faculty Sheldon Cohen and Baruch Fischhoff; and the late Lester Lave, who was a professor in the Tepper School of Business.