October 03, 2016
The Economics of Arts and Entertainment
Pittsburgh's Cultural Scene Is Adding Jobs, Improving Life
Michael Cunningham / 412-268-7298 / mcunningham@cmu.edu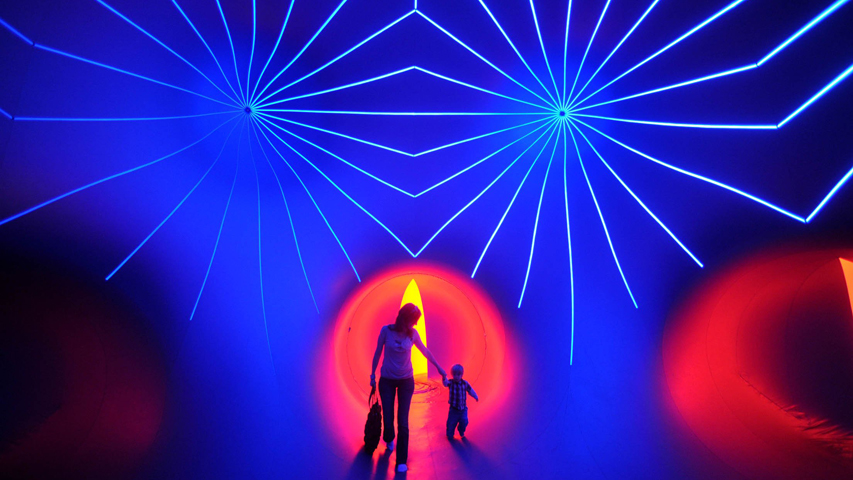 Kathryn Heidemann walks with her son during a preview tour of "Mirazozo", an inflatable installation that was part of the 2012 Pittsburgh International Children's Festival. Copyright ©, Pittsburgh Post-Gazette. All rights reserved. Reprinted with permission.
The arts and entertainment sector plays a huge role in driving Pittsburgh's economic vitality, accounting for nearly $1.2 billion in annual economic impact in Allegheny County by creating thousands of jobs, attracting creative professionals to the region and improving the quality of life. All of this helps the city consistently rank at or near the top of lists of "America's Most Livable Cities."
As the arts and entertainment industry drives Pittsburgh's economic growth, Carnegie Mellon University drives the growth of the local arts and entertainment industry.
Students in programs such as the Master of Arts Management (MAM) and Master of Entertainment Industry Management (MEIM), which are joint partnerships between the H. John Heinz III College and the College of Fine Arts participate in internships and apprenticeships, taking ownership of a wide ranging projects. For many, contributions to the Pittsburgh arts and entertainment sector continues after graduation. More than 100 MAM alumni impact the region as emerging professional arts leaders.
"This is such a great place where you can make a living as an artist," said Kathryn Heidemann assistant dean of Arts & Entertainment Management the Heinz College. "It is very much an artist's community alongside an arts organization community, and they intermingle very well here."
Heidemann, a CMU alumna herself, directs the MAM program. Originally from Chicago, she has lived in New York City, the United Kingdom and other places, and is a Pittsburgh arts commissioner.
"It was really here that I saw that beautiful marriage of the different sides of the arts spectrum coming together," she said.
From internationally renowned arts organizations to film resources, performers, analysts and events, Pittsburgh has become a place where arts and technology blend seamlessly.
"For a mid-sized city, we have all the big players," said Brett Crawford, assistant teaching professor of arts management. "We have a tier one symphony. We have two LORT [League of Resident Theatres] Theatres. We have the Pittsburgh Cultural Trust, with Broadway Across America and five big stages.
Take an in-depth look at what makes the region a destination for creative professionals and others in the article "Pittsburgh Steels the Spotlight."
Pittsburgh Arts by the Numbers:
5 million+ — People attending cultural events
1,054 — Organizations in 2015
138 — Feature film and TV productions since 1990
No. 2 — Nationally in foundation giving, government giving and per capita attendance