November 18, 2016
Tartans Have a Ball Supporting Children's Hospital
By Andrea James / 412-268-7910 /
awesp@andrew.cmu.edu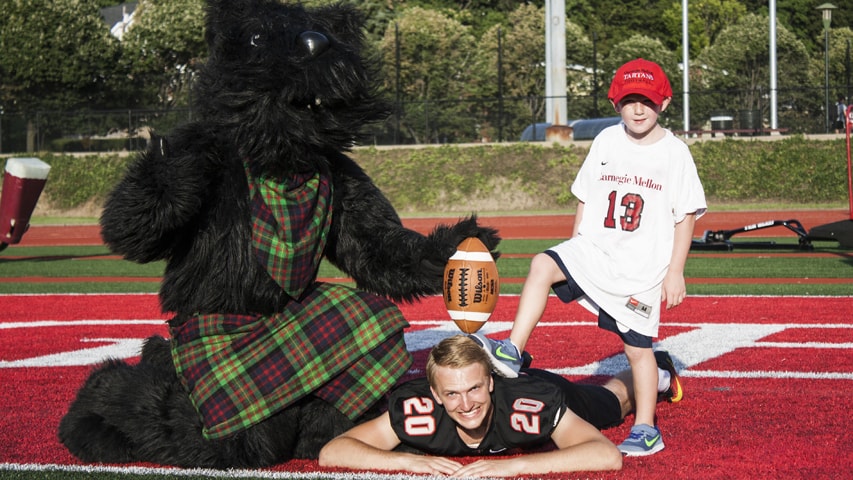 Carnegie Mellon University football team captain Samer Abdelmoty has some dates he'd like you to keep — 365 of them to be exact.
Abdelmoty, a senior safety from McLean, Va., and the Tartans have partnered with the Children's Hospital of Pittsburgh (CHP) Foundation to create a 2017 calendar with all proceeds benefiting Children's Hospital.
The partnership builds on the Tartans' connection with Team IMPACT, an organization that aims to improve the quality of life for children facing life-threatening and chronic illnesses by matching them with intercollegiate athletics teams. In 2014, the Tartans welcomed 9-year-old Brock Kitterman to the team. Abdelmoty said the relationship they developed with Kitterman spurred the team to select a fundraiser to benefit children.
"We have the annual Cindy Lackner Memorial Football Game, where we have a raffle and sell socks or t-shirts to help raise money for breast cancer research, but we wanted to do more. We felt if we are going to do another fundraiser for a cause it'd be great to get kids involved," Abdelmoty said.
Abdelmoty looked into various University of Pittsburgh Medical Center websites and contacted Children's Hospital to express his interest in organizing a community fundraiser.
"I was so excited when Samer expressed his interest," said Bethany Sunseri, development coordinator for Corporate and Community Giving for the CHP Foundation. "His idea was to have a fun promotional event by putting together a team calendar that included CMU players and patients."
The hospital secured four patient families to be part of the calendar shoot and it was scheduled for a day in August during the pre-season.
"The night of the shoot was very organized and all the players were excited to dress in theme and entertain the patients who attended the shoot," Sunseri said. "With a little help from the CHP Foundation's marketing team and four patient families, Samer's vision came together with the assistance of his teammates, coaches and talented photographer, Gerald Warhaftig, [a student at Carnegie Mellon]."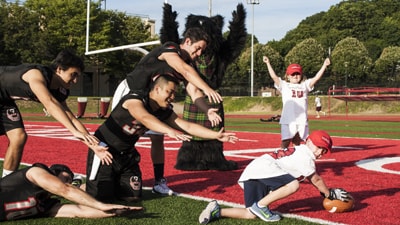 In addition to creating the calendar, the Tartans gained a new honorary captain in 7-year-old Mikey Witkowski, who was one of the patients in the photoshoot.
The players connected with Mikey causing Head Coach Rich Lackner to ask his parents if they'd heard of Team IMPACT. Lackner told them the team would like to make Mikey part of the squad.
"We reached out to Team IMPACT and were accepted into the program," said Mikey's mother, Meagan. "This experience could not have been any better. The entire CMU football family has welcomed us with open arms and we really feel part of the team. We consider ourselves blessed to have this opportunity and CMU has gained a family that is now their biggest fans."
Mikey remembers the photoshoot and running around interacting with all the players.
"The best part was when I was pictured kicking the football off of the kicker's [Tyler Kohman] head. It was hilarious," Mikey said.
Since joining the team through Team IMPACT, Mikey has been to every home game and even a few away games.
"My favorite part is hanging around in the locker room with the team before games," Mikey said. "We draw up football plays and watch College GameDay on ESPN and I get to drink a lot of Gatorade."
In the calendar, Mikey was joined by fellow patients Camden, Kelsey and Jayme. The calendar can be purchased for $10.
"We are thrilled by the support from Samer and the CMU football team," Sunseri said. "Their generosity will help ensure Children's Hospital can continue to provide world-class health care to hundreds of children and families, giving them hope for a healthier future."
"I'm hoping this calendar can become a yearly thing and become a team tradition," Abdelmoty said. "We got a Team IMPACT player from it which is awesome. If we can help kids enjoy a photoshoot and families can get calendars, I think that would be an awesome thing to leave as a legacy of this team."