November 15, 2016
Making PROGRESS: Program Aims To Help Students Become Better Negotiators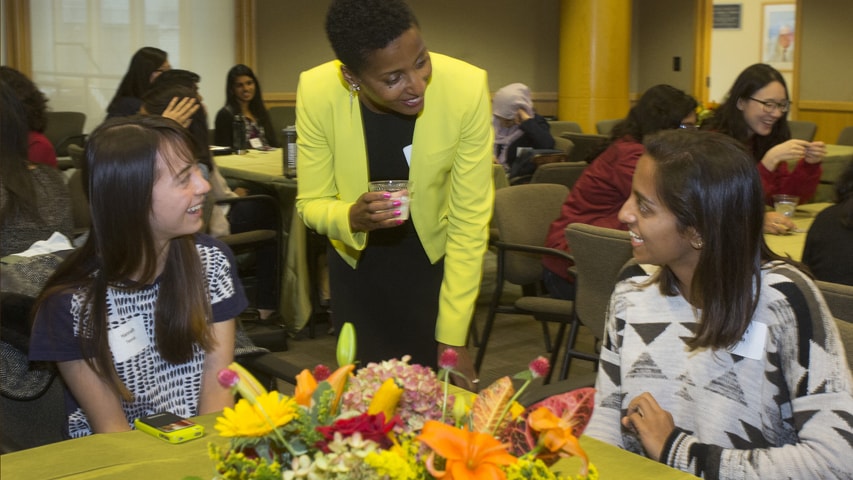 Ayana Ledford talks with two engineering students during a recent event.
Despite efforts to help close the gender wage gap, women still continue to be paid less than their male colleagues. A new program at Carnegie Mellon University wants to help change that through the art of negotiation.

The Program for Research and Outreach on Gender Equity in Society (PROGRESS) aims to improve society by helping women and girls improve their skills in diplomacy and bargaining, said Ayana Ledford, executive director of the nonprofit.
 
Its latest program is a toolkit for university students to create clubs to hone their skills.
 
"Even in college, there are opportunities to negotiate," Ledford said. "As part of the program, women — and also men — will learn how to negotiate, share experiences and learn to apply personal negotiation strategies in a casual environment."

She described some examples as negotiating with faculty on assignments, roommates on sharing cleaning responsibilities or with classmates on leadership roles on projects.
 
"Beyond that, we live in a world where we need to communicate and work with one another. Learning to negotiate can help achieve those goals," she said.

PROGRESS is based on the work of CMU faculty member Linda Babcock's research.
 
Babcock, the James M. Walton Professor of Economics and head of the Social and Decision Sciences Department, co-authored the book "Women Don't Ask: Negotiation and the Gender Divide," which describes her research on initiating negotiations and explores the societal factors that inhibit women from asking for what they want.
 
"Negotiation is an important part of ensuring that women are paid fairly in the workplace," Babcock said. "If women can learn these skills early in life and put them into action at work, this can help them to be paid what they are worth and can help in the fight to close the gender wage gap."
 
PROGRESS has created programming for girls as young as 7 to workshops for professionals. The toolkit for college students provides materials to create clubs, in which participants can receive feedback from industry experts and serve as mentors for girls, particularly in economically disadvantaged communities.
 
"Interventions need to begin early," Ledford said. "Women have a propensity to not speak up or advocate or negotiate their wages or opportunities for leadership, so this is an effort toward minimalizing this. The gap is even greater for people of color."

Each chapter will have a faculty adviser and materials that can be shaped depending on the focus of the students and programs. Ledford encourages anyone interested in starting chapters at any university or college to reach out to PROGRESS for more information at progress@andrew.cmu.edu or 412-268-8650.