May 26, 2016
Students Create Inflatable Martian Greenhouse
By Abby Simmons / 412-268-4290 / abbysimmons@cmu.edu
Carnegie Mellon University students are developing green thumbs for the Red Planet.
Two new courses introduced this spring challenged the budding space gardeners to design and build a prototype biome in which to grow plants on Mars.
But first — like Matt Damon's character in the 2015 blockbuster "The Martian" — students addressed some of the fundamental problems they would face on the planet, namely food and oxygen.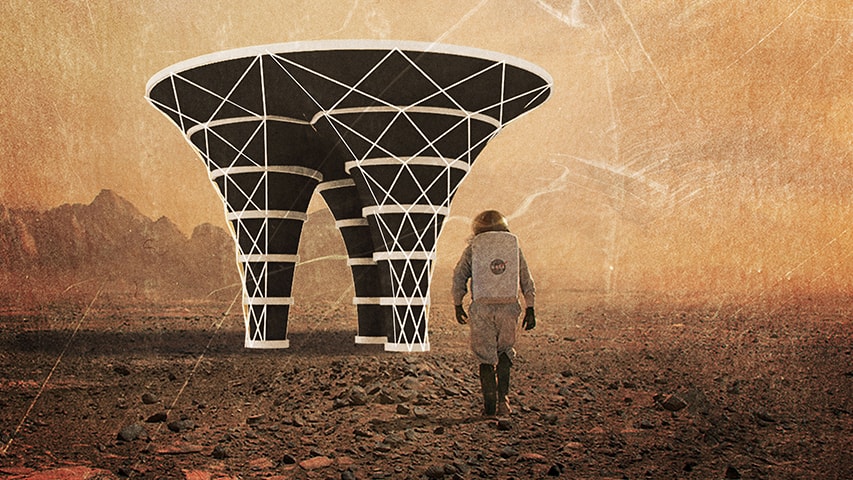 School of Architecture faculty members Christina Ciardullo and Daragh Byrne designed and led the Mars Studios as part of CMU's Integrative Design, Arts and Technology (IDeATe) Network. Students from any major can pursue one of eight IDeATe minors or concentrations.
"What's really exciting about this course is it's about taking chances. You're creating something new, which is a great opportunity, especially as an undergrad," said junior communication design major Kaleb Crawford.
More than a dozen faculty members were involved in the courses, from a former astronaut to experts in physics, engineering, robotics and art. Students also interacted with guest speakers from NASA, the European Space Agency and SproutsIO, a company that has created a hybrid hydroculture system to grow produce without the use of soil.
"The students impressed me with their depth of technical design and innovation of the concept," said Kriss Kennedy, an architect at NASA Johnson Space Center and one of three NASA representatives who visited CMU's campus to critique the finished greenhouse.
"Engaging students to work in teams, work across disciplines — architects, engineers and scientists — and develop leadership and management skills is extremely important to the future of space development," Kennedy said.
Ciardullo and Byrne agree. A course goal was to provide the 40 students an opportunity to work on a large, interdisciplinary project team.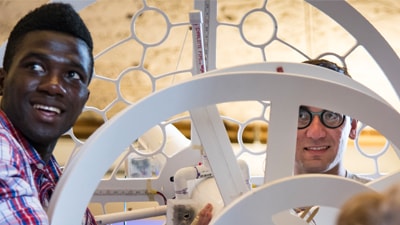 "At NASA, teams are quite big — upward of 30 people. Reaching consensus is important," said Ciardullo, who holds the Ann Kalla Professorship in Architecture.
Students spent half the semester investigating the conditions of Mars, membrane pressure vessels and growth systems. They explored the physics, geometry and components that could be used in the design of an inflatable, autonomous habitat compact enough to transport inside a SpaceX Falcon Heavy rocket.
Byrne, Intel Special Faculty for Physical Computing, Responsive Environments and Emerging Media, said students learned about a variety of topics in a brief time period.
"They're excited, they're motivated, they're engaged. They're constantly pushing new directions and exploring exciting avenues. That's been the most rewarding part of this for both of us as instructors," Byrne said.
In developing the greenhouse, Ciardullo's "Building an Atmosphere" class addressed environmental conditions like solar, water, protection from Mars and protection of Mars, while Byrne's "Responsible Mobile Environments" students focused on plants, adaption, energy, control and communications.
The prototype features three "legs" that house chambers for water, algae, fungi and plants. A large parabolic reflector on top of the biome attracts sunlight to assist with plant growth.
After discussing the importance of public engagement with space exploration, students developed a virtual reality experience that allows people on Earth to witness plant growth. They displayed the finished prototype on campus.
Fifth-year architecture major Gabriel Vidal-Hallet said students could apply their newfound knowledge not only to space exploration, but also to solve problems at home.
"There are a lot of aspects with regard to closed-loop systems and environmental applications that could be brought back to Earth. Localizing systems and making things function better without exterior support could be a lesson that's really valuable," Vidal-Hallet said.
The NASA Pennsylvania Space Grant Consortium provided funding for the courses, along with CMU's ProSEED/Crosswalk Seed Grant program and the Frank-Ratchye Studio for Creative Inquiry.