May 15, 2016
Graduates Urged To Put Their Hearts Into Their Work

"Do the unimagined. Discover the undiscoverable. Change the world — responsibly."

Reciting those words, more than 5,000 graduates at Carnegie Mellon University's 119th Commencement ceremony Sunday joined social historian and keynote speaker Earl Lewis in pledging to use their educations actively, throughout their lives, to the benefit of others. That theme sounded throughout the ceremony, as speakers challenged the  graduates to keep kindness, curiosity, respect, optimism and wide-eyed wonder in their hearts as they leave the university to make their mark in the world.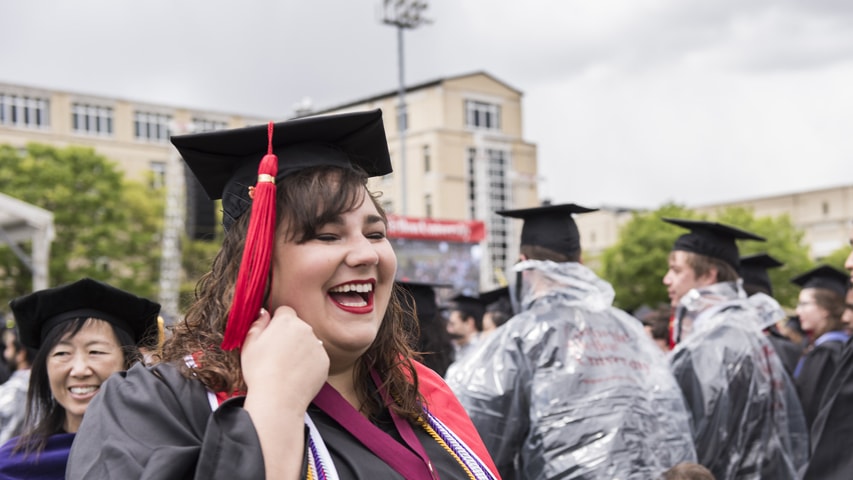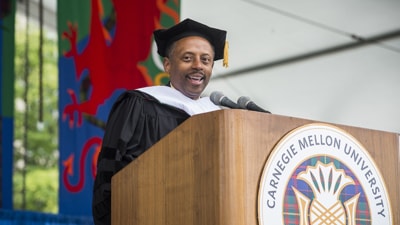 "'My heart is in the work' doesn't tell us to dedicate our hearts to work," said Student Speaker Sophie Zucker, of the famous words by CMU's founder Andrew Carnegie. "It's a promise to bring heart into work. To do the things we do with heart, with passion and with care."

Zucker, who earned bachelor's degrees in chemistry and creative writing, told the graduates on the chilly day, that they "have an obligation to do things that matter."

"Carnegie Mellon has not been an amazing experience just because of our classes," she said. "As we head out to careers, to graduate programs, to our parents' couches, we must realize that sometimes what made us happiest at CMU wasn't the work itself. It was the heart we put into things and the care."

Lewis, a noted social historian and author and president of the Andrew W. Mellon Foundation, echoed those sentiments in his keynote address. He asked the graduates to keep humanity in mind as they become the architects of the next technological revolution.

He said that it was critical for the graduating students to envision themselves as a part of a problem-solving society in which engineering, math and computer science have evolved into creative disciplines.

"Human interaction is messy. It's not scientifically based or mathematically predictable," Lewis said. "Sometimes you simply cannot get from A to B in a straight line. Sometimes you have to go around the block."

In his remarks CMU President Subra Suresh reiterated that it was the responsibility of the Class of 2016 to make a difference.

"Nobody is better prepared to shape the world than the graduates at Carnegie Mellon University," President Suresh said.

Lewis said he was humbled and delighted to speak on behalf of this year's diverse class of honorary degree recipients.

"Graduates, make a note to self; learn more about these folks ASAP," he said. The recipients are:

Holly Hunter, an Academy Award winner who is among the elite actors in the entertainment industry, received a Doctor of Fine Arts degree. She graduated from the College of Fine Arts in 1980.

Robert Langer, the David H. Koch Institute Professor at MIT and the most cited engineer in history, was awarded a Doctor of Science and Technology degree.

Sonia Manzano, who changed the face of American television on the iconic, Emmy Award-winning children's television series "Sesame Street," received a Doctor of Fine Arts degree. She attended CMU's College of Fine Arts.

James Swartz, leading partner and founder of the Palo Alto, Calif.-based Accel Partners, a prominent global technology venture capital firm, was presented  a Doctor of Business Practice degree. He is a 1966 graduate of the Tepper School of Business.

Related:
Learn more about the honorary degree recipients.
Watch the recorded webcast.