May 13, 2016
Historian and Author Earl Lewis To Give Keynote Address at CMU Commencement, May 15
By Abby Simmons / 412-268-6094 /
abbysimmons@cmu.edu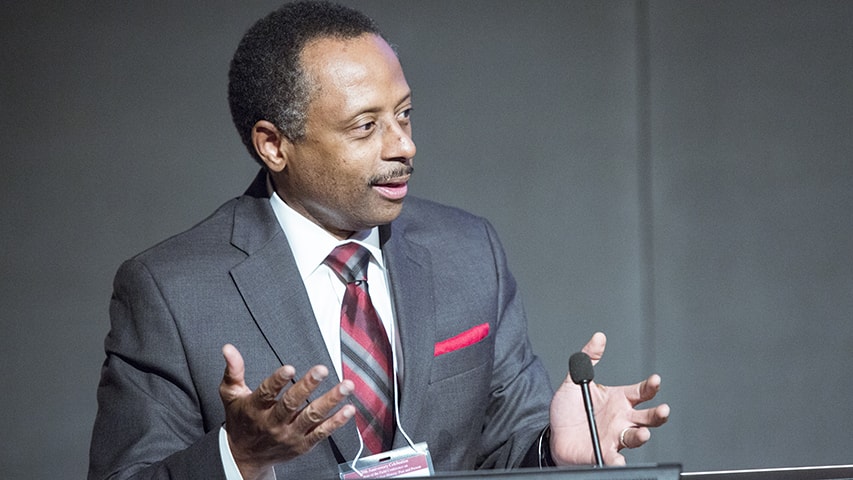 Earl Lewis
Earl Lewis, president of the Andrew W. Mellon Foundation and one of America's leading advocates for supporting the humanities and the arts in higher education, will be the keynote speaker at Carnegie Mellon University's 119th Commencement. A renowned social historian and author, Lewis will receive an honorary Doctor of Humane Letters degree.
The student speaker is Sophie Rose Zucker. A member of the Science and Humanities Scholars Program, she will receive bachelor's degrees in chemistry and creative writing.
CMU's additional honorary degree recipients are:
Holly Hunter, an Academy Award winner who is among the elite actors in the entertainment industry, will receive a Doctor of Fine Arts degree. She graduated from CMU's College of Fine Arts in 1980.
Robert Langer, the David H. Koch Institute Professor at MIT and the most cited engineer in history, will receive a Doctor of Science and Technology degree.
Sonia Manzano, who changed the face of American television on the iconic, Emmy Award-winning children's television series "Sesame Street," will receive a Doctor of Fine Arts degree. She attended CMU's College of Fine Arts.
James Swartz, leading partner and founder of the Palo Alto, Calif.-based Accel Partners, a prominent global technology venture capital firm, will receive a Doctor of Business Practice degree. He is a 1966 graduate of CMU's Tepper School of Business.
Learn more about the speakers and honorary degree recipients.
The ceremony will be webcast live at: http://www.cmu.edu/commencement/.
When: 11 a.m., Sunday, May 15 (rain or shine).
Where: Gesling Stadium, CMU campus.
Note: Media planning to attend Sunday's ceremony should contact Abby Simmons for instructions on parking, photography and seating. Please wear press credentials.