March 15, 2016
Mayor William Peduto, CMU To Hold Press Conference Today on Smart City Application
Mayor William Peduto and Raj Rajkumar, director of Carnegie Mellon University's Metro 21 and Technologies for Safe and Efficient Transportation Center, will hold a press conference this morning (March 15) to discuss the city's "Smart City Challenge" bid, which will award the winning city $50 million to build technology-based systems to address mounting transportation and transit challenges facing cities nationwide.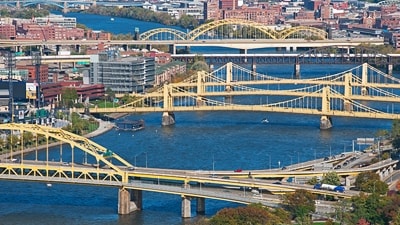 Nearly 80 cities applied for the challenge in February. This weekend in Austin, Texas, the U.S. Department of Transportation named Pittsburgh as a finalist, along with Austin, Columbus, Denver, Kansas City, Portland and San Francisco.
The Pittsburgh team was awarded $100,000 to finalize its application, which is due in April. The cities will further develop their concepts and the winner will be announced in June.
A live stream provided by Carnegie Mellon will be available here.
What: Press conference on Smart City Challenge
Where: Rangos 1, Cohon University Center, Carnegie Mellon University
When: 11:15 a.m., Tuesday, March 15
Note: The Cohon Center is next to the CMU commons off Forbes Avenue. It is building 13 on this campus mapPDF File.
Media Contact:
Ken Walters / 412-268-1151 / walters1@andrew.cmu.edu