March 11, 2016
School of Drama Presents "The Plague in Venice" Directed by Sasha Iliev
By Erin Keane Scott / 412-268-2068 /
ekscott@andrew.cmu.edu
, Pam Wigley / 412-268-1047 /
pwigley@andrew.cmu.edu
Carnegie Mellon University's School of Drama will conclude its 2015-2016 season with "The Plague in Venice," opening at 8 p.m., April 8 in the Philip Chosky Theater and running through April 23. The production is based on a scenario by Flaminio Scala and adapted and directed by movement mime and mask specialist Sasha Iliev, a guest of the School of Drama.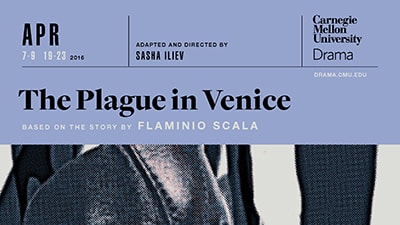 "'The Plague in Venice' brings to the Chosky stage the fantastical storytelling of Commedia dell'arte, including a cast of beloved characters who have informed the theatrical zeitgeist for 400 years," said Peter Cooke, head of the School of Drama.
Based on a scenario by Scala, "The Plague in Venice" transports us to 16th century Venice, where corruption flows in and around the city like the water it was built on. Using Commedia dell'arte movement techniques along with music, puppets and projections, the actors will put a comedic twist on a true-life tragedy in the Italian tradition.
"This piece is very, very contemporary and on the pulse of our time," said Iliev. "But it's not a tragedy, it's a comedy. Flaminio Scala wrote this outline 30 years after the events of the story; he was a survivor of the plague. Italian people are a little different than others, they can laugh about themselves."
To reserve your tickets, please call the box office manager, Maria Stoy, at 412-268-2407 between noon and 5 p.m., Monday through Friday. The performance will take place in the Philip Chosky Theater at CMU's Purnell Center for the Arts.