March 03, 2016
School of Drama, Pittsburgh CLO Welcome "Spring Awakening" Creators for "Nero" Workshop
By Erin Keane Scott / 412-268-2068 /
ekscott@andrew.cmu.edu
Carnegie Mellon University's School of Drama and Pittsburgh CLO will welcome Steven Sater and Duncan Sheik, the creators of the Tony Award®-winning musical "Spring Awakening," for a one-week workshop of their new musical "Nero," directed by Ed Iskandar and performed by the School of Drama Senior Music Theater Ensemble. Iskandar is a 2008 graduate of CMU's Drama School.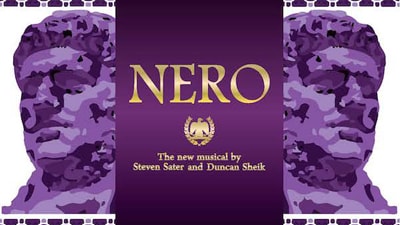 The reading will take place at 8 p.m., Saturday, March 19, in the Purnell Center for the Arts' Al Checco Studio. This collaboration is a part of the Pittsburgh CLO/Carnegie Mellon University School of Drama New Works Program, which encourages the exploration and refinement of new works of American Music Theater.
"Pittsburgh CLO's partnership with CMU is another example of how our professional producing organization pursues new works with homegrown talent," said Van Kaplan, executive producer of the Pittsburgh CLO. "In this case, the musical 'Nero' is being incubated in Pittsburgh, with participation from CMU's faculty and students and mentorship by musical theater luminary Stephen Schwartz and CLO. By pooling our collective expertise and resources, I hope to deepen our collaboration with CMU and our theater artists of the future."
"Nero" tells the story of the notoriously devious Roman emperor who ruled from 54 A.D. to 68 A.D. Sater drew upon research from Roman historians Suetonius and Tacitus as the basis for a black-comic musical about the emperor who fiddled while Rome burned. Sheik and Sater's new musical tracks Nero's rise to power from his youth as a bizarre young man who jumps over the rightful heir and then uses extreme and often violent methods to hold onto his place as emperor — including destroying the people he loves most. The show explores the theatricality of politics, presenting Nero as the first political star.
"The School of Drama is delighted to collaborate with Pittsburgh CLO to workshop 'Nero,' the latest work from Duncan Sheik and Steven Sater. Both artists have changed the musical landscape through their theatrical invention and ready insight into the cultural zeitgeist," said Professor Peter Cooke, head of the School of Drama.
Iskandar is returning to Pittsburgh to direct the reading. Since his graduation from the Master of Fine Arts' John Wells Directing Program, he has gone on to direct plays around the world, including many with his company, "Exit Pursued By A Bear," in New York City.
This project is supported in part by the National Fund for New Musicals, a program of National Alliance for Musical Theatre, with support from The Human Race Theatre Co. 
Media Contact:Pam Wigley / 412-268-1047 / pwigley@andrew.cmu.edu