March 22, 2016
Sophomore Ian Asenjo Receives State Department Scholarship To Study in India
Emily Stimmel / 412-268-1788 /
estimmel@andrew.cmu.edu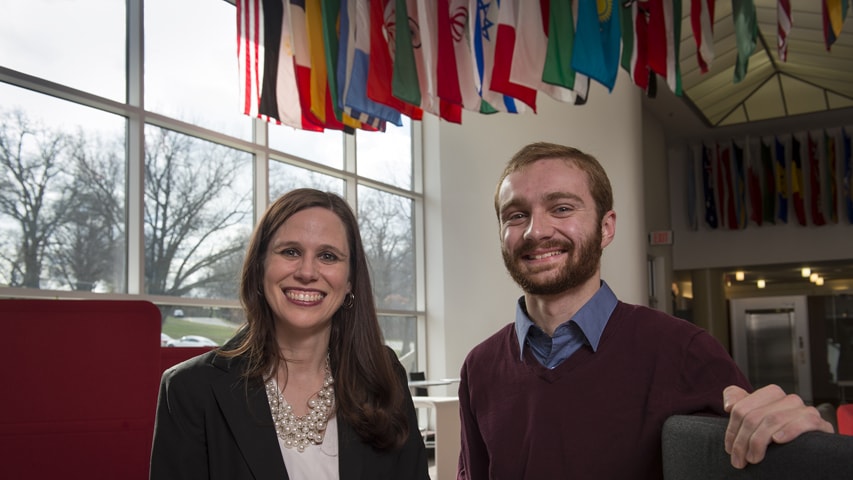 Ian Asenjo and Joanna Dickert
Carnegie Mellon University sophomore Ian Asenjo has received a Critical Language Scholarship (CLS) from the U.S. Department of State. Over the past 10 years, the fully funded overseas cultural immersion program has sent over 5,000 American undergraduate and graduate students around the world to learn 14 critical languages.
Critical languages, including Arabic, Chinese and Punjabi, can be difficult to learn because they are radically different from English in grammatical structure and other features. As a result, the demand for proficiency in these languages outpaces the supply of fluent speakers.
A global studies major with an additional major in ethics, history and public policy, Asenjo was drawn to the CLS program because of its strong reputation for intensive language learning. He will be traveling to Chandigarh, India, this summer, where he hopes to gain proficiency in Punjabi and explore his passion for Bhangra — a folk dance with roots in the region. Though Asenjo has not yet begun Punjabi language training, he attends weekly services at a Sikh temple ("Gurdwara") in Monroeville as a way to learn more about the language and culture.
According to Joanna Dickert, assistant director of undergraduate research and national fellowships, Asenjo is an ideal match for the CLS program.
"With a lifelong commitment to intercultural engagement and language learning, he has used these values as a foundation for his academic career at Carnegie Mellon," Dickert said. "A true seeker, he embodies the intellectual curiosity that we aim to cultivate in our students."
Associate Professor of History Nico Slate teaches "India Through Film," which examines the history of India through a cinematic lens. Taking this course helped Asenjo deepen his longtime interest in Indian culture.
"Ian is an outstanding student with a profound commitment to South Asia. The CLS will allow Ian to deepen his language skills and to prepare for future research on South Asian history, culture and politics," Slate said.
Asenjo is eager to take on the challenge of learning Punjabi and to experience Indian culture, which he understands primarily through books, films and dance, firsthand. A member of CMU's Bhangra team, Asenjo looks forward to attending practice with some of Chandigarh's collegiate groups and expects to pick up a few new steps along the way.
"I would like to fully immerse myself in a cultural environment that is very different from the one in which I was raised," said Asenjo, who is of Spanish-Argentine heritage. "The CLS will serve as an exceptional introduction to India, not only as a cultural destination, but as a professional environment as well."
For Asenjo, the CLS offers an opportunity to grow both as a student and a young adult. Learning Punjabi is the first step toward his long-term professional goals. He would like to spend some time after graduation living in India and working in foreign relations between South Asian countries and the U.S. government.
Slate is confident that Asenjo will flourish in Chandigarh.
"Ian is ideal for this award because he has a unique passion for South Asia and the drive and determination to make the most of this opportunity. He is also remarkably mature and culturally sensitive and will be an outstanding ambassador for CMU and the United States," Slate said
Asenjo is not the first CMU student to receive the CLS. Dervla McDonnell, a 2015 graduate who majored in fine art and Japanese Studies, won back-to-back awards in 2013 and 2014.