March 24, 2016
"Fastball" To Premiere in Pittsburgh
Film Stars CMU Scientists and Hall of Famers
By Shilo Rea / 412-268-6094 /
shilo@cmu.edu
and Jocelyn Duffy / 412-268-9982 /
jhduffy@cmu.edu
Watch the trailer.
"Fastball," the baseball documentary that celebrates the sport's signature pitch and aims to answer the question of who threw the fastest fastball of all-time, will premiere in Pittsburgh with several screenings scheduled.
Narrated by Kevin Costner and directed by nine-time Emmy-Award winner Jonathan Hock, the film includes interviews with more than 20 Hall of Fame players, including Hank Aaron, Johnny Bench, Goose Gossage and Bob Gibson.
It also has several connections to Pittsburgh, a.k.a The City of Champions. Three Carnegie Mellon scientists — physicist Gregg Franklin and neuroscientists Michael J. Tarr and Timothy Verstynen — are prominently featured; CMU Trustee and Steelers minority owner Thomas Tull produced the documentary; and the Pittsburgh Pirates' superstar centerfielder Andrew McCutcheon appears in it.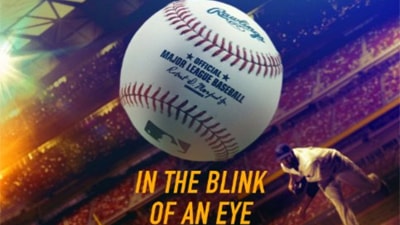 Fastball speeds can reach close to — and sometimes over — 100 miles per hour, requiring baseball players to make split-second decisions. Tarr and Verstynen talk about how a batter's brain races to process an incoming fastball.
"Baseball is perhaps the ultimate test of neural abilities," said Verstynen, assistant professor of psychology and member of CMU's BrainHub neuroscience initiative. "A fastball can travel so fast that the batter's brain may not even have the time to make a decision based on what he sees."
Franklin talks about the physics of the fastball, addressing some of the most controversial questions in baseball: Is there such thing as a rising fastball, and who really threw the fastest pitch? For the latter, Franklin uses physics calculations to compare the speeds of fastballs throughout history.
"Not to spoil the movie, but the fastest pitch on record might not really be the fastest pitch," said Franklin, a professor of physics. "A fastball is fastest immediately after being thrown, and it loses speed as it approaches the plate. So recordings taken using today's technology, which measures a pitch's speed close to the mound, will appear faster than pitches measured using older technologies that recorded speeds closer to the plate."
Pittsburgh Screenings
Harris Theater
Friday, March 25 through Thursday, March 31
Various times
View schedule
Carnegie Mellon University
8 p.m., Friday, April 15
Kresge Theater, College of Fine Arts
Franklin, Verstynen and Tarr, professor and head of the Department of Psychology, will join Hock and Pittsburgh Pirates Director of Performance Chris Johnson for a panel discussion following the screening. The event is part of CMU's Carnival weekend, and tickets must be purchased in advance.