March 01, 2016
Students Present Educational Premiere of "Polkadots: The Cool Kids Musical"
By Nate Bertone
Carnegie Mellon University will be the first educational institution to present "Polkadots: The Cool Kids Musical," a one-night-only event featuring the work of CMU students and the Arts Greenhouse program for teens.
The event begins at 7 p.m., Monday, March 14 at the Philip Chosky Theater in CMU's Purnell Center for the Arts.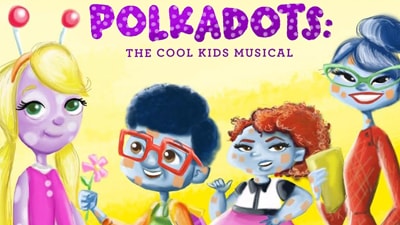 Conceived by composer and lyricist Douglas Lyons, "Polkadots" was inspired by the 1957 events of the Little Rock Nine in Arkansas, and serves as a colorful musical history lesson for children, reminding them that our individual differences make us awesome, not outcasts.
"Polkadots" features lyrics by Lyons, who co-wrote the score with Greg Borowsky (Sony ATV). Melvin Tunstall III (BLooM!) wrote the book.
Carnegie Mellon senior drama major Nate Bertone is the director. Senior electrical and computer engineering major Nitsan Shai provides musical direction, while sophomore drama major Olivia Hern leads costume and makeup design. The cast includes School of Drama students Myha'la Herrold (Lily Polkadot), Jordon Bolden (Sky Square), Amanda Smith (Ms. Square/Mama) and Kate Rosenberg (Penelope Square).
"Polkadots" is the story of Lily Polkadot, the newest resident of the "Squares Only" small town of Rockaway. As the first Polkadot in an all-square school, Lily faces the almost impossible task of gaining acceptance from her peers. From daily bullying by mean girl Penelope to segregated drinking fountains, Lily's quest seems hopeless until she meets Sky, a shy square boy whose curiosity for her unique polkadot skin blooms into an unexpected pal-ship and sparks a turn of events for the courageous Lily.
The show's timely message of treating each other with dignity and compassion is brought to life with vibrant costumes and 14 entertaining musical numbers such as "First Day," "Sticks and Stones," "Sprinkler Suspicion" and "Squa-Dot!"
The performance is co-produced by Bertone, Shernell Smith of the Division of Student Affairs, the School of Drama and Scotch 'n' Soda Theatre. The performance will be followed by a talkback with the writers.
For tickets and more information, email polkadotsmusicalcmu@gmail.com.
Media Contact:
Pam Wigley / 412-268-1047 / pwigley@andrew.cmu.edu