March 20, 2016
Driverless Bulldozer Entrepreneur, Alumnus Wins Fellowship
Reclining in a leather seat, watching the weather channel, eating cereal or a bagel, perhaps — all while the car drives itself 70 mph down the highway.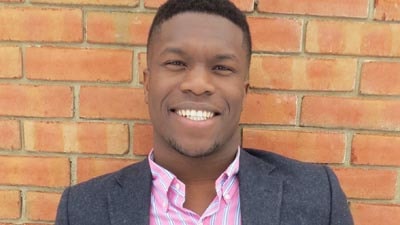 Autonomous cars are the future. But what about other autonomous vehicles? Carnegie Mellon University alumnus Oluseun (Seun) Aremu, a perception systems research engineer at
Caterpillar Inc.
and CEO of the startup Emerging Innovations, builds autonomous mining machines — in other words, driverless bulldozers and trucks.
"I'm specifically working on the data management and data processing of these autonomous machines, like our 797 Caterpillar haul trucks," Aremu said. "I take sensor data collected by the machine's perception system and transform it into information our customers can use to make logistic decisions and measure our machine's performance."
Aremu received his master's degree in
Civil and Environmental Engineering
in 2013, while he was a
GEM Fellow
co-funded by Carnegie Mellon and Caterpillar. A veteran of the fellowship circuit, the
American Australian Association
has awarded Aremu the 2016 University of Queensland Fellowship, a $40,000 grant for doctoral study at the
University of Queensland
(UQ). He will pursue his doctorate under Professor Ross McAree, an automations specialist for mining machines and academic world leader in mechatronic engineering.
James Garrett, dean of the
College of Engineering
, personally advised Aremu during his time at Carnegie Mellon and was not surprised by the award.
"Seun Aremu is very bright, extremely hard working, determined and accomplished already in his young career," Garrett said. "He is planning to work on an exciting and high-impact project for his Ph.D. that builds on his background at Carnegie Mellon and is consistent with his vision and skillset."
At UQ, Aremu aims to combine the Internet of Things with autonomous mining machines for prognostic health monitoring. His background at CMU in structural health monitoring, or using sensors to understand the faults in buildings and bridges, applies greatly to his research in predicting autonomous machine failures.
"We're approaching an era  where we want the machine to tell you what's wrong with it," Aremu said. "We all go to the doctor, and the doctor has to ask us what's wrong with our body. The idea here is, why not have the machines tell us their current state and predict when they're going to malfunction?"
Aremu is the first Carnegie Mellon graduate to receive the UQ Fellowship. He attributes his fellowship success to the
Fellowships and Scholarships Office
(FSO), who assisted him in his application process. The FSO offers application assistance for current students and alumni alike — though the office only receives a handful of alumni assistance requests such as Aremu's per year, explained Assistant Director Joanna Dickert.
Dickert hosts office hours every Friday, which are open to student and alumni fellowship candidates from across the university. Though they are often applying for very different experiences, Dickert said the application-building process knits a close, diverse community.
"It's a very dynamic group that I don't think would have ever crossed paths on campus anywhere else," Dickert said. "That microcommunity we have been able to create is an unanticipated benefit of offering advising support to alumni candidates."
Aremu leaves for UQ in April, and could not be more excited.
"Not to sound lofty or grandiose, but I've really been chasing the idea I'm about to execute since I started college," he said. "Now, I'm going to execute it. I'm finally, after almost eight years in academia, going to explore my idea."