March 23, 2016
College of Fine Arts Steiner Speaker Series Presents Special Guest Anne Bogart
By Erin Keane Scott / 412-268-2068 /
ekscott@andrew.cmu.edu
The Carnegie Mellon University School of Drama is hosting Anne Bogart as a guest in the Steiner Speaker Series. Bogart will be giving a talk, open to the CMU community, from 4:30 – 5:30 p.m., March 30, in the Chosky Theater, sharing thoughts on her views and approaches to theater and storytelling.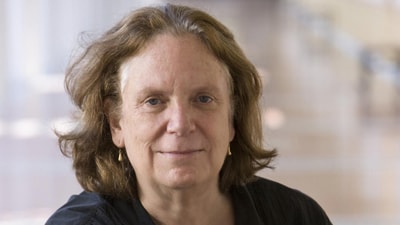 Anne Bogart
"Anne Bogart is a towering figure in contemporary theater making," said Peter Cooke, head of the School of Drama. "Her development of the 'Viewpoints' methodology has influenced acting practice and education across the global stage."
The Steiner Speaker Series program was established through an endowment gift from David Steiner, a very successful real estate developer in New Jersey and an alumnus of the College of Engineering. Steiner has a deep interest in the arts and entertainment. He created (and owns) the Steiner Studios in Brooklyn, the largest and most sophisticated film/television production facility outside of Los Angeles. He provided the funds to support visits to campus by leaders in the arts and entertainment sectors. Recent speakers include Nelle Nugent (Broadway producer) and alumni Rob Marshall and Billy Porter.
Bogart is one of the three co-artistic directors of the SITI Company, which she founded with Japanese director Tadashi Suzuki in 1992. Productions with SITI include Persians, Steel Hammer, A Rite, Café Variations, Trojan Women (After Euripides), American Document, Antigone, Under Construction, Freshwater, Radio Macbeth, Hotel Cassiopeia, Intimations for Saxophone, Death and the Ploughman, A Midsummer Night's Dream, La Dispute, Score, Hay Fever, bobrauschenbergamerica, Room, War of the Worlds, Cabin Pressure, The Radio Play, Bob, Culture of Desire, Private Lives, Miss Julie, Alice's Adventures, Small Lives/Big Dreams, Going, Going, Gone, The Medium, and Orestes.
Since completing her studies — Bard College (B.A.) and New York University (M.A.) — Bogart has participated in the American theater as a director, playwright, essayist, teacher, and is the recipient of numerous accolades: Doris Duke Performing Artist Award (2012), Jesse L. Rosenberger Medal for Outstanding Achievement in Creative & Performing Arts, University of Chicago (2012), Honorary Degree from Skidmore College (2011), the Pat Miller Playmaker Award from Emory University (2011), Rockefeller Fellow USA Artists Foundation (2006), Distinguished Career Award – South East Theatre Conference (2006), the Elliott Norton Award for Outstanding Direction (2003), Distinguished Chancellorship Award (2002), the Edwin Booth Award (2001), the Charles Flint Kellogg Award (2001), a Guggenheim Fellowship (2000/2001), an ATHE Career Achievement Award (1999), designation by the Actors Theatre of Louisville as Modern Master (1995), two Obies (1990 & 1988), a Bessie Award (1984), a Villager Award (1980). She has served as President of the Theatre Communications Group (TCG) from 1990 to 1992.
In addition to her talk, Bogart will be spending three days (March 30-April 1) at the School of Drama interacting with drama students.
Media Contact:
Pam Wigley / 412-268-1047 / pwigley@andrew.cmu.edu