March 02, 2016
School of Drama Announces 2016-2017 Season
Highlights Include Guest Director from the UK and Musical by Acclaimed Pittsburgh Composer
By Erin Keane Scott 
Carnegie Mellon University's School of Drama, ranked among the world's best theatrical training schools, has announced its 2016-2017 season.
"A cavalcade of societal and theatrical fireworks drawn from 400 years of dramatic invention lies ahead in the 2016-2017 season," said Professor Peter Cooke, head of the School of Drama.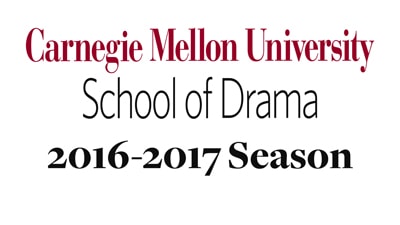 The Subscriber Series will open Oct. 6-15 with John Millington Synge's "Playboy of the Western World," directed by faculty member Don Wadsworth. "The Rover," a comedic play from the first known female playwright, Aphra Behn, under the direction of Dave Bond will follow Nov. 17-19 and Nov. 29-Dec. 3. Bond is head of acting at the Royal Welsh College of Music and Drama in Cardiff, Wales.
"Ragtime," Feb. 23-March 4, will be choreographed and directed by faculty member Tomé Cousin with music direction by Thomas Douglas. The Tony Award-winning musical boasts an original score from Pittsburgh native and acclaimed composer Stephen Flaherty and lyricist Lynn Ahrens. Flaherty is a friend of the School of Drama and appeared at the school's fall 2015 Music Theater Cabaret.
The 2016-2017 season will close with Alexandre Dumas' "The Three Musketeers," April 13-15 and 25-29. It will be adapted for the stage by dramaturg Megan Monaghan Rivas and directed by Andrew Smith. This production will take a decidedly fresh take on the story, as Rivas is re-writing one of the Musketeers to be a woman.
Students in The John Wells Directing Program, named for Hollywood producer John Wells, a 1979 graduate of CMU's Drama School , will direct the following productions:
"Mr. Marmalade," written by Noah Haidle and directed by Fellow Terrence I. Mosley;
"Wife U," adapted from Moliere's "School for Wives" by Eric Powell Holm, directed by Fellow Ben Gansky;
"I'm Very Into You" by Kathy Acker and Mackenzie Wark, adapted and directed by Fellow Sara Lyons;
"Edward II" by Christopher Marlowe, directed by Fellow Stephen Eckert;
"Gruesome Playground Injuries" by Rajiv Joseph, directed by Zoe Clayton;
"boom" by Peter Sinn Nachtrieb, and directed by Ariel Zucker; and
"Hybrid," a music video/documentary by Joe Hill.
The New Works Series, which highlights the work of graduate student playwrights, will be Oct. 26-29, and again in the spring, April 12-15.
For package options or to place a subscription order, call the box office at 412-268-2407 between noon and 5 p.m., Monday through Friday. Special discounts are available to all Carnegie Mellon alumni.
All Subscriber Series performances are at 8 p.m., Tuesday through Friday, and 2 and 8 p.m. on Saturdays in CMU's Purnell Center for the Arts. For more information about the School of Drama, visit www.drama.cmu.edu.
NOTE: Students in the Dramaturgy Program will host talkbacks with the audience, casts and crews following Tuesday evening performances, explaining the play's background and commenting on the research and development of the storyline. The dramaturgs also are available to discuss the plays with classes, student groups and public organizations. Contact Wendy Arons, dramaturgy option coordinator, at warons@andrew.cmu.edu to schedule a session with a dramaturg.
Media Contact:
Pam Wigley / 412-268-1047 / pwigley@andrew.cmu.edu