June 21, 2016
Steel City to the Desert: Alumni Embark Upon Summer Residency Program in Sedona
CMU Arts Managers, Radiant Hall Artists Work Together at Inaugural Sedona Summer Colony
By Shryansh Mehta / 412-268-5492/
shryansh@cmu.edu
and
Alex Oliver / 412-512-3860 /
alex@radianthall.com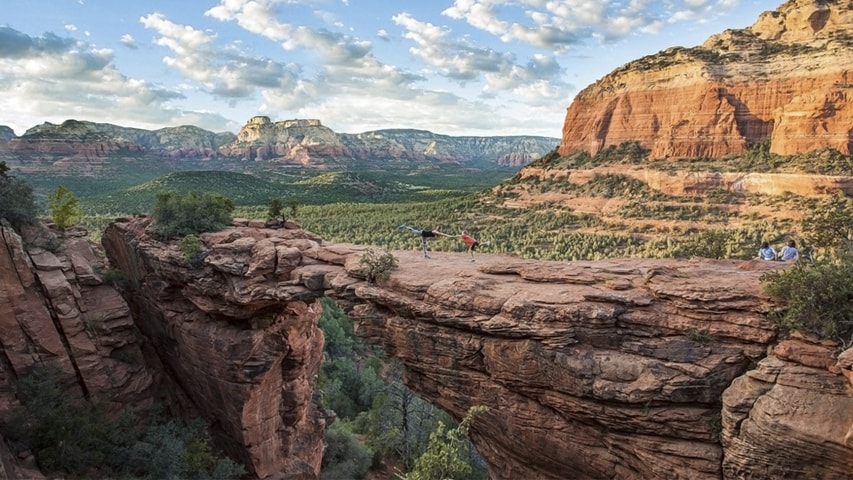 Carnegie Mellon University's Master of Arts Management (MAM) program and Pittsburgh's Radiant Hall Studios are fostering a distinct professional development opportunity for arts managers and artists.
In partnership with the Sedona Arts Center and Verde Valley School, MAM alumni and Radiant Hall artists will participate in the inaugural Sedona Summer Colony for cultural managers and artists in the stunning red rocks and high desert of Northern Arizona. Although hundreds of artist-centered residency programs exist globally, most do not offer programs specifically designed for cultural managers.
"We want to build a haven for cultural managers — a place to get away from the normal world, develop their professional strategic vision, connect with other creative people from around the country, and utilize their managerial expertise to contribute something to our small community," said Eric Holowacz, executive director of Sedona Arts Center.
"Recognizing that Carnegie Mellon produces some of the top arts administrators and thinkers in the world, we wanted to create something special for graduates and faculty in a truly beautiful setting in the American West," he said.
In a February statement announcing the partnership, Kathryn Heidemann, assistant dean of arts and entertainment management at CMU's Heinz College and College of Fine Arts, said cultural manager residencies can fill a critical void in the career of an arts manager.
"I had the privilege of completing a very rare opportunity as a cultural manager in residence at The Studios of Key West back in 2009," Heidemann said. "And this transformative experience propelled me to make some significant changes in my own career path as an arts manager."
It was there that Heidemann met Holowacz, who then was executive director of The Studios of Key West, and they quickly became colleagues and collaborators.
"Kathryn was one of the first colleagues I went to, in thinking about how our small western town might become a cultural powerhouse in the 21st century," Holowacz said. "She made it easy to invite a partnership with her program at Carnegie Mellon, and develop a project that might benefit alumni and bring diverse Cultural Managers in Residence to our summer experiment in Sedona."
The Sedona Summer Colony opportunity aligns with Radiant Hall's broader goals, which include offering professional development opportunities for Pittsburgh artists and fostering community through shared working environments.
"This is a unique opportunity that has the potential to change an artist's trajectory," said Ryan Lammie, executive director of Radiant Hall Studios and a practicing painter and sculptor. "It can also expand their network in unexpected ways, sparking new connections and collaborations."
Sedona Summer Colony Residencies will include free room and board on the beautiful, 300-acre campus of Verde Valley School. Surrounded by Sedona's iconic red rock landscape, participants will have access to high-desert landscapes within the Coconino National Forest and cultural institutions, such as Northern Arizona museums, film festivals, presenters and theatre companies. The Sedona Summer Colony will take place between June 19 and Aug. 10, and residencies can range from one to eight weeks.
Learn more about the artists participating in the 2016 Sedona Summer Colony.