June 03, 2016
Pittsburgh to LA: Program Places Alumni in the Business of Entertainment
Pam Wigley / 412-268-1047 / pwigley@andrew.cmu.edu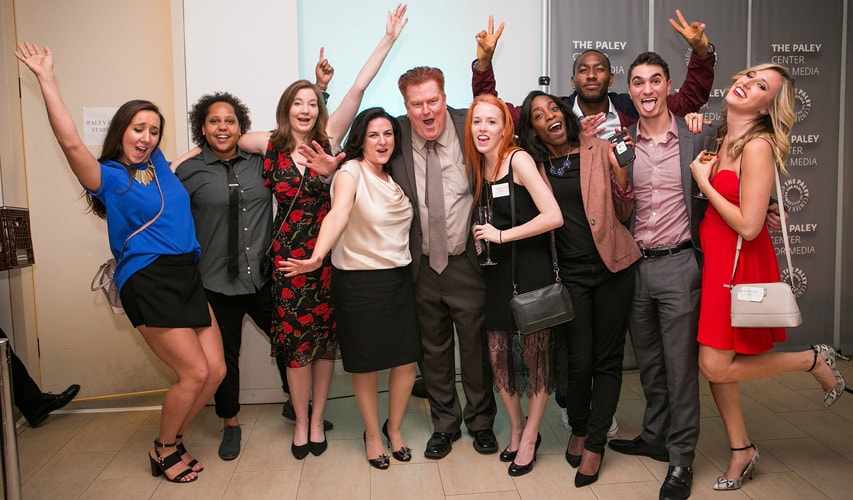 Alumni from the MEIM program celebrate with Program Director Dan Green, center, and his wife, Jennifer (A 1993) at the 10th anniversary celebration in Los Angeles.
They are the men and women who put the biz into show biz.
They are executives at companies like Sony Music Entertainment, DreamWorks, Twitter, Viacom and Starz.
They are among more than 160 alumni of Carnegie Mellon University's Master in Entertainment Industry Management (MEIM) program, offered by the H. John Heinz III College and the College of Fine Arts.
The two-year course of study, in which students spend the first year in Pittsburgh to learn the basics of management and the second year in Los Angeles immersed in the entertainment industry, has yielded big results.
"The MEIM program builds confidence and expertise, whether students choose to work with representing talent, developing content, or marketing that content," said John Tarnoff, head of Industry Relations for the MEIM program and a former media/entertainment executive.
"The second year in Los Angeles provides an unparalleled grounding in the ways the entertainment business really works. This is why our students make strong impressions at their internships and transition to sought-after entry-level positions sometimes even before they graduate," Tarnoff said.
The MEIM program celebrated its 10th graduating class this past April with a celebration for alumni, students, faculty and staff at The Paley Center for Media in Beverly Hills, Calif. The evening featured speakers who were instrumental to the program, including Tarnoff; Heinz College Dean Ramayya Krishnan; MEIM Program Director Dan Green; and Carnegie Mellon Lifetime Trustee, MEIM faculty member, Hollywood executive and CMU alumna Paula Wagner.
The program boasted mayoral kudos from two coasts: Pittsburgh Mayor Bill Peduto sent his congratulations in a video presentation and Los Angeles Mayor Eric Garcetti sent an official proclamation from the city recognizing MEIM's contributions to Hollywood.
The anniversary was an especially memorable milestone for Dan Martin, dean of Carnegie Mellon's College of Fine Arts, who started the program after receiving a boxed set of "The Godfather" films from his sons in 2002.
"It prompted me to wonder about the economics of, and decision-making within, the film and television industry," Martin said.
After gathering a group of Los Angeles-based Carnegie Mellon alumni who worked in various divisions of the film and TV industry, he wondered whether there was a place at Carnegie Mellon for a professional education program that would provide highly creative storytellers with a strong set of management skills.
"I had been inspired by CMU alumni who did this quite successfully, including Stephen Bochco, John Wells, Paula Wagner, Gregory Maday, Lee Miller and Bud Yorkin, among others," Martin said. "All of these visionaries and many others in all divisions of the industry had that balanced approach and are responsible for some of the most iconic films and television series of the last half century."
His biggest stumbling block, as the ad-hoc focus group participants would tell him, was clear: How do you teach film and TV management — and other vital parts of the entertainment industry — from Pittsburgh? To Martin, the answer was evident: Create a combined program incorporating one year in Pittsburgh and one year in Los Angeles.
"Ten years later, we have a strong, rigorous and meaningful education program that serves the management efforts of screen-based entertainment production in Los Angeles and many other industry centers around the continent," he said.
Martin credits much of the success to Green, Tarnoff and the late Bud Yorkin, "who was a regular sounding board, a shoulder to lean on and very wise counsel as we launched and grew the program."
Green gives credit to alumni who are paving the way for others.
"With the culmination of our tenth class graduating this May, we consistently see alumni hiring students for internships and jobs. The alumni value the idea of giving back," Green said.
Recent graduate Anna Lewgood is grateful for those who took the chance to create the program.
"It is the perfect balance of business and creative preparation for this industry," said Lewgood, who hopes to become a studio executive or a network/research executive.
"Going through the MEIM program has prepared me to start on this career path with the knowledge of the complex film and television business models," she said. "I wouldn't have the already vast network that I do without this program."
Olivia Barton, a 2014 MEIM graduate, works at Sony Music Entertainment. She said she gained a strong understanding of the economics of film and television and that internships helped land her first job.
Barton is one of the 92 percent of MEIM graduates who found employment in the industry after graduating. That placement rate is one reason Melissa Larosa was drawn to the program.
"The faculty encourage entrepreneurship and lead by example through establishing relationships across the film, TV and music industries," said Larosa, who noted the many opportunities that arise in New York, Los Angeles, and at film festivals like South by Southwest, Sundance and Cannes in the south of France. 
"I think we've been a bit surprised by how quickly the industry has embraced the program. We now have companies calling us with internship and job opportunities, which has been a nice confirmation of what we've been doing," Green said.