June 27, 2016
Studying the Role Love Plays in an Engineering Project
Compassion Drives Carnegie Mellon Researchers at School for the Blind
By Byron Spice / 412-268-9068 /
bspice@cs.cmu.edu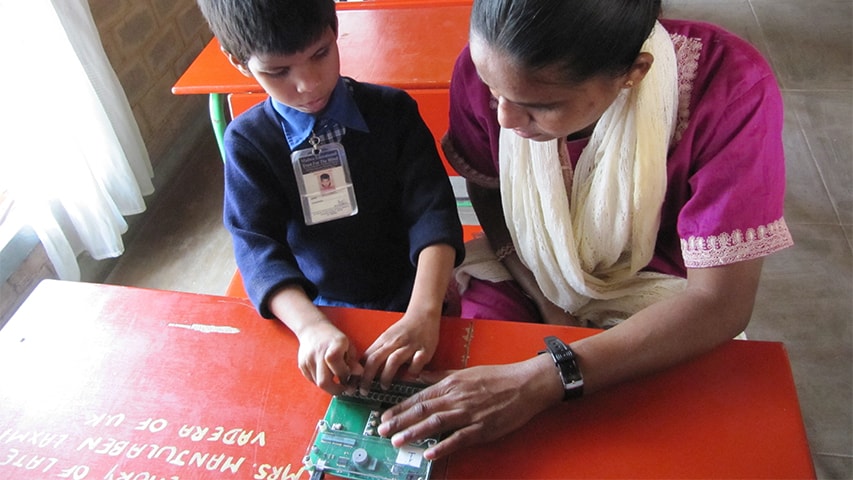 The development of an electronic Braille writing tutor at a school for the blind in India has been a labor of love over the past decade for M. Bernardine Dias and her Carnegie Mellon University colleagues, students and staff. And for the past year, it has provided a research window into the role love plays in engineering.
With support from the Fetzer Institute, a foundation dedicated to "building the spiritual foundation for a loving world," Dias, associate research professor in CMU's Robotics Institute, and her team conducted a 9-month field study at the Mathru School for the Blind in Bangalore, exploring the role of love and forgiveness.
The Braille writing tutor can serve as a model for "compassionate engineering" projects, Dias said. The study yielded a series of videos, now available online, that describe the people and the technology behind the project and that encourage people to get involved in similar efforts.
The Fetzer-sponsored study may have been the most unusual research project Dias has ever done. But it also was one that made a lot of sense.
"For us, compassion has always driven what we have done," explained Dias, who maintains a blog called "Compassionate Engineering." For the past decade, she has directed the TechBridgeWorld research group, which develops or adapts technologies to meet the needs of underserved populations around the world.
The Braille writing tutor, which helps visually impaired students learn how to write Braille using a slate and stylus, was one of the first projects the group tackled in 2006. They have since developed different versions of the tutors, which have been field-tested in India, Bangladesh, Tanzania, Zambia and other nations where Braille typewriters and specialized keyboards, common in developed nations, are not readily available. Hardware designs and software for building the tutors, which provide audio feedback to students as they learn to write, are available online.
One aspect of the Braille writing tutor project that is key to all compassionate engineering projects is for technologists to focus not only on a community's needs, but also on that community's vision of progress before beginning a project, Dias said. In the developing world, for instance, full literacy is impossible for blind people who fail to master writing in Braille.
Dias said the writing tutor device initially was seen as an educational tool that would motivate and reinforce learning, but field-testing showed it could be an important diagnostic tool for blind teachers as well. In one case, teachers thought a student was incapable of learning to write in Braille until she started using the device; the audio feedback demonstrated that she actually did know how to form letters using the six dots of the Braille cell. But she was failing to shift to a new cell for each letter, a simple problem to fix but one her blind teachers couldn't easily diagnose.
The field study provided an important opportunity for her group to assess how two versions of the Braille writing tutor are organically used by students and teachers at the Mathru School over a long period of time, she noted.
For more information, visit the TechBridgeWorld site. The Braille writing tutor won the 2014 Louis Braille Touch of Genius Prize for Innovation and the Fall 2015 InfyMakers Award.