June 30, 2016
Carnegie Corporation of New York Honors Provost Farnam Jahanian
"Great Immigrants" Campaign Recognizes CMU Leader
Carnegie Corporation of New York is honoring Carnegie Mellon University Provost and Chief Academic Officer Farnam Jahanian as part of its "Great Immigrants — The Pride of America" campaign, which pays tribute to the role immigrants play in strengthening the U.S. and its democratic society.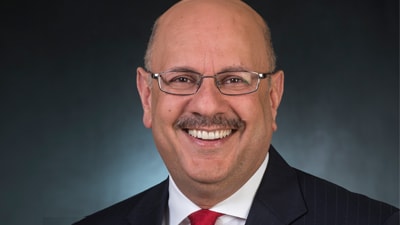 Since 2006, the corporation, which was established by CMU founder and Scottish immigrant Andrew Carnegie, has recognized the contributions of naturalized citizens with the "Great Immigrants" campaign. This year's honorees will be saluted in public service announcements appearing in print and on a companion website.
"I thank the Carnegie Corporation for this wonderful honor," Jahanian said. "Immigration has been a cornerstone of the American experiment. The ideals of freedom, equality, and opportunity unify us as a nation while the realization of these values celebrates our diversity. Through his dedication to advancing education, Andrew Carnegie provided opportunities to pursue this American Dream."
Jahanian joined CMU in 2014 as vice president of research before being named provost last year. An accomplished scientist, educator and entrepreneur, he led the National Science Foundation Directorate for Computer and Information Science and Engineering (CISE) from 2011 to 2014. He was on the faculty at the University of Michigan from 1993 to 2014 and served as Chair for Computer Science and Engineering from 2007 to 2011. Jahanian, who came to the United States from Iran in 1977, has been an active advocate for how scientific research can be uniquely central to an innovation ecosystem that drives global competitiveness and addresses our national priorities.
Jahanian is one of 42 honorees, who represent 30 different countries of origin and diverse professional accomplishments. This year's honorees include Google CEO Sundar Pichai, Sprint President and CEO Marcelo Claure, U.S. Secretary of the Interior Sally Jewell, Nobel Prize-winning chemist Aziz Sancar, comedian Samantha Bee, Olympic gold medalist Nadia Comaneci and forensic pathologist Bennet Omalu, who received an MBA from CMU's Tepper School of Business in 2008. Omalu discovered chronic traumatic encephalopathy. CMU President Subra Suresh was honored in 2014.
"These accomplished Americans are immigrants like our forefathers, who founded this nation of nations," said Carnegie Corporation of New York President Vartan Gregorian. "They are representative of the millions of immigrants who have come to the United States for economic opportunity, education, political or religious asylum, security, or reunification with families and relatives. They, like all Americans, share a common faith in this country."
Carnegie Corporation is committed to the integration of immigrants with the goal of helping them become citizens who can participate fully in U.S. democracy. Along with grantees and partner organizations, the "Great Immigrants" initiative works to raise awareness about the naturalization process and provide legal permanent residents with helpful resources, including Citizenshipworks, a free online application system.