June 02, 2016
Miller Gallery Hosts "WILLFUL WONDERING: Patricia Bellan-Gillen Drawings 2010-2016," June 11 – July 17
By Margaret Cox / 412-268-4754 /
mc94@andrew.cmu.edu
and Pam Wigley / 412-268-1047 /
pwigley@andrew.cmu.edu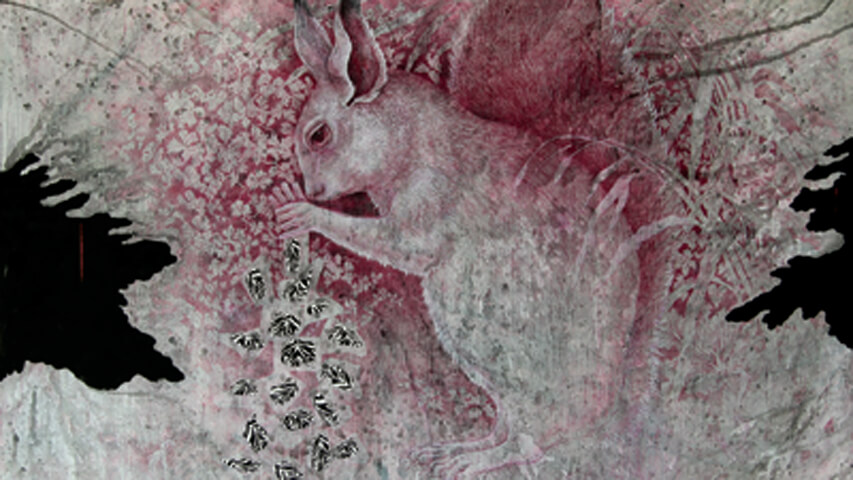 The Miller Gallery presents
"WILLFUL WONDERING: Patricia Bellan-Gillen Drawings 2010-2016"
from Saturday, June 11, through Sunday, July 17, at Carnegie Mellon University. A reception is scheduled from 6-8 p.m., Friday, June 10, with an introduction and Q&A with Bellan-Gillen at 6:30 p.m. The exhibit and reception are open to the public.
"Willful Wondering" is a solo exhibition of more than 30 large-scale mixed media drawings and prints. The exhibition includes a new installation by the artist drawn directly on the gallery wall and flowing out across the floor into the space. Andrew W. Mellon Professor of Art Susanne Slavick has written an essay on the exhibition. This essay, as well as a poem by Ellen McGrath Smith, is featured in a catalog of the exhibition. It will be available in the gallery and downloadable online.
"Pat Bellan-Gillan creates a world that magically merges the natural with the supernatural," said John Carson, head of the School of Art. "In this latest series of drawings, meticulous realism morphs into mystical abstracted dreamlike scenarios, both wondrous and disquieting. Mysterious, unresolved narratives are played out by ethereal characters and creatures, within a lush surround of exquisitely rendered graphic textures. The scale and scope of the work on show in the Miller Gallery is impressive and immersive, as the viewer is drawn in closer by the intrigue and delicacy of the detail."
Bellan-Gillen recently retired from Carnegie Mellon after 29 years as a professor in the School of Art. Her paintings, prints and drawings have been the focus of more than 45 solo exhibitions across the U.S., including venues in Washington, D.C., Nashville, Tenn., Las Cruces, N.M., Albany, N.Y., Bloomington, Ill., Portland, Ore., Grand Rapids, Mich., and Wimbledon/London, U.K. Her work has been included in numerous group shows in museums, commercial galleries, university galleries and alternative spaces.
Born in Beaver Falls, Pa., Bellan-Gillen received her master's degree from Carnegie Mellon in 1979. She lives and works in rural Burgettstown, Pa., adjacent to the West Virginia border.
Learn more about the exhibit.  See details on the June 10 reception.