July 10, 2016
TV Guides: Alumni Channel Efforts for Kids' Sake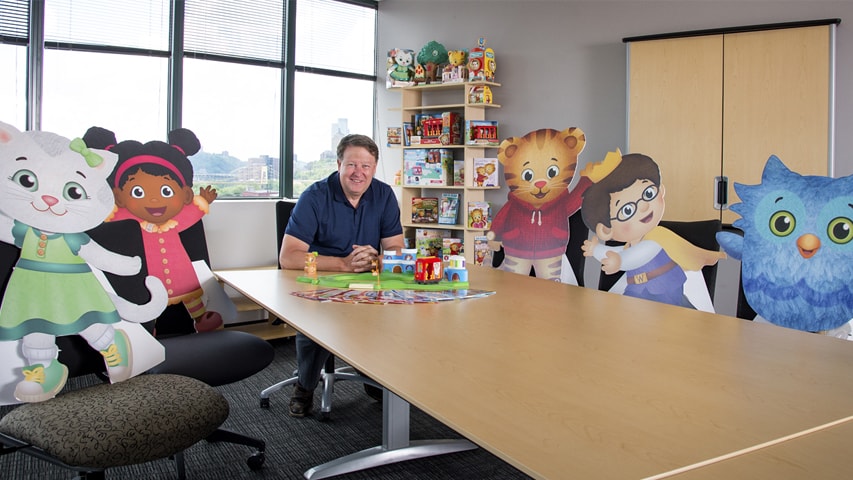 Jack Rowley has a "dream job" at the Fred Rogers Company.
Carnegie Mellon University alumni — including Jack Rowley, Sonia Manzano and Bryan O'Connell — have made sunny and beautiful days in the neighborhood by playing significant roles in educational television, which researchers found can help improve preschoolers' math and verbal skills.
Neighborhood Nod
Jack Rowley was a student playwright at CMU when he met one of his heroes, Fred Rogers, star of "Mister Rogers' Neighborhood." Walking across campus he saw Rogers kneeling and talking to a young girl. He passed them, and Rogers looked up and smiled at Rowley.
That smile might have been fate.
Rowley, who graduated in 1981 with a master's degree in playwriting, joined the Fred Rogers Company seven and a half years ago. He developed its website, manages social media and has written four episodes of "Daniel Tiger's Neighborhood," which debuted in 2012.
The blend of web, writing and family-oriented storytelling are the right combination for Rowley.
"There's not a moment in my work day when I say, 'I wish I didn't have to do this.' I get to work with people who are here because they want to produce the best kind of programs for children," Rowley said.
The writing process has tough critics — before production, each episode is taken to a daycare, where children respond to the story and ask questions.
"This is my dream job," Rowley said.
At the Fred Rogers Company, Rowley used his experience writing musicals as a student at CMU to help the Allegheny County Department of Human Services. They wanted a song for an initiative to encourage young mothers to leave babies with responsible caregivers. Rowley wrote the words and music, and recorded it at WQED, playing the same piano that Rogers used.
Sesame Street
In a different neighborhood, Sonia Manzano was breaking stereotypes as "Maria" on Sesame Street. Carnegie Mellon recently honored Manzano with an honorary Doctor of Fine Arts degree.
"When I was growing up in the '50s, I watched a lot of television and you never saw any Latin people on television. You never saw any people of color on television at all," Manzano said. "I wondered what I was going to grow up to be. What I was going to contribute to a society that clearly didn't see me. When I got cast as Maria I thought I could provide for kids what I needed to see myself as a child."
She saw her first episode of "Sesame Street" in Skibo Gymnasium while taking a break from her studies as a theater major. There, on the screen, was a neighborhood that looked like the South Bronx, where she had grown up. They are on to something, she thought.
Her junior year, she was cast in the show of a fellow drama student, "Godspell," a musical by John-Michael Tebelak with music and lyrics by Stephen Schwartz. What started on a campus stage ended up as an Off-Broadway production. The cast took off for New York City, and many stayed as the show grew in popularity. It was shortly after "Godspell" that Manzano took an audition for "Sesame Street" and was cast as Maria.
The move led to 44 years of "Sesame Street" and 15 Emmys as part of the writing staff. Manzano retired from "Sesame Street" in 2015, but continues to write for children and adults. Her latest book is a memoir, "Becoming Maria: Love and Chaos in the South Bronx." In 2016 she received a Lifetime Achievement Emmy Award from the Television Academy of Arts and Sciences.
Animating a New World
Bryan O'Connell was among the millions who grew up watching "Sesame Street." Then he discovered the animations of "The Simpsons" and "Animaniacs" and was hooked.
"Animation looked so fun to me. If I'm going to do something for the rest of my life, I want it to be fun," O'Connell said.
O'Connell chose CMU's Master of Entertainment Industry Management program to pursue a career in television.
"CMU brought the business side of things to me, which I was completely clueless on. Those first two semesters in Pittsburgh were probably the hardest thing I've done in my life," O'Connell said.
His first internship was with "Sesame Street," where he helped with video game and web features. The projects led to his appearance in a music video with Cookie Monster. 
"Everyone who has worked in children's television who I've met has in some way, shape, or form worked at 'Sesame Street.' I knew it was an important place to be," O'Connell said.
After one year on the Pittsburgh campus, MEIM sends students to Los Angeles for classes and experience. O'Connell secured internships at DreamWorks Animation and Illumination Entertainment before landing a job at Disney Television Animation, thanks to mentors through his program and recruiting sessions set up by CMU.
At Disney he worked on the production of "Sofia the First," a television series about a young girl who joins a royal family as a commoner, and worked with the development team of its spinoff, "Elena of Avalor."
O'Connell now works at Silvergate Media as a creative coordinator for Nickelodeon's "Sunny Day," an animated show for the preschool set.
"I have a 2-year-old niece and there's no more satisfying feeling than when she's watching something that you've worked on. To see it through their eyes, you remember, 'Oh, right, that's why I'm doing this,'" O'Connell said.
Humanizing TV's Benefits
Alumnus Junlei Li is co-director and the Rita McGinley Chair of the Fred Rogers Center for Early Learning and Children's Media at St. Vincent College. He sees children's television programming as potentially helpful — with a caveat. Fred Rogers famously said, "Television may be the only appliance that is most useful after it is turned off."
"He was referring to when the program is off, and parents help children integrate what they learned on TV with everyday life — that's when a TV program becomes educational," said Li, who earned his master's degree in instructional science from CMU's Center for Innovation in Learning in 2001 and his Ph.D. in psychology in 2003.
Li's research lab, Incubator 143, creates projects centered around human connections in places like low-income child care centers, urban schools and community programs. The previous principal research scientist at the Fred Rogers Company said research has shown that watching "Mister Rogers Neighborhood" helped behaviors such as helping and sharing in young children. His current work exists to promote human interaction and augment the digital interaction.
"One thing remains true — young children learn more with natural, real human interactions and human relationships, and TV can supplement, but not supplant," Li said.