January 21, 2016
CMU Scientists Star in Werner Herzog's Latest Film
"Lo & Behold: Reveries of the Connected World" Will Premiere at Sundance Film Festival
By Shilo Rea / 412-268-6094 /
shilo@cmu.edu
and Byron Spice / 412-268-9068 /
bspice@cs.cmu.edu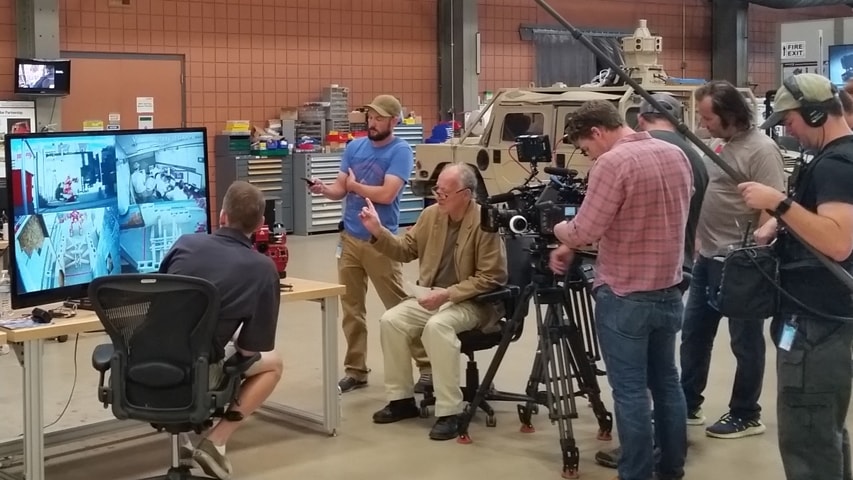 Werner Herzog (tan jacket) interviews Mike Vande Weghe (far left), lead robotics engineer at the National Robotics Engineering Center, about CMU's four-limbed CHIMP robot.
Award-winning filmmaker Werner Herzog's latest film delves into society's dependence on the Internet for just about everything. Premiering at the 2016 Sundance Film Festival, "Lo & Behold: Reveries of the Connected World" prominently features several Carnegie Mellon University scientists, as well as robots and other innovative technologies.
The film, described as a "playful yet chilling examination of our rapidly interconnecting online lives" includes a "treasure trove of interviews of strange and beguiling individuals, ranging from Internet pioneers to victims of wireless radiation, whose anecdotes and reflections weave together a complex portrait of our brave new world."
Last summer, in Pittsburgh and in Silicon Valley, Herzog and his production crew filmed such CMU projects as the CHIMP robot at the National Robotics Engineering Center, a robot soccer team and the Scientific Imaging and Brain Research Center, and conducted on-camera interviews with a variety of CMU faculty and staff members.
The latest trailer for "Lo and Behold" features segments on NREC's CHIMP, an interview with Marcel Just, the D.O. Hebb University Professor of Psychology, in which he speculates on someday being able to "tweet" thoughts and an interview with Joydeep Biswas, a former post-doctoral researcher in the Computer Science Department, talking about a valiant and valued member of CMU's championship robot soccer team.
"Lo & Behold" will screen four times at Sundance. This year's festival runs Jan. 21-31 in Park City, Utah.
Watch the trailer.

Related: