January 21, 2016
Sundance Film Festival
On a snowy January morning in 2012, Roxanne Benjamin met with students from Carnegie Mellon University's Master of Entertainment Industry Management (MEIM) program in a condo at the Sundance Film Festival on one of the most important days of her career.
Benjamin, a MEIM alumna and emerging film producer, was preparing to screen a midnight showing of her first feature film, "V/H/S," at the festival in Park City, Utah.
Later that night, in a packed theater of 600 patrons — including more than 20 MEIM students — "V/H/S" premiered. A few days later, Benjamin's hard work paid off. The Hollywood Reporter was one publication to share the good news.
"'V/H/S' was acquired for north of a million dollars by Magnolia Pictures," recalled Dan Green, MEIM program director.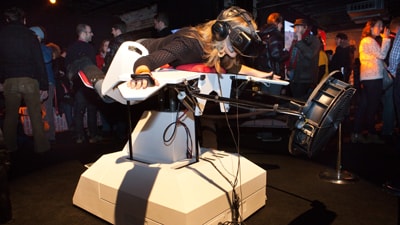 Engaging with a film producer who is shopping a major project is just one of the many experiential learning opportunities more than 150 students have enjoyed while attending the Sundance Film Festival as part of the MEIM program.
Since 2009, MEIM students have traveled from Los Angeles, where they spend their second year taking classes while working for leading entertainment companies, to Park City for the annual festival.
The festival has introduced global audiences to some of the most groundbreaking films of the past three decades, including "Boyhood," "Beasts of the Southern Wild," "Fruitvale Station," "Brooklyn," "The Cove," "Me and Earl and the Dying Girl," "Super Size Me," "Little Miss Sunshine," "sex, lies, and videotape," and "Reservoir Dogs."
"Attending the Sundance Film Festival gives MEIM students the chance to network with top industry professionals at one of the industry's most prestigious events," said John Tarnoff, MEIM head of Industry Relations.  
"The biggest reason the general public goes to the Sundance Film Festival is to see, talk about and experience films," Green said. "But for those in the entertainment industry, the festival represents a buying and selling market.
"Our students attend a lot of events throughout the course of each day. You can start watching films at 7 a.m., and the last film screening is at midnight. So you have lots of opportunities to see films, attend networking parties, learn from workshops, and mingle with the movers and shakers within the industry."
The MEIM program facilitates many of these opportunities for the students by being an official Sundance Institute sponsor. The program also organizes various workshops and seminars where industry professionals meet with the students face-to-face to share their experiences and field questions.
"The exclusive seminars the MEIM program conducts for its students let them interact with the deal-makers themselves, and learn the ins and outs of the acquisition and distribution deals happening in real time," Tarnoff said.
"These are people who are working in the industry and carve out an hour or two to talk to our students," Green said. "The students get an inside look at what industry trends are emerging at the festival."
This year, a Carnegie Mellon faculty member will further enhance CMU's presence at the Sundance Film Festival by sharing his expertise with entertainment industry professionals.
Michael D. Smith, professor of Information Technology and Marketing at H. John Heinz III College will be the Exclusive Data Keynote Speaker at the Sundance Institute Artist Services Workshop, hosted by Vimeo on Jan. 25.
To further the business aims of its independent filmmakers, the Sundance Institute created the Artist Services program to empower filmmakers and build community around opportunities to fund and distribute films in the digital age. With the rise of new platforms and outlets that make distribution channels more accessible, Artist Services has partnered with emerging companies like Kickstarter, Vimeo, Tugg and VHX, as well as Netflix, Hulu, Apple, Amazon Instant Video and others, to facilitate greater (and affordable) access to these new services. Artist Services works closely with Institute supported artists, helping them to navigate the rapidly evolving independent distribution landscape, and to better strategize their funding, marketing and distribution campaigns.
Smith and his Heinz College colleague Rahul Telang have presented their extensive research on digital piracy and its effects on consumer behavior to Congress and at the White House. At the Sundance Film Festival, Smith will speak about how piracy specifically affects independent films.
"We're honored to have Mike Smith deliver this exclusive keynote at the 2016 Artist Services Workshop at the Sundance Film Festival," said Joseph Beyer, director of Digital Initiatives for the Sundance Institute. "The research that Mike and his colleagues have done will help empower independent filmmakers in effectively distributing and monetizing their work and also to educate them on how piracy affects those goals."
"I think you can make a strong case that the independent filmmaker is the one who is placed most at risk by piracy," Smith said. "Independent films are disproportionately the ones where lost revenue from piracy can mean the difference between a profitable and an unprofitable project."
As part of the keynote, Smith will present excerpts from his forthcoming book, "Streaming, Sharing, Stealing: Big Data and the Future of Entertainment," coming in the fall of 2016 from the MIT Press.
"I'm going to be talking about what I call the 'five myths' of piracy, one of which states that you can't compete with free piracy," Smith said. "We are learning from the data that there are some things you can do effectively in terms of how you market your content that will help combat piracy."
The trip marks Smith's first to the Sundance Film Festival, and he said he is looking forward to sharing his research with colleagues, interacting other festivalgoers, and checking out some the films and talkback sessions with the producers and directors to get more insight about their work.
"I am hugely excited about attending and learning from great storytellers," Smith said. "I've always been a bit of a geek about director's commentaries and learning how these artists craft their stories, so this will be even geekier!"
For Green, the chance for current students to attend festivals like the Sundance Film Festival, South by Southwest and the Cannes Film Festival is an invaluable part of their learning experience as they prepare to move into the entertainment field.
"You can't quantify the sum total of the value of the relationships that the students cultivate at these festivals," Green said. "Students enjoy a unique experience when they can have conversations with industry professionals who are working in the specific areas of the industry they are hoping to break into, whether that's film development, acquisitions, finances or distribution. And being able to see the films that the public will see several months later, that haven't been marketed yet, really gives them an edge as they prepare to enter the entertainment workforce."
Related: