February 19, 2016
Posner Family Gives $5 Million to CMU for Presidential Scholarships
Gift Dedicated to the Memory of Helen and Henry Posner, Jr.
By Ken Walters / 412-268-1151 /
walters1@andrew.cmu.edu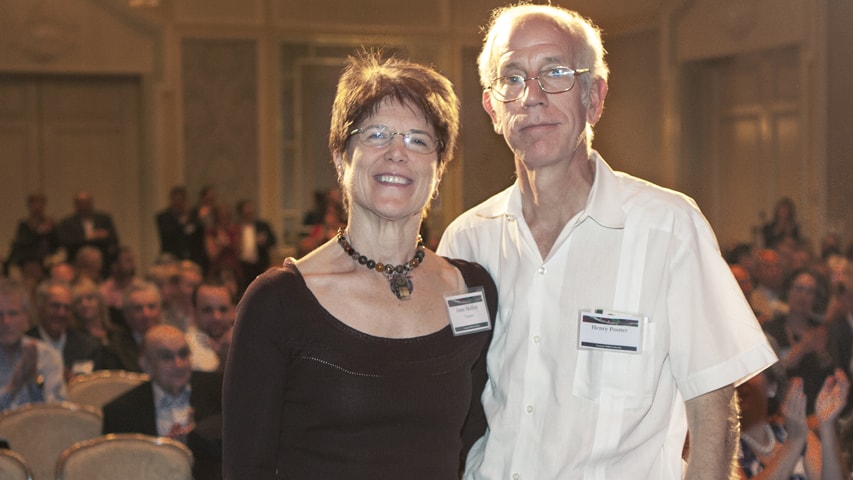 CMU Trustee Anne Molloy and her husband, Henry Posner III, at an alumni event in Florida.
The Posner family of Pittsburgh, represented by Carnegie Mellon University Trustee Anne Molloy and her husband, Henry Posner III, has given $5 million to the university to support undergraduate student scholarships.
Selection for a Presidential Scholarship recognizes a student's outstanding academic success and future potential. The Posner family gift will create a minimum of five undergraduate scholarships each year.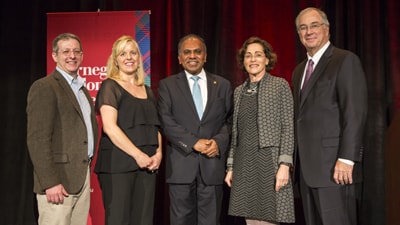 Speakers at the event included (l-r) Assistant Professor Steven Chase, Alumni Association President Rebecca Allison, President Subra Suresh, Professor Marlene Behrmann and Chairman of the Board of Trustees James Rohr.
"Carnegie Mellon is dedicated to attracting a diverse cohort of outstanding students from around the world and all walks of life," said CMU President Subra Suresh. "We thank the Posner family for their generous gift, which will help expand access to a CMU education for many students, allowing us to create an even more diverse student body. Their commitment testifies to the importance of this mission."
The new gift builds upon the Posner family's long-time support of CMU. Henry Posner, Jr. was a longstanding CMU trustee and board member, and Helen was instrumental in selecting CMU's library to hold the family's personal collection of rare books and artifacts. The Posner family's generous support helped build the Posner Center on CMU's Pittsburgh campus in 2004. More recently, the family supported the expansion of the Jared Cohon University Center and CMU's School of Drama Centennial Celebration.
"I've been moved by the stories of students who receive these scholarships. As someone who benefitted from a scholarship myself, it's exciting to have the opportunity to pay it forward to a future generation of CMU students," said Molloy, the Posners' daughter-in-law who also serves as executive director of the Posner Fine Arts Foundation. "We're very pleased to dedicate this gift in memory of Helen and Henry Posner, Jr., who were great believers in higher education and especially Carnegie Mellon."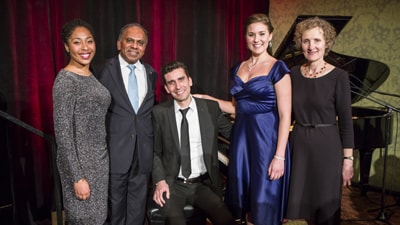 President Suresh and Mary Suresh (far right) with student performers Iris Beaumier (far left) and Rachel Doehring, and School of Music faculty member Dimitri Papadimitriou.
"It was a matter of great personal pride to my father to see Carnegie Mellon's growth from a regional institution to a global institution," said Henry Posner III. "We are thrilled that these scholarships will provide a CMU education to even more deserving students, and we look forward to their future successes."
The Posner family gift adds to CMU's growing Presidential Fellowships and Scholarships program, which has a current value of related endowment funds and commitments of more than $156 million, supporting more than 145 students. The Posner gift was announced at an alumni event in Florida on Thursday.
The program seeks to recruit and retain the best and the brightest students globally, as well as the faculty who mentor them. Individual donors, alumni, trustees, faculty and philanthropic organizations have made commitments for endowed Presidential Fellowships for graduate students and Presidential Scholarships for undergraduate students.