December 15, 2016
Student-Athletes Embrace Full CMU Experience
By Heidi Opdyke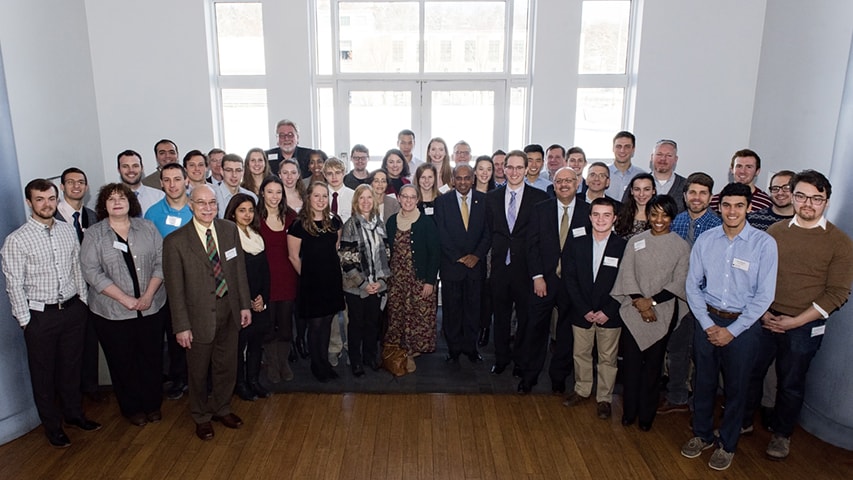 The annual Student-Athlete Academic Achievement Celebration celebrates junior and senior athletes who have excelled balancing studies and sports.
Lisa Murphy, the most accomplished basketball player in Carnegie Mellon University's history with more than 1,800 career points, said she is not defined by her success on the court.
"CMU has helped me embrace everything that makes me special, and that makes me 'me,'" she said. "I'm Lisa Murphy, and I am a basketball player, I'm not Lisa Murphy, the basketball player."
Murphy was one of two student speakers at the third annual Student-Athlete Academic Achievement Celebration Dec. 14.
The event celebrates junior and senior athletes who have excelled in their field of study while balancing the challenges of being a student-athlete. This year, the 28 students who were feted had an average grade-point average (GPA) of 3.81. Of those, a dozen have GPAs of 3.9 or higher, and six of them have perfect 4.0s for their college careers.
CMU President Subra Suresh praised student-athletes for their work in the classroom.
"Let me take this opportunity to congratulate you and thank you," President Suresh said. "You not only excel in academics and athletics. You also excel in so many other dimensions, especially as future leaders. That's equally important, and it's also very much appreciated."
Murphy, who is studying psychology with a concentration in child development, said CMU has provided her with internship opportunities in Pittsburgh that have helped her decide which career paths to pursue. She also works on community services projects and has held leadership positions in honor societies and clubs.
"Overall, CMU just radiates this multidisciplinary mindset where both in and outside the classroom students want to explore and cultivate all the pieces of what makes them extraordinary," she said.
Athletic Director Josh Centor said the excellence CMU student-athletes demonstrate in the classrooms and on the playing fields deserves applause.
"Carnegie Mellon is one of the greatest universities in the world," Centor said. "Our students will be the ones who become future leaders of this country in all facets of industry — in engineering, in medicine, in teaching, in business."
Centor said CMU's intercollegiate athletics program is developing into one of the most competitive in the country. This fall, five of six teams advanced to postseason play, and four teams reached their respective NCAA championships. This year also marked the second straight year in which the football team received a bowl bid.
"Among our best students are many of our best athletes and competitors," Centor said. "Academic and athletic success is not mutually exclusive, and they prove that every day."
A member of the University Athletic Association, CMU has 18 intercollegiate teams. Like all NCAA Division III schools, athletic scholarships are prohibited, so students compete for the joy of the game. The students study in a wide variety of undergraduate programs that represent the entire university.
Tristan Lockwood, a senior in social decisions sciences and a member of the men's soccer team, shared why playing soccer had been an important part of his life for many years at the celebration.
He said student-athletes often say that sports have taught them leadership, teamwork, accountability, time management and how to handle adversity. But, he and his teammates have learned much more.
"For me there is something more important that we have all gained as athletes that has made it all worth it," he said. "And that is the idea that in order to truly better yourself — in order to truly succeed — you need to do the right thing every day."
He said through participating in athletics that concept of focusing on the right things in each aspect of life and not cutting corners can become a personality trait.
"I have heard Josh Centor say on multiple occasions, that yes, winning is important, but we will never sacrifice our values to win a game," he said. "That statement sums up the most important lesson that I believe I have learned from being a student-athlete at CMU. I hope we can all carry that forward into our everyday lives."