December 22, 2016
Biological Sciences Major Named Schwarzman Scholar
By
Jocelyn Duffy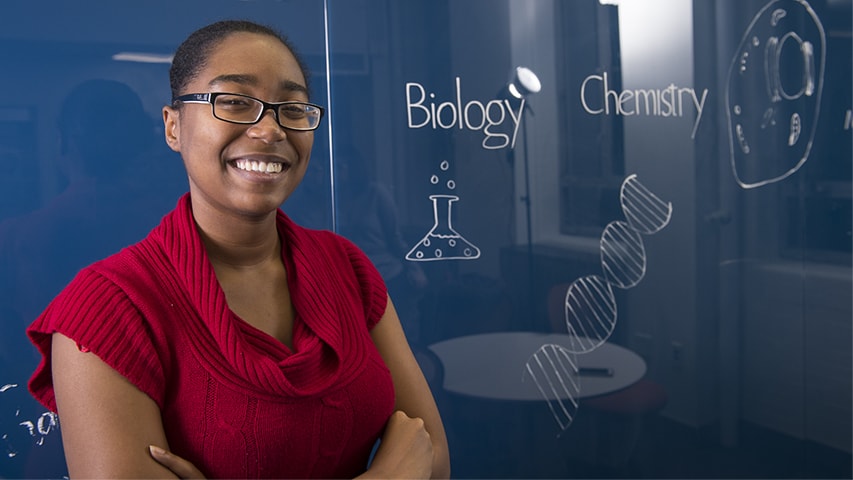 Chrystal Thomas, a senior majoring in biological sciences at Carnegie Mellon University's Mellon College of Science (MCS), has been named to this year's class of Schwarzman Scholars. The highly selective scholarship program will fully fund Thomas as she completes a master's degree in global affairs with a concentration in public policy at Tsinghua University in Beijing.
Thomas joins 129 students from 30 countries and 75 universities selected for the honor, and each scholar will pursue a master's degree at Tsinghua University in 2017. Founded by Blackstone Chairman, CEO and Co-Founder Stephen A. Schwarzman, the program is quickly becoming the premier training ground for future leaders. The scholarship program, now in its second year, focuses on preparing exceptional students to confront future challenges and provide them with the opportunity to develop an understanding of China.
"Chrystal is one of the top students that I have known in my 38 years at Carnegie Mellon," said Eric Grotzinger, associate dean for undergraduate affairs, emeritus, at MCS.  "She has great intellectual ability, is highly motivated, is a leader, and has a strong vision on how she will create policies and programs to benefit people around the world.  She will become a world leader in the area of public health."
Thomas first became interested in public health and policy during a Leadership Alliance Summer Undergraduate Research Internship at the University of Pennsylvania, where she participated in a conference aimed at resolving conflicts of interest between academia and industry and discovered her passion for facilitating dialogues to create positive results. During an internship at the National Institute of Arthritis and Musculoskeletal and Skin Disease the following summer, Thomas's interest in the field was cemented when she attended a keynote speech on public health.
"I think there are a lot of people who want to get things done, but because they don't effectively communicate with teammates who hold different perspectives from them, progress toward their vision gets hindered. With the Schwarzman Scholarship, I'm really hoping to work on my own communication and decision-making skills so that I can help as many people as possible," Thomas said.
Thomas was drawn to the Schwarzman program in part by the opportunity to study abroad. The daughter of a Haitian immigrant, she is interested in barriers to health care faced by immigrant families. One-third of the immigrants moving to the United States are from China, and she hopes that she will learn more about the Chinese health care system.
Carnegie Mellon's Fellowships and Scholarships Office (FSO) guided Thomas through the Schwarzman Scholar application and interview process.
"Authentic and inspiring, Chrystal exemplifies the leadership qualities that the Schwarzman Scholar Program seeks," said Joanna Dickert, assistant director of Undergraduate Research and National Fellowships.  "She is deeply committed to advancing the discourse on equity and inclusion at all levels and has a track record on campus and in the community that speaks to these interests.
"Chrystal's academic and leadership experiences at Carnegie Mellon provide an important foundation for meaningful engagement with other Schwarzman Scholars and her host community at Tsinghua University," Dickert said. 
Thomas is an active member of the CMU community, especially in activities focused on fostering diversity at the university. She is founder and president of Colors@CMU, a student organization that promotes open conversations on race and diversity. She was an inaugural member of the Diversity and Inclusion Roundtable, which provides counsel to Provost Farnam Jahanian and other senior leaders on diversity initiatives for the university. She is a mentor in the Coaching Minority Progress and Success in Science (COMPASS) program.
Thomas has received a number of awards and recognitions for her work in and out of the classroom. In 2013, she received a Gates Millennium Scholarship from the Bill and Melinda Gates Foundation. This fall, she was named an Andrew Carnegie Society Scholar, a distinction bestowed upon only 40 graduating seniors.
After completing her master's degree at Tsinghua University, Thomas plans to attend medical school to pursue degrees in medicine and public health.