December 07, 2016
CMU Teams To Take the Plunge for Special Olympics
By Bruce Gerson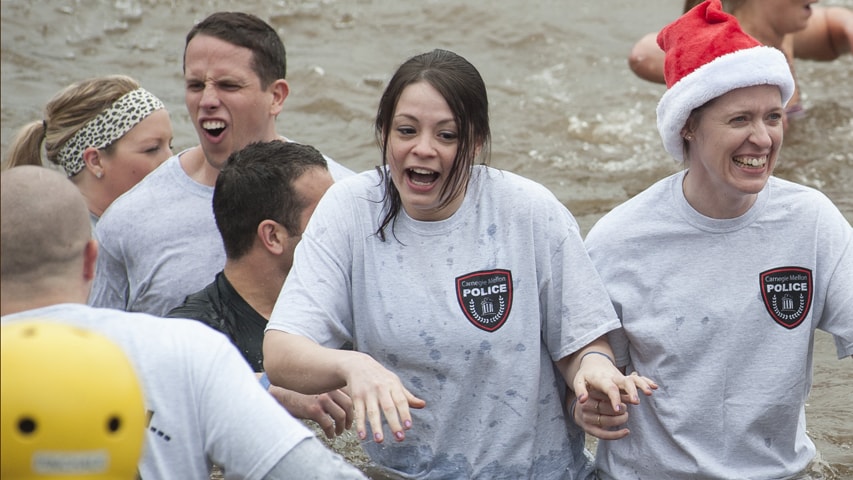 CMU Police Team Captain Stacey Griffin (far right), shown here in 2012.

Carnegie Mellon University staff and students will once again participate in Pittsburgh's annual Polar Plunge fundraiser at noon, Saturday, Dec. 10, to support Special Olympics in Pennsylvania.
Polar Plunge participants jump into the chilly Allegheny River for donations to Special Olympics from friends and colleagues.
The CMU Police team, led by Lt. Joseph Meyers for the sixth consecutive year, includes 20 members representing University Police, Campus Design and Facility Development, and Student Life. CMU's Naval ROTC unit, which has supported CMU's efforts in the past, will be represented by about 20 midshipmen and staff members, led by Captain William Breitfelder.
"We're supporting CMU's Police Department and all their efforts with regard to Special Olympics," Breitfelder said. "All the midshipmen here do a lot of extracurricular activities to support the community so this is in concert with our efforts. This is one of our signature events working with CMU Police."
Meyers said the University Police team had raised $9,000 toward its goal of $15,000 as of Dec. 5 to rank third out of the 77 teams entered thus far. Pittsburgh Police and Port Authority Police teams were atop the list. Last year, CMU's team raised more than $8,900.
The Polar Plunge is one of several activities through which CMU supports Special Olympics.
"We're all very proud of how our community commitment to Special Olympics athletes has deepened and grown over the last five years," Meyers said. "From the Polar Plunge, to the Law Enforcement Torch Run, to the [Spring] Carnival Dunk Tank and, most importantly, the Spring Sectional Competition, which we host, we have as an entire university community shown our willingness to embrace people with various challenges and to help them achieve their goals of acceptance and inclusion by all."
Participants will gather in a parking lot at Heinz Field before taking a short walk to take the plunge in the Allegheny at noon. This year, a large pool will be set up nearby for plungers who prefer a clean water option.
"We're all going in the river," Meyers said.
Donations to the CMU Police and Steel City NROTC teams can be made online.