December 21, 2016
"Injustice" Wins People's Choice Award at CHI PLAY
By Kelly Saavedra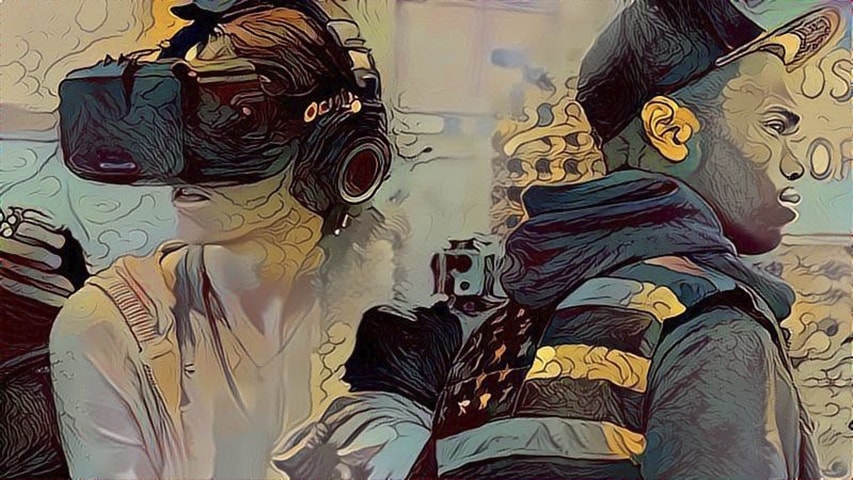 A virtual reality experience themed around racially motivated police brutality won the People's Choice Award at the CHI PLAY conference in Austin, Texas. The interactive story, called "Injustice," was created by a team of students in the Entertainment Technology Center at Carnegie Mellon University.
In "Injustice," users witness an act of racial discrimination happening in front of them and are forced to make moral and ethical decisions on the spot. The experience was created by using 10 GoPro cameras on a mannequin rig to capture every angle of the situation, giving users a completely immersive live video experience.

Watch the trailer.
"The experience starts at the bus stop where the user encounters an African-American guy. He asks you if you need any help," artist Elizabeth Won explained. "But after a while, you see this guy get in trouble with police officers right in front of you for some unknown reason. The situation escalates drastically, and you as a bystander can intervene or ignore."
Overall, the team sought to explore the emotional impact of virtual reality versus traditional film.
"Documentaries can be very powerful, but you can create much more empathy in a virtual reality experience than you can in any other experience. You can see what it must be like to walk in someone else's shoes," said Ralph Vituccio, assistant teaching professor and faculty co-leader on the project.
Vituccio would like to see more virtual reality projects aimed at social change, helping people better understand, for example, what it's like to live as a Syrian refugee; or as someone of a different race or religion; or with a handicap; or to be a woman walking down the street and being harassed by males.
"Virtual reality is pretty incredible as a way of trying to bridge the communication gap between people, to make people more empathetic to others," he said. "I think that's really key."

Watch the promotional video.
In addition to Won, the Injustice team includes Jaehee Cho, Tiffa (Xu) Cheng, Martin (Zixu) Ding, Atit Kothari and Stephanie Fawaz.
"This award showed that virtual reality can be so much more than fun games and inspire people with serious issues," Cho said. "It motivates me to make other projects that also can have an impact on people."
Brenda Harger, co-faculty lead on the project, said she is proud of the student team for not only diving into the live action interactive space, but for choosing to address a relevant issue.
"The result is a powerful validation of using virtual reality to engage at a level that can best be achieved in that medium," Harger said.
Cho is planning to make more virtual reality experiences aimed at social issues. The Injustice team graduated this past May, so he is in the process of gathering new team members and looking for funding opportunities.
CHI PLAY is an international and interdisciplinary conference for researchers and professionals across all areas of play, games and human-computer interaction.