August 19, 2016
Miller Gallery Hosts Works by Renowned French Architect and Le Corbusier Protégé José Oubrerie
By Pam Wigley / 412-268-1047 /
pwigley@andrew.cmu.edu
Margaret Cox / 412-268-4754 /
mc94@andrew.cmu.edu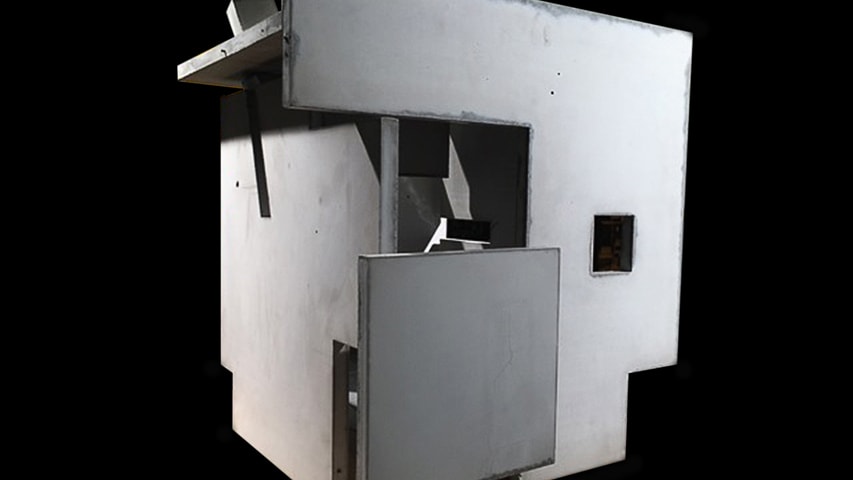 Jose Oubrerie, The Chapel of the Mosquitoes, 2015
The Miller Gallery and the School of Architecture at Carnegie Mellon University and Associate Curator Spike Wolff jointly present "Architecture With And Without Le Corbusier" and "The Chapel of the Mosquitoes" in the gallery from Saturday, Aug. 20, through Sunday, Nov. 13, on CMU's Pittsburgh campus. The exhibition opens in time to welcome new Carnegie Mellon students who are arriving for orientation week.
A talk with José Oubrerie as part of the School of Architecture lecture series is scheduled from 5-6 p.m., Friday, Sept. 23, with a reception to follow from 6-8 p.m. The exhibit, reception and talk are open to the public.
Oubrerie is professor emeritus at the Knowlton School of Architecture at The Ohio State University. An internationally renowned French architect and protégé of Le Corbusier, he was the project architect for the Saint-Pierre de Firminy Church, seeing the final design through to completion in 2006. His other projects include the French Cultural Center in Syria, the Miller House in Kentucky and The Chapel of the Mosquitoes in New York. Oubrerie is an honorary member of the American Institute of Architects, author of "Architecture With and Without LeCorbusier" and is a visiting professor at the School of Architecture at the University of Illinois at Chicago.
"A self-described dilettante, but known to others as a master architect, José's work embodies theoretical experimentation, dynamic spatiality and the poetic sublime," said Wolff, who serves as special faculty for CMU's School of Architecture. "His paintings are very important to him — as important as his architectural projects — and that makes his work appeal to such a diverse range of people."
The exhibition will include a series of performances related to the exhibition. "Some Assembly Required" presented by Attack Theatre and co-presented by the CMU School of Music is a performance experience that blurs the lines between visual art, music and dance — and between audience and performer. Attack Theatre will engage the audience with creation, improvisation and performance inspired by the Le Corbusier exhibition. Performances will take place at 6 p.m., Oct. 7-8, and at 2 p.m., Oct. 9. Information regarding ticket sales is online; CMU students may attend for free with ID.
Learn more about the exhibition. See details for the Sept. 23 reception.