August 22, 2016
Students Win Geothermal Design Challenge
By Joe Lyons / 412-268-7298 /
jwlyons@cmu.edu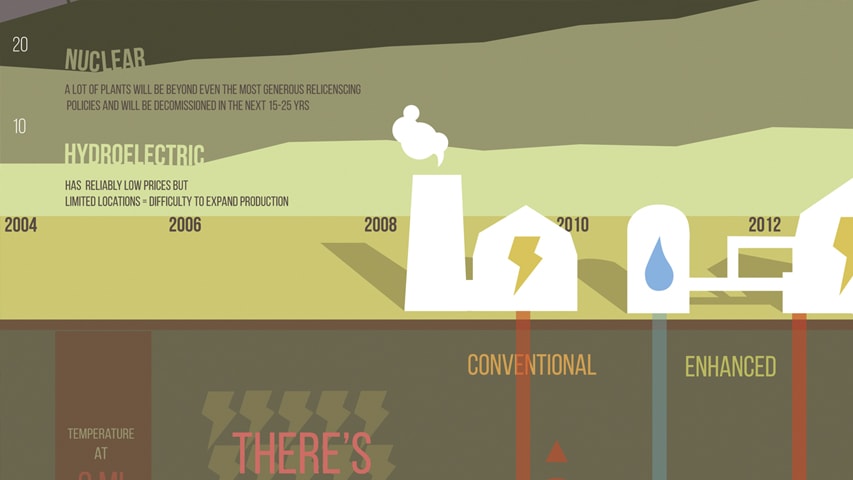 Marisa Lu, Tiffany Lai and Susie Lee, three rising sophomores from Carnegie Mellon University's School of Design, won the grand prize in the 2016 Geothermal Design Challenge.
The competition was sponsored by the U.S. Department of Energy Geothermal Technologies Office, in partnership with the Center for Advanced Energy Studies and the Idaho National Laboratory. Teams explored the future of geothermal energy by designing an infographic to tell a compelling story.
"I've always been interested in environmental issues and led the environmental club back in high school, as well as campaigning with Environment Maryland and the Maryland Public Interest Research Group on related policies," Lu said. "When I heard about this competition, I jumped on the opportunity to combine my personal passions and past experiences."
Lai also said the contest was an opportunity to join her interests in design and environmental issues.
"I had never created an infographic before, let alone participate in a national design contest, so I saw it as a personal challenge," she said.
For Lee, it was clear that this was a topic that needed to be communicated better.
"Nature provides us with so much energy, why do we have to keep using nonrenewable ones like fossil fuels?" Lee asked. "Getting other people aware of the resources that surround us is one step closer to being not so dependent on sources that won't be able to provide for much longer. Energy is the provider for function in our society. Why not fuel it for something that is clean both ethically and environmentally?"
The team conducted extensive research. Lai said that the final infographic was an equal combination of all three of their ideas. Crafting a compelling story meant going beyond presenting the facts.
"That was actually the more difficult part of the design because there were so many possible angles to spin a story from," Lu said.
Their final design, "Our Energy Future? A Down to Earth Solution" depicts a landscape of energy flowing from the sun down to the core of the Earth.
"I think something risky our team decided to do was incorporate information about other types of energy, so that our infographic wasn't only focused on geothermal energy," Lai said. "We wanted to be realistic. We depicted statistics about current energy sources and what their status would be in the future."
All three credit their first year at the School of Design for preparing them for this competition.
"I think that the process behind each design is something that I've learned to use during this competition," Lee said. "Reiterating multiple designs, deciding on one to roll with, and fixing the final approach is how we were able to come up with our infographic. I really enjoy how, although we are design students, our projects don't just deal with aesthetics."
Lai said that design is so focused on process work that she understands the importance of not rushing a final product.
"[The School of Design] empowers students by cultivating design thinking as much as they do technical excellence," Lu said.
The team received a prize of $2,500 and will travel to the Geothermal Resource Council's 40th Annual Meeting Oct. 23-26 in Sacramento, Calif.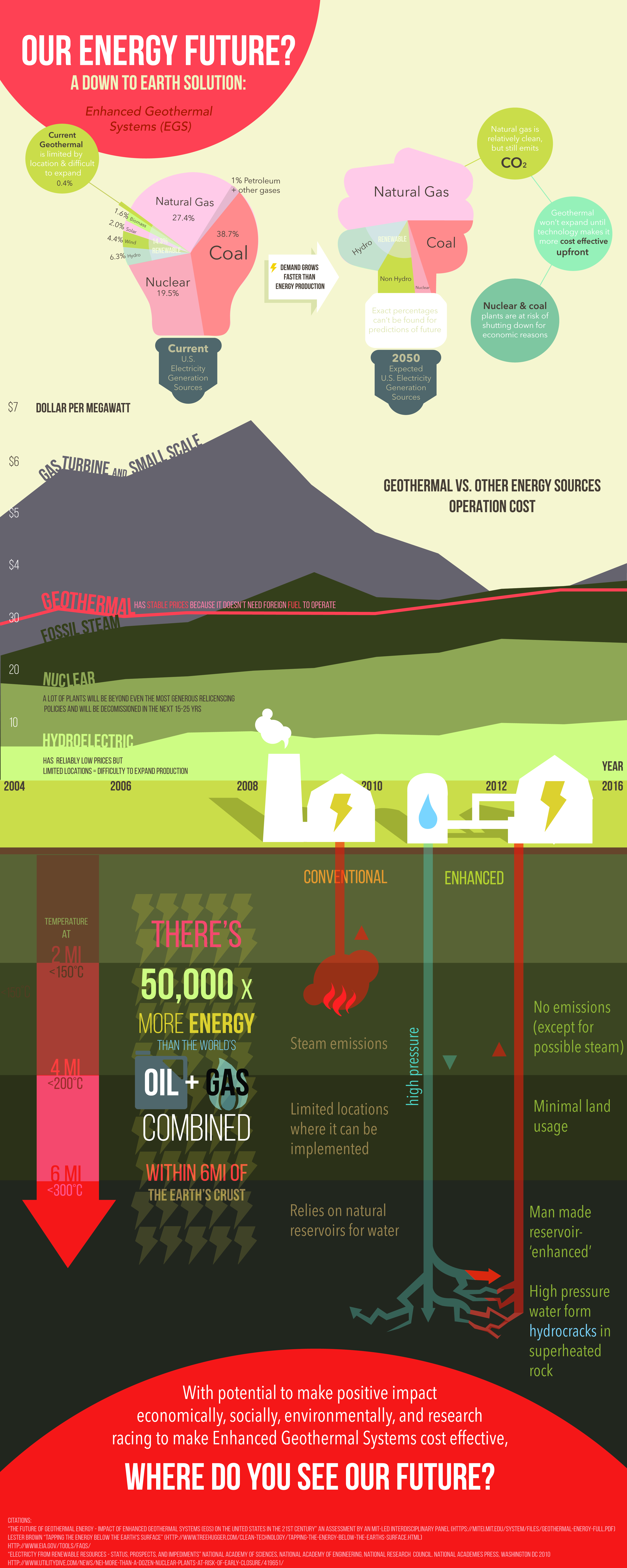 The winning infographic.