August 17, 2016
Photo Advisory: Carnegie Mellon Students Arrive On Campus; Will Engage With Pittsburgh Community During Orientation
By Abby Simmons / 412-268-4290 /
abbysimmons@cmu.edu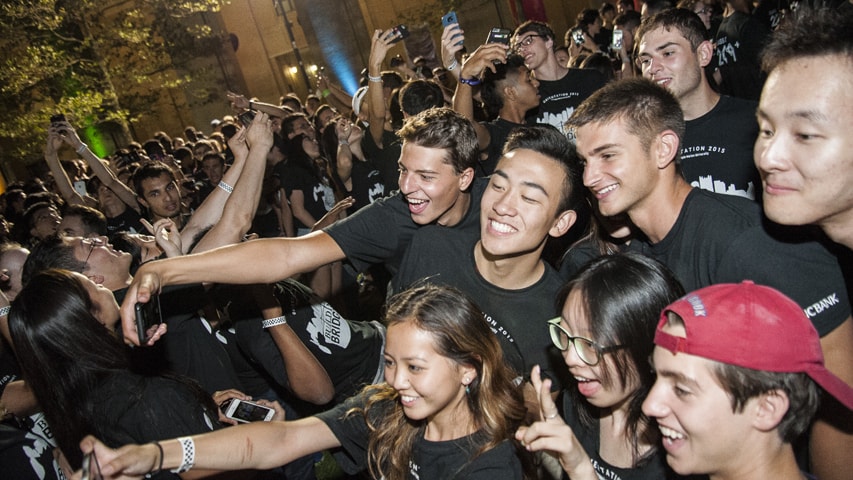 The Class of 2020 will come together for the first time at Playfair, a giant icebreaker, at 8 p.m., Monday, Aug. 22.
Carnegie Mellon University will welcome approximately 1,560 first-year students to its Pittsburgh campus on Saturday, Aug. 20.
Students from the Class of 2020 represent 25 countries, 44 states, Washington, D.C., and two U.S. territories. Additional facts about the freshman class are:
• Number of applicants: 21,189;
• Average SAT scores: 746-Math, 702-Critical Reading, 710-Writing;
• International students: 17 percent; and
• Underrepresented minorities: 14 percent.
The class will participate in a weeklong orientation program that aims to help them learn about each other, campus life and the local community. Highlights include:
Move-in Day, 10 a.m.–3 p.m., Saturday, Aug. 20, Campus Housing and Oakland Apartments
Reporters and photographers are welcome to approach students, their families and volunteers as they move into campus housing. Members of the media must remain outdoors and may not enter residence halls or apartments.
Day of Service, 8 a.m.–noon, Friday, Aug. 26, various locations throughout Pittsburgh
First-year students will complete service projects ranging from packing educational supplies to neighborhood cleanups. CMU's Partners Allied in Civic Engagement student-staff initiative is hosting the event. Contact Abby Simmons at 412-268-4290 for details about locations.
Craig Street Crawl, 3–5 p.m., Saturday, Aug. 27, Craig Street between Forbes and Fifth avenues
CMU is partnering with Craig Street restaurant and shop owners to introduce students to neighboring businesses. The block party will include food, balloon artists, live music and dancing.